Ready for a bathroom remodel? Before you start picking out vanities and showerheads, spend a little time contemplating your floors. You can't use the same flooring as other rooms. Only waterproof flooring will do.
Imagine a sink overflowing. Or a bathtub playtime with your three-year-old. Even the standard daily showers can introduce moisture and humidity that can quickly impact your flooring.
It's time to select the right flooring – waterproof flooring – that will look as good in your bathroom as it will function. Here's what to consider.
What to consider as you're looking for waterproof flooring
Not every flooring choice will give you the results you're looking for. Don't be afraid to shop around. Do a little research. Ask questions.
If you're shopping with a reputable flooring dealer, they will welcome all of your questions, and help you take the time to get comfortable with the flooring choice you select. You'll be living with this for years. Consider:
Appearance
Let's face it; appearance matters! When selecting waterproof flooring for your bathroom, think about the overall aesthetic you want to achieve. Are you aiming for a sleek and modern look with clean lines? Or perhaps a more rustic and natural feel? Waterproof flooring options all offer different textures and finishes. Take some time to visualize how each option complements your bathroom's style and existing decor.
Maintenance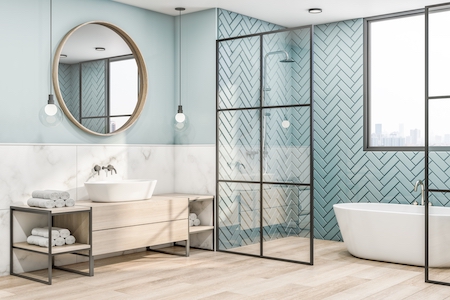 Bathrooms are notorious for being high-moisture environments, so it's crucial to choose a flooring material that's easy to maintain. Regular exposure to water and humidity means that your bathroom floor will be subjected to splashes, spills, and even occasional flooding. Consider how much time you're willing to invest in upkeep and choose a flooring option that suits your lifestyle. Some materials may require more intensive care, while others are relatively low-maintenance.
Preference
Your preferences play a significant role in the decision-making process. Each type of waterproof flooring has its own unique characteristics, and what might work for one person may not be the best fit for another. Think about what you value most in a floor – durability, comfort, warmth, or eco-friendliness. Prioritize what matters to you and let it guide your choice.
Budget
Budgeting is always a part of any home improvement project. Waterproof flooring options come in a range of prices, so setting a budget before you start shopping can help you narrow down your choices. Keep in mind that investing in quality waterproof flooring can save you money in the long run, as it will last longer and require fewer replacements or repairs.
Waterproof flooring options perfect for your bathroom
Are you starting to see your ideas come together? Do you have a theme, color preferences, and know how much you're ready to spend? Then it's time to see what flooring materials make the best choices installed in bathrooms. We recommend:
Ceramic Tile
Ceramic tile has been a classic choice for bathrooms for decades, and for a good reason. It's incredibly durable, waterproof, and available in a wide range of styles, colors, and patterns. Whether you want to create a vibrant mosaic or a timeless monochromatic design, ceramic tiles can cater to your preferences. Additionally, they are relatively easy to clean, making them an excellent option for busy households.
Porcelain Tile
Often mistaken for ceramic, porcelain tiles are even more impervious to water, thanks to their dense and compact composition. These tiles are fired at higher temperatures, making them exceptionally durable and resistant to scratches and stains. Porcelain tiles can mimic the look of natural stone or hardwood, making them a versatile and visually appealing option for your bathroom.
What's more, homeowners often add radiant heating to master bathroom suites, and why not? No more getting up to cold floors on winter mornings. Porcelain and ceramic tiles are the most popular materials selected for heated bathroom flooring. Choose one of these, and you'll love the results.
Stone
For those seeking a touch of luxury, stone flooring is an ideal choice. Natural stone, such as marble, travertine, or slate, exudes elegance and brings a sense of luxury to your bathroom space. Each stone piece is unique, adding a touch of natural beauty to your bathroom. However, it's essential to properly seal and maintain stone flooring to ensure its longevity.
Luxury Vinyl Planks
Luxury vinyl planks (LVP) have become increasingly popular due to their remarkable resemblance to hardwood flooring. They offer the best of both worlds: wood's beauty and vinyl's waterproof properties. LVP is exceptionally durable, comfortable to walk on, and easily handles the moisture-prone bathroom environment.
Sheet Vinyl
Sheet vinyl is another fantastic waterproof flooring option that is often overlooked. It's incredibly resilient, easy to install, and provides a seamless and watertight surface. With advancements in technology, sheet vinyl now comes in a variety of patterns and styles, including options that mimic the look of stone or wood.
Waterproof Laminate
If you love the look of hardwood but want a more budget-friendly option, waterproof laminate flooring is worth considering. Traditional laminate flooring is susceptible to water damage, but waterproof laminate is specially designed to resist moisture and spills. It's a fantastic way to achieve a wood-like appearance without worrying about warping or buckling due to water exposure.
Finalize your bathroom selection – install waterproof flooring for best results
Transforming your bathroom with waterproof flooring is a wise decision that will not only enhance the aesthetics of your space but also provide long-lasting durability. Whether you opt for classic appeal, luxurious beauty, or modern convenience, your bathroom will thank you for the upgrade!
You won't have to sidestep one benefit for the other. Get it all … with waterproof flooring. It's the perfect blend of style, functionality, and practicality.
How can we help you?