Is this you?
Your home has been damaged. You've been living with chaos for weeks. But now, the insurance has come through, and it's time to start making decisions. The contractor has left you with a ton of options. Now it's up to you to decide.
You finally get the chance to upgrade your home and make it closer to your dream. Insurance covers a lot, but you'll be putting in your own money too. You want the dream – this is your chance. But the decisions …
Like flooring – should you go for hardwood, or listen to the contractor and consider luxury vinyl? Which will be better for your lifestyle? Which will add value to your home?
We get this question a lot. Hardwood and luxury vinyl are two of our most popular flooring products. They are both equally beautiful and offer their own set of advantages.
Which should you choose?
Hardwood flooring has always topped your list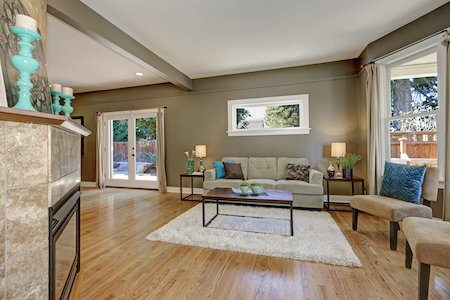 When it comes to giving a space that warm, inviting vibe, hardwood floors really top the list. There's just something about them that screams timeless elegance and sophistication.
You love the idea of their durability. These floors can seriously stand the test of time. They can handle the daily hustle and bustle without showing too much wear and tear. Plus, they're relatively low-maintenance. A little sweep here, a gentle mop there, and you're good to go. No need to worry about stains sinking in like with other types of flooring.
But it's not just about the practical stuff. Hardwood flooring brings nature's beauty right into your living space. Each plank tells a story with its unique grain patterns and textures. And the way it ages? It's simply gorgeous. The color might mellow and deepen over time, giving your space even more character. Whether you're going for a rustic farmhouse look or a sleek modern aesthetic, hardwood flooring adds value. It's like the foundation that ties your design together.
But you've been hearing great things about luxury vinyl
You've fallen in love with hardwood. It's been on your wishlist for years. But lately you've been hearing more about luxury vinyl, and something's telling you it might be a better choice.
It's way cooler than you might think. You can think of it as a chameleon for your floors. It can mimic the look of hardwood, stone, tile – you name it. So, you get that high-end aesthetic without breaking the bank. Talk about a win-win!
Now, here's the real magic: durability. It's like the superhero of flooring materials. Got pets? No worries, their little paws won't leave a mark. Spilled your morning coffee? Easy cleanup – no staining to stress about. And the best part? It's like a ninja against moisture. Bathrooms and kitchens are no match for luxury vinyl's water resistance. (Try that with hardwood.)
Impressed? There's more! Installation is a breeze. Whereas hardwood can take days or even weeks to install, luxury vinyl planks or tiles snap together like a jigsaw puzzle. Plus, it's softer underfoot compared to some other hard surfaces, giving you that comfy feel while you walk or stand around. Whether you're going for a sleek, modern look or a classic vibe, luxury vinyl has a lot to offer.
What matters most to you?
Are you starting to see yourself leaning one way or the other? Has your dream of hardwood held steadfast and true? Or are you seeing luxury vinyl in a new light?
There isn't a right or wrong answer.
But you do have to make a decision. Which is why we have some questions for you.
What's your budget for flooring?
What aesthetic are you aiming for in your space?
How important is the authenticity of natural wood to you?
Do you have pets, and if so, how do you think each flooring type will hold up?
Are you concerned about water damage in areas like the kitchen or bathroom?
Do you prefer a DIY-friendly installation or are you comfortable with professional installation?
Are you planning to stay in your current home for the long term, or is this a short-term solution?
How much foot traffic does the room receive?
Are you looking for flooring that's warmer and softer underfoot?
Are there specific colors and patterns you have in mind for your flooring?
Are you environmentally conscious, and if so, which option aligns better with your sustainability goals?
How important is ease of maintenance to you?
Are you open to periodic refinishing to maintain the appearance of hardwood?
Do you have any existing furniture that could potentially scratch or dent the flooring?
How do you feel about the idea of a quieter flooring option that absorbs more sound?
What's the overall style of your home, and which flooring type complements it better?
Have you considered the resale value of your home and how each flooring type might affect it?
Every question you ask will help lead you towards your decision. Use them to help you as you research each of your selections.
It's time to make a decision
Flooring is a big purchase. It can last for years. Get it wrong, and you could get buyer's remorse almost from the moment it's installed.
Dig deep in your heart – it's telling you what to do. Sometimes it's the best way to finalize your decision.
What's better, hardwood or luxury vinyl? They both have their advantages. We recommend both on a daily basis.
If you're having trouble choosing between hardwood or luxury vinyl, we suggest you come in and compare them side by side.
With our knowledge and experience, we can help you further narrow your selection. We can answer your questions and provide you with a pro/con list for every choice.
They see them. Select your favorites. Compare them side by side. Investigate the manufacturers behind each product to weigh your options carefully.
Then bring a few samples home to try them out in your home. View them morning, noon, and night. See them in a different light.
One will speak to you. One will move forward as the clear winner.
And that's how you answer the question: hardwood or luxury vinyl?