Hardwood continues to be one of the most popular flooring choices. Yet many homeowners hold off on replacing current flooring because they aren't sure if hardwood suits their lifestyle.
We get that. As much as hardwood is beautiful, it's also a flooring choice that needs a little TLC to keep it looking good. If you have active pets, you might be a little worried. You might wonder if hardwood will live up to your expectations if you have a growing family.
And to top it off, you also are in the market for something more sustainable. You care about Mother Earth and you want to do your part.
Maybe it's time to give eco-friendly engineered hardwood a second look.
How Engineered Hardwood Differs From Solid Hardwood
The term "engineered" might be a little confusing. While solid hardwood is crafted from a single solid piece of wood, engineered hardwood is a clever fusion of real wood and high-quality plywood layers.
The top layer, or veneer, is made of genuine hardwood, giving you the authentic beauty and texture you crave. Beneath that, multiple layers of plywood are bonded together in opposing directions, which grants exceptional stability, making it resistant to changes in moisture and temperature.
Higher quality engineered hardwood floors offer much of what you love with solid hardwood. With a thicker veneer, you can still sand it down and refinish it, increasing the longevity of your floors. Plus, you won't have to worry if one of the kids damages the surface. You can sand it down, repair it, and have it look brand new.
The Eco-Friendly Edge of Engineered Hardwood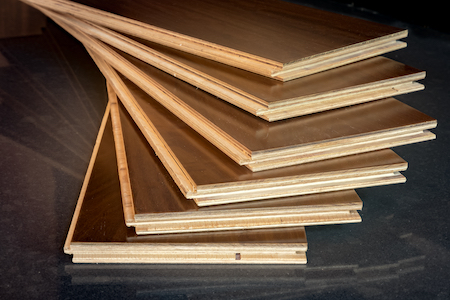 You want hardwood. But you want sustainability too. If you've done any research, you might have a good idea about the sustainability practices of a solid hardwood floor. Engineered hardwood can give you more of what you're looking for.
Sustainable Harvesting and Manufacturing
Sustainability starts right from the roots of the production process. Reputable manufacturers adhere to responsible harvesting practices, ensuring that the trees used are sourced in a manner that promotes reforestation and biodiversity.
One benchmark to keep an eye out for is the Forest Stewardship Council (FSC) certification. This certification guarantees that the wood comes from forests managed with a strong commitment to environmental, social, and economic responsibility.
By choosing FSC-certified engineered hardwood, you're actively supporting responsible forestry and biodiversity conservation.
Look for Certifications: Forest Stewardship Council (FSC)
We've mentioned the FSC certification, but let's delve a bit deeper into its significance. The FSC label isn't just a fancy logo – it's a testament to the flooring's origins.
When you see this badge on your engineered hardwood, you can trust that it's backed by rigorous standards that ensure sustainable forestry practices, fair treatment of workers, and reduced environmental impact. When you opt for FSC-certified engineered hardwood, you're not just enhancing your living space; you're contributing to the preservation of our planet's precious ecosystems.
Why Engineered Hardwood Is a Sustainable Choice
Ultimately, both solid and engineered hardwood are crafted from trees. However, because engineered hardwood is pieced together using several different processes, it can be a more sustainable choice. Let's explore how this choice impacts our environment on a broader scale.
Engineered Hardwood Uses Fewer Trees
One of the most compelling arguments for choosing engineered hardwood lies in the reduction of raw materials required. Unlike traditional solid hardwood flooring, which necessitates larger sections of solid wood, engineered hardwood makes the most of its top layer of genuine wood by combining it with sturdy plywood layers.
This means it can use more of the tree to produce the final product. It also uses significantly fewer trees, which helps conserve our forests and reduce deforestation.
Engineered Hardwood Helps Improve Air Quality
Did you know that indoor air quality can significantly impact your well-being? For many homeowners, they understand the importance of air quality and look for products that contribute to well-being.
Sustainable flooring produces less chemical emissions. It's a natural product with a lower environmental impact throughout its lifespan. You can see that from every angle with engineered hardwood.
It should be crafted from properly managed forests.
It should be produced by manufacturers who follow sustainable guidelines.
It should contain fewer volatile organic compounds (VOCs). VOCs are chemicals emitted by various materials, including certain flooring types, and they can contribute to indoor air pollution.
It should have a longer life.
It should be easier to dispose of at the end of life.
With engineered hardwood, you can breathe easier, knowing your home's air quality remains high.
Engineered Hardwood Provides Long-Lasting Floors
The durability of engineered hardwood flooring translates to less frequent replacements, reducing demand for new flooring materials. When you invest in a floor that stands the test of time, you're not only saving money in the long run but also minimizing the resources required for replacements.
Elevate Your Space, Uphold the Planet
Are you starting to see the possibilities? Even many homeowners who were sold on the idea of solid hardwood have turned into engineered hardwood fans once they consider all of the options.
As you embark on your flooring upgrade journey, remember your choice holds the power to enhance both your living space and the environment. By opting for engineered hardwood, you're making a conscious decision to support sustainable harvesting, responsible manufacturing, and a healthier indoor environment.
Let's embrace a future where elegance and sustainability walk hand in hand, where your flooring choice isn't just a reflection of your personal style, but also a testament to your commitment to a greener world.
Are you ready to step into the world of engineered hardwood, where every footstep is a step toward a brighter future?
We can help with that. Contact us today to explore our eco-friendly engineered hardwood flooring options. We'll help you find the perfect choice for your next remodel.
You'll love the look.