Are you ready to transform your living spaces into havens of style and durability? Worried that can't be done with the hustle and bustle of family life, kids and pets galore?
Not a problem. The best flooring options for action-packed households may surprise you.
Flooring manufacturers understand that the last thing you want is fussy flooring. If you can't walk on it, use it daily, live the way you choose to live, what good is it anyway?
Whether the kids spill, the pets use it as a race track, or the sports fans in your home spend more time rumbling on the floor than they do watching the game, these flooring options will prepare you for it all.
Hallways and Entryways: Where First Impressions Count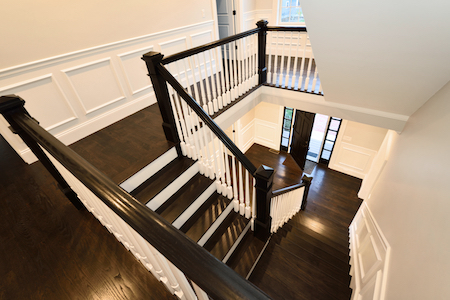 Welcome to your home's grand entrance! Hallways and entryways are like the red carpet, setting the tone for your entire living space. But they're also the high-traffic zones that take the brunt of dirt, moisture, and footfalls. That's where the right flooring choice matters. Consider durable options like tile or luxury vinyl plank. These materials not only resist wear and tear but also come in an array of styles that can make your entrance feel like a design statement.
Living Spaces: Where Comfort Meets Chaos
Ah, the heart of your home, where family gatherings and movie nights unfold. Your living room is a bustling hub that deserves flooring that can handle everything from playful kids to rambunctious pets. Hardwood flooring and engineered wood are excellent choices, offering a warm and inviting look while also being tough enough to withstand daily use. Plus, they can be easily refinished if needed, keeping them looking flawless for years.
Bathrooms: The Splash Zones
Let's talk bathrooms – the spaces where water and traffic meet. Choosing the right flooring here is crucial, given the frequent moisture exposure. Porcelain or ceramic tiles are a no-brainer for bathrooms. They're water-resistant, easy to clean, and come in a variety of colors and patterns. And don't forget the cozy factor – add a few plush rugs to keep your feet happy!
Kitchens: Where Culinary Magic Happens
The kitchen is the heart of culinary creativity and chaos alike. Your flooring here needs to tackle not just foot traffic, but also dropped pots and spilled sauces. Look no further than laminate or luxury vinyl. These options mimic the appearance of natural materials like wood or stone but offer extra resilience against spills and scratches. A stylish kitchen that can handle it all? Yes, please!
All-Purpose Rooms: The Jack-of-All-Trades
What about those versatile all-purpose rooms? Whether it's a playroom, a home gym, or a combination of functions, you need flooring that's adaptable and tough. Carpet tiles are fantastic for these spaces. They're soft underfoot, provide some insulation, and are incredibly easy to replace if a section becomes stained or worn.
Choose your room – Make a selection
Selecting the right flooring starts by being realistic about the functionality of your rooms. Yes, you could put carpet in a bathroom, but it wouldn't make much sense.
Flooring is meant to be stylish and functional. Beautiful and durable.  You can have both, yet sometimes it requires more than one flooring option to ensure every room can stand up to all you dish out.
Hardwood Flooring: A Classic Blend of Elegance and Endurance
When it comes to timeless beauty and resilience, hardwood flooring takes center stage. These stunning planks are cut from natural wood, giving your space an organic charm that only improves with age. Hardwood can withstand heavy foot traffic and everyday wear, and it can be refinished if scratches or dents appear. This means your floors will stay looking fabulous for generations to come.
Engineered Wood: Smart Engineering, Strong Performance
Engineered wood is a fantastic alternative to solid hardwood. It's constructed from layers of wood topped with a solid wood veneer, creating a stable and moisture-resistant material. This makes it perfect for areas with fluctuating humidity levels, like kitchens and bathrooms. With its durability and variety of finishes, engineered wood adds warmth and character to your active home.
Laminate Flooring: Tough Beauty That Wows
For those seeking the appearance of hardwood or stone without the high maintenance, laminate flooring is a dream come true. Its layered construction and wear-resistant top layer make it resistant to scratches, stains, and fading. It's also incredibly easy to clean – perfect for busy households. Laminate is budget-friendly and boasts an impressive array of styles, making it a popular choice for active homes.
Luxury Vinyl: Elegance Meets Endurance
Luxury vinyl is a superstar in the world of flooring. It's designed to mimic the look of natural materials like hardwood, stone, or tile while delivering exceptional durability. Thanks to its waterproof nature, luxury vinyl is an ideal choice for kitchens, bathrooms, and even basements. It's pet-friendly, stain-resistant, and can handle high foot traffic without showing wear – a winning combo for busy families.
Porcelain Tile: The Mighty Protector
When it comes to water resistance and toughness, porcelain tile is hard to beat. Its dense composition makes it resistant to scratches, moisture, and even freezing temperatures, making it suitable for both indoor and outdoor use. Porcelain tiles come in many styles and colors, allowing you to customize your space while enjoying peace of mind, knowing your floors can handle whatever life throws at them.
Carpet Tiles: Versatile Comfort with a Twist
Carpet tiles are a unique and practical flooring solution for all-purpose rooms. They offer the softness and insulation of traditional carpet but with added convenience. If a tile gets stained or damaged, you can simply replace that one tile rather than redoing the entire floor. This makes them perfect for homes with kids and pets. Choose from various patterns and textures to match your style.
What's your choice? It's time to finalize your decision
Whether you're leaning towards the classic beauty of hardwood, the modern flair of luxury vinyl, or the practicality of carpet tiles, remember that every choice you make should reflect your family's unique lifestyle. Have additional questions? We're here to help you find the perfect blend of aesthetics and functionality.
Swing by our showroom or give us a call – we can't wait to embark on this flooring journey with you! Because when life gets busy, your floors should be the least of your worries.