Today's homes are molding into something more. Instead of defining our homes based on four walls, we're thinking outside the box and seeing our homes in a different light.
Why not roll back the windows and throw a party outside? Why not merge our kitchen and living space into the great outdoors?
Of course, this all takes a different way of thinking. You don't want a look that's thrown together; you're looking for cohesiveness. And the best place to start with that is with indoor-outdoor flooring solutions.
This is where you start.
Redefine flooring transitions
A smooth transition starts with flooring. For some, the concept of succinctness begins with the same flooring throughout. When you open the front door, your favorite flooring flows from room to room. You like the clean lines and the never-changing flow.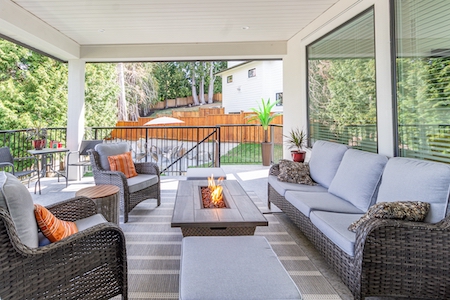 You don't need the same flooring in every room to create that feeling. You can get that same look using more than one flooring material. Every room has different needs.
Hardwood, for example, cannot withstand water and moisture. Putting it in a bathroom where long hot showers are the norm is asking for trouble.
So is placing hardwood outside, especially in Colorado. Can you imagine how hardwood would look after one Colorado winter?
But what if you placed your favorite hardwood indoors, and met it outside using a complementary stone or tile? The flow is natural. The color is cohesive. The look is elegant.
Bring the outside in
When many homeowners remodel to create indoor-outdoor living spaces, they contemplate how to bring the inside out. Reverse it. For creative flooring ideas, start with flooring that works well outside, and bring it in. This ensures it's durable and will stand up to everything your family can dish out.
How about porcelain tile?
Porcelain tile has been around for centuries. Maybe that's why it's still one of the most popular flooring materials you can install inside your home.
Porcelain tile isn't ceramic tile – there are distinct differences. Porcelain tile is made by exposing clay to hot temperatures to make it stronger than ceramic and can withstand more elements. If you fall in love with a tile in an outside location, chances are it's porcelain.
It's hard and heavy like stone, but it's crafted to be non-porous, meaning it gives you superior protection against moisture and humidity. Perfect for outside living spaces!
And what makes it even more popular is the colors, styles, and patterns. If you can dream it, you can find it with porcelain tile. How about a stone effect? Or planks meant to imitate oak hardwood? Or maybe you're all-in for the concrete look that's buzzing through popular decor magazines. You'll find all of this and more in porcelain tile.
Blending with decor
How do you ensure your indoor-outdoor flooring solutions look great? Maybe it doesn't start with your flooring choices at all.
Instead, it starts with how your home is designed.
Previously, homes were built with slab patios off the kitchen or living space. Throw a barbeque out there with a few chairs, and you have yourself a little place to enjoy the nice weather.
No more. Now we want space we can enjoy whenever it's nice enough to head outside. And that can take place almost any month of the year here in Colorado.
How are you joining the two spaces together?
Utilize large windows and glass doors. Sliding glass patio doors are bigger than ever, opening up to blend the two spaces together. It adds lots of natural light, which is crucial for defining a more natural space.
Tall ceilings are equally important. Outside, you have the appearance of limitless space. Higher ceilings mimic that, inviting open space inside.
You can also do that with your decor. One theme. Blending colors. Creating similar characteristics throughout. Pick similar colors for outdoor sofas, chairs, tables, and cushions. Use wicker or iron decor on the inside.
Blending perfectly. That's what it's all about.
Stick with the same color palette
Personality is everything inside a home. You can pick up on a vibe from the moment you walk through the front door.
Use that same concept as you walk to the back of your house and outside to your outdoor living space. Continue the theme. Use similar colors, patterns, and styles.
Blending is everything. Don't be afraid to mix and match, just ensure flooring materials work well together. Go with the same hues. Capture the same tone as you complete your designs. Pick up something from inside and carry it outside – maybe a color or grain.
This is where you can have some fun.
If you're having trouble visualizing it, start online. A few searches will lead you to a wealth of information. You can always use Pinterest and create a pinboard to determine your liking. As you start to see patterns, you'll be able to run with that as you start finalizing your choices.
You can also bring in your ideas. Our flooring staff are experts at working with design ideas and helping you create a succinct look, inside and out.
Keep it simple
Err on the side of simplicity. Go for a minimalist look rather than putting emphasis on the floor.
We do this all the time as we finalize choices that blend rather than stand out. That's why we stick with oak hardwood, beige carpet, or natural stone tile. We want it to be fresh and clean without being overpowering. We want a quiet look that works with whatever we bring into it.
Let color guide you with your pillows and accessories. But keep it neutral with your floors. A clean look might be exactly what you're looking for.
How can we help you? 
We know indoor-outdoor flooring solutions might be giving you a few headaches as you start the planning process. But with so many great choices to select from, it's easier than ever to create the look you're going for.
Stop by today and see our wide selection of flooring materials that will be perfect for any room in your home. Inside or out.