Imagine dropping an entire bucket of water and not having to worry. Picture the kids leaving the faucet running, splashing water all over your floors … and you simply throw down a towel to wipe it up, and walk away.
Sound too good to be true? Think again.
Waterproof floors are a thing, and you can have them installed throughout your home. What's more, this isn't the vinyl product your parents had in their homes. This is high quality flooring that looks as great as it wears. You're really going to love these floors.
What are they? Before we get into the details, it's important that you understand what to look for.
You'll likely see waterproof floors for sale in several different ways:
LVT – luxury vinyl tile – this product looks like real hardwood or stone flooring, but offers many more benefits. It can be less expensive, is easier to install and maintain, and comes in many styles and colors, giving you options for every room in your home.
LVP – luxury vinyl plank – you'll sometimes see vinyl hardwood planks referred to as LVP rather than LVT, but both offer you the same good looks with easy to maintain living. LVP closely mimics the look of genuine hardwood flooring, and can give you many options including embossed or hand scraped wood. LVP often gives you even more options than you'll find in the genuine hardwood flooring market.
WPC – wood plastic composite – WPC vinyl plank or tile flooring are known for being 100 percent waterproof. It's traditional luxury vinyl flooring that's been given an added waterproof core that makes it perfect for any room in your home. It also works well in commercial applications too.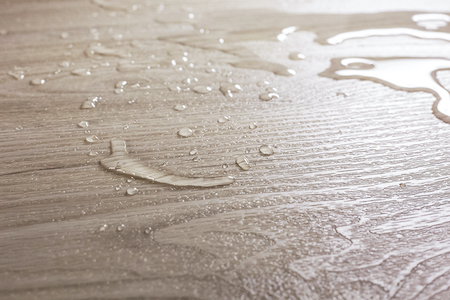 SPC – stone plastic composite – SPC has a rigid core that is virtually indestructible. It's known for being 100 percent waterproof, and uses engineered technology to replicate both hardwood and stone tiles. Vinyl may have some give, has a flexible core. WPC does a pretty good job of firming it up and making it stand up well under pressure. SPC's core is rigid – think concrete – and will stand up to whatever pressure you give it.
MLF – multilayer flooring – this is a generic term for all multilayer flooring lines, including WPC, SPC, and rigid core flooring or performance vinyl.
Rigid core – rigid core refers to a floating floor that uses click in place technology. The beauty of rigid core is it can be installed over many existing hard flooring surfaces, meaning you can have your remodel completed faster, without the mess that comes with ripping out old flooring.
Armed with this knowledge, you can now shop for waterproof flooring and be a little savvier with your questions. But before you go, let's explore waterproof floors in a little more detail, because there is so much to love about these products.
They're waterproof
Yes, they're waterproof. That's why you're reading this article. But we wanted to take a moment to actually explain what that means.
If you drop a bucket of water on the floor, wipe it up. Your flooring won't sustain any damage. If you're kids drop their drinks, if they splash water out of the tub, if they bring in a "surprise" from the outside, you're safe. Your flooring will stand up well to all kinds of activities.
However, it is still flooring, which means if something penetrates underneath, it can cause damage. If your house floods with several feet of water for a few days, it may not survive.
They're great for DIYers
Not only are waterproof floors easy to maintain, but they're perfect for homeowners that want a side project. With their click locking systems, it's a snap to lay the planks into your space. Start in one corner of your room, snap them all into place, and you can be moving furniture back into place by the evening. No waiting for stain or varnish to dry, or your floors to settle into place.
They can be installed over existing flooring
This adds to the ease factor, and is an added bonus to DIYers. Depending on the flooring you already have down, you may not have to remove it before you click waterproof flooring into place. That's because the rigid core isn't sensitive to whatever imperfections exist within the subfloor. However, you should still evaluate the current condition of your flooring. If you suspect damage of any kind, including mold or mildew, it's wise to repair the damage before you install any type of flooring over it.
They are more realistic than ever
When the first multilayer flooring products were released onto the market, they weren't even close to the real thing. If you remember vinyl products installed in your parents' homes, you know.
But with today's products, technology has taken them a long way. The realistic graphics are so good, even experts have to get closer for a second look. In many cases, they are indistinguishable from the natural products they emulate. That adds to the elegance of your decor, and allows you to be creative with everything you bring in to your home.
They offer noise reduction and warmth 
One of the things people remember about the original line of waterproof flooring is the noise. It echoed as you walked over it. With the newest technology, they provide better sound absorption qualities than many of the flooring choices they mimic. And thanks to technology, they offer better warmth factors too.
What's more, waterproof flooring is the perfect choice to install over radiant heating. If you're tired of stepping out of bed onto cold floors, or want a more energy efficient way to keep your rooms toasty warm in the winter, take another look at waterproof flooring.
They offer benefits for commercial too
While homeowners love the technology behind waterproof flooring, it's making its way into commercial applications too. SPC, in particular, is a good choice for retail and hospitality settings, and can even be found in some medical facilities. Why not have your flooring look good, with durability and easy maintenance built it?
They're beautiful
While we've spoken a lot about how well they handle, we should mention again just how beautiful today's waterproof flooring is. With their enhanced style and design, they can match any personality, and give you whatever look you're trying to achieve.
Plus, because of how they are made, they offer even more colors, styles, and options than traditional products. Where hardwood or stone is limited to what is found in nature, that's not so with waterproof floors. You'll find an array of options from the lightest to the darkest colors of the rainbow.
If you are trying to match your decor, you'll find it in waterproof flooring technology.