As a property manager, choosing flooring can be a daunting task, especially for high-traffic commercial areas. Unlike residential homes, commercial areas have more people walking through daily, which means they require durable flooring options that are easy to maintain and withstand heavy foot traffic.
What's the solution?
What makes commercial flooring different from residential flooring?
Commercial flooring is typically more robust and more durable than residential flooring. It's often made from materials that can withstand heavy traffic, making it an ideal choice for high-traffic areas.
While homeowners look for flooring that will last, property managers typically focus on value. In high traffic situations, it's a given you'll be replacing the flooring regularly. But that doesn't mean you don't want flooring that will last. It's a balance between cost, longevity, durability, and good looks.
Additionally, commercial flooring materials are designed to meet specific safety standards. You don't want visitors slipping and falling. From entryways to workrooms, selecting the right flooring is a top priority for your commercial space.
The characteristics of commercial flooring designed for high traffic use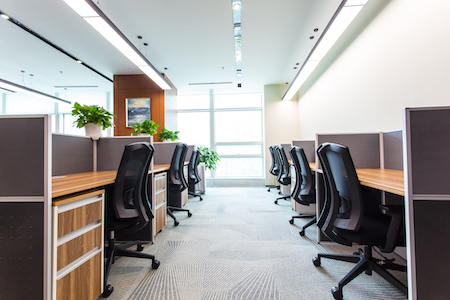 What activities take place in your commercial location? That's where you start when selecting commercial flooring. Medical offices are different from law offices. Each commercial space should select durability based on individual needs.
Yet some things hold true in every situation. When choosing flooring for high-traffic areas, it's essential to look for durable, slip and water-resistant materials, that are low-maintenance, and noise-absorbent.
You don't want a flooring that's high maintenance. Even in high-end spaces, you'll love low-maintenance functionality. Commercial flooring options typically consist of materials that can withstand tremendous wear and tear while also providing comfort and safety to the users.
Any high traffic space is going to have a lot of people moving around. That also requires selecting commercial flooring that's as beautiful as it is functional. Luckily, that's not a problem. You'll be impressed by the sheer number of choices you'll have to select from.
Consider these high traffic commercial flooring materials
If you own a commercial property, you know that choosing the right flooring material is crucial for your business. A floor that can withstand high traffic and heavy use is a must-have for any public space. Fortunately, there are various flooring options that you can consider, depending on your needs and budget.
Hardwood
Hardwood floors are well-known for their durability and timeless appearance. They offer a warm and inviting atmosphere and can last for decades with proper maintenance. However, keep in mind that hardwood flooring is prone to scratching and water damage. To minimize wear and tear, you can use area rugs and mats to protect high traffic areas and avoid standing water on the surface.
Engineered Hardwood
Engineered hardwood is a hybrid flooring material consisting of a veneer of solid wood attached to layers of plywood or fiberboard. This structure provides the beauty of hardwood flooring with the added benefit of increased resistance to moisture and humidity. Engineered hardwood is an excellent choice for commercial spaces that experience high levels of foot traffic and occasional spills.
Carpet Tiles
Carpet tiles are a versatile and practical flooring solution for high traffic areas such as offices, schools, and commercial spaces. Carpet tiles come in various colors and textures, and you can mix and match them to create your unique design. The best thing about carpet tiles is that they're easy to replace if one tile gets damaged or stained. This makes them a cost-effective alternative to traditional broadloom carpet.
Luxury Vinyl
Luxury vinyl flooring has come a long way since its early days of production. Today, luxury vinyl tiles and planks can mimic the look and feel of natural materials like wood and stone. They're more durable than hardwood, and you don't have to worry about scratches or water damage. Luxury vinyl is also relatively easy to install and maintain, making it a favorite among property owners.
Stone
Natural stone flooring is an elegant and sophisticated option that can add value to your commercial space. Stone such as granite, marble, and slate are incredibly durable and can withstand heavy foot traffic. They're also easy to clean and can resist spills and stains. However, keep in mind that natural stone flooring can be costly to install, and requires regular maintenance to maintain its durability.
Terrazzo
Terrazzo is a durable and low-maintenance flooring material constructed from chips of marble, quartz, or glass set in concrete. Terrazzo flooring can last for decades with minimal upkeep, and it's an excellent choice for buildings with high traffic. The flooring is anti-bacterial, slip-resistant, and easy to clean. Furthermore, Terrazzo offers limitless design possibilities, allowing you to create custom patterns and colors for your commercial space.
Which one sounds good to you?
Commercial flooring choices to avoid in high traffic situations
Flooring materials you've fallen in love with inside your home are often available for commercial use too. Yet keep in mind that not all popular residential flooring materials are suitable for every commercial location.
Cork offers insulation and noise reduction, but the softness of the product means it's not ideal in high traffic situations.
Love the plush carpet you have at home? It's best left for residential applications. It's softer and won't hold up to the rigors of a heavily used space.
Hardwood works well in many situations. But if you want it in your commercial space, be sure it's crafted exclusively for high-traffic commercial areas. Without surface finishes, it will deteriorate with frequent use.
Still have questions about high traffic commercial flooring?
Have another flooring in mind? We're happy to give you our opinion and help guide you to the perfect choice.
When trying to choose flooring materials, it's always essential to keep in mind the characteristics of the space and health and safety standards. Our retail location has a vast inventory of commercial flooring options that meet your business's requirements.
Feel free to contact us if you have any further questions or for a free consultation.