There are many things that can make your commercial space more attractive to potential tenants.
Great location.
Incredible view.
Easy access to highways and major attractions.
Healthier commercial flooring
Wait, what?
Do tenants care about what is on the floors? Increasingly, the answer is: Yes.
Tenants are increasingly looking internally for what a building has to offer the people they bring inside. People often spend forty or more hours at their place of employment. And if that place isn't comfortable, appealing, and healthy, they might consider moving.
LEED (Leadership in Energy and Environmental Design) is a widely accepted green building rating system. It's used in all types of building as a way for design to care more about health, efficiency, and cost-savings.
LEEDs was initially started by the US Green Building Council as a way of building homes and commercial buildings that focus on sustainability and being environmentally friendly. The founders discovered a passion for creating efficiency in building, and created this program as a way to let others follow in their footsteps. It's not just a convenient green sticker that has zero backing. Instead, it's a program that works hard to make a difference in the world. In the words of the USGBC itself:
62 percent of corporate leaders believe sustainability leads to market differentiation and improved financial performance
LEED-certified properties can command up to 20 percent more in rents, with vacancy rates some of the lowest in the country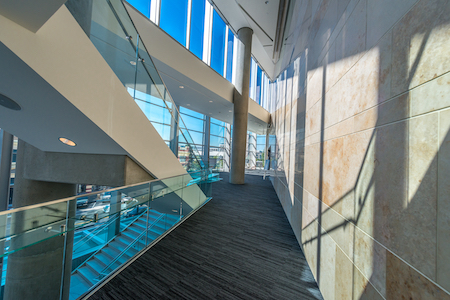 Sounds interesting, doesn't it? Whether you're new to the LEEDs concept, or this is something you've been striving towards for years, one of the first places to start is with your flooring.
Better design starts with your flooring material
LEEDs certification is available for all building types and all building phases. Whether you're furnishing new construction, or have a building decades old, there are ways to make your space more eco-friendly. LEEDs offers a rating system to help you start and progress as you make changes to your design. This isn't something you have to complete all at once. It's an ongoing structure that allows you to make changes on your own schedule, to strive for better sustainability over time.
If you're new to creating a healthier environment, there are easy ways to go about it. With commercial flooring, the emphasis is often on durability. But there are easy ways to marry the two together, and create a dynamic flooring that can give you both. People often go with standards – tile in the bathroom – then simply replace periodically as the materials wear down. While that's an easy way to stay on track with your upkeep, there are other things to keep in mind:
Some flooring may trap allergens and hold dust more than others
Some flooring choices may contain VOCs – volatile organic compounds which release toxic gasses that can make you sick
Some flooring can be made with cheap products that not only won't hold up well over time, they release harmful chemicals into the air
Looks aren't everything. In the case of flooring, what you can't see may be harming your health.
Start with underlayments, adhesives, and finishes
We've seen it before. People have good intentions, and select a healthy flooring for their commercial space that has few or zero VOCs. Then they lose everything they've strived for by increasing harmful chemicals through the underlayments, adhesives, and finishes they install.
The amount of VOCs a flooring emits starts with the chemicals used during the manufacturing and installation process. Even a zero VOC floor can move to a toxic flooring if you don't give equal weight to the entire process.
Underlayment provides multiple benefits, including leveling, cushioning, soundproofing, as well as creating a moisture barrier. Commercial spaces receive a lot of wear and tear. It's only natural to want the greatest protection possible. But at what cost? Marry up your desire for easy maintenance and a long life with something that is healthier too. The good news is there are a lot of flooring choices that can give you both. Cork and low-VOC rubber can be great choices.
Pay attention to the installation process too. What adhesives are used to hold your flooring in place? Talk with one of our representatives about selecting VOC-compliant materials.
Consider oil-based for flooring sealants and finishes as it's healthier than other options. With regular maintenance routines, you can ensure it's always looking its best, and holds up over time.
The best flooring materials for a healthier commercial space
Chances are you have specific materials in mind. Tile for the bathrooms. Carpet for conference rooms and offices. Hardwood to make a grand impression.
The good news is there is something for everyone, thanks to today's technology. While there is no such thing as LEED certified flooring – the USGBC does not certify any particular product or material – what you should focus on is selecting a green flooring option that will add credits to your LEED application. Look for sustainability first. Ask yourself:
How is this flooring manufactured?
Is the flooring made from recycled products?
Is it sourced locally?
Does it contain low or zero emissions?
The more you can answer yes to these questions, the more likely you'll score credits on the application itself.
No matter what type of flooring you prefer, ask for the most sustainable, healthiest option you can find. Make your choices wisely.
Historically, carpet hasn't been considered a green option because of what happens at the end of life. More than 4 billion pounds of carpeting moves into landfills each year. But with a little work, you can find suitable materials from production to end-of-life, ensuring the most sustainable flooring material you can find. Look for natural fibers or recycled materials. Carpet tiles may not appear eco-friendly because of their backing. But they can hold up well when you only replace them one at a time, giving you longer life than you may get with a wall-to-wall option.
Hardwood seems like a great choice because it can be sourced sustainably from a certified eco-friendly forest. Care should be taken to ensure it meets the guidelines of a resource like the Forest Stewardship Council to ensure proper forest management.
Don't overlook options like bamboo. While similar in nature to hardwood, it's more sustainable because it's manufactured from bamboo grass, which can be harvested sooner than hardwood. It also doesn't kill the plant, meaning it can produce multiple crops through a single planting. It doesn't require fertilizer, pesticides, or much water, making it eco-friendly in many ways.
Are you looking for healthier commercial flooring? Want something that helps you with your LEED certification? We have many choices to suit your needs. Give us a call today.