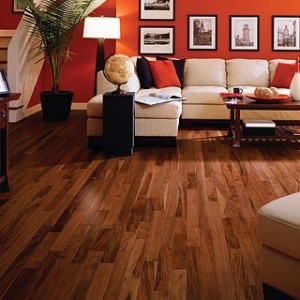 Laminate flooring is quickly becoming one of the most popular types of flooring today, and for good reasons. Not only is it friendly on your budget, laminate flooring is easy to install and looks great too.
But, like any building material, laminate floors are not perfect. Do the pros outweigh the cons when it comes to choosing laminate flooring for your home? Let's take a look.
Pros of laminate flooring
It's durable. One of the most durable floor choices, laminate flooring is known for its toughness. It boasts scratch-resistant qualities and it will not fade if it is exposed to sunlight.
It is stain resistant. Laminate floors are resistant to most stains, and they are also water-resistant if spills are quickly wiped.
It's easy to install. Laminate flooring does not require any nailing or gluing to a subfloor. Most flooring planks can be easily attached and snapped together.
It looks great. Because laminate flooring looks like real wood, it can give your home a polished look that can't be beat.
It's available in many designs. Modern laminate flooring comes in tile and hardwood designs, and there is sure to be one that fits your home's style.
Cons of laminate flooring
It is difficult to repair. While real wood floors can be refinished many times over, laminate flooring is more difficult to repair because it can't simply be sanded. Instead, a damaged or worn laminate floor needs to have its damaged planks removed and new ones installed in order to restore the appearance of the floor.
It's prone to damage from moisture. Laminate is more susceptible to moisture damage than wood. If laminate wood is exposed to standing water, it can break down and expand. The floor will then require a replacement.