Tile is one of the most versatile decorating items you can add to your home. You'll love both its functionality as well as its durability.
What's more, you can add it to your home in many different ways.
Location, location, location. 
Pick an area in your home that gets a lot of visual attention. Then let your imagination go wild. Bathrooms, kitchens, laundry rooms, even patios and outdoor living spaces can change with the addition of tile. Stay subtle or add a pop of color. With tile, anything is possible.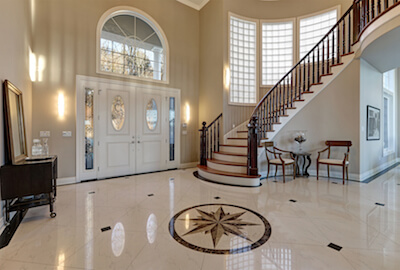 Use tile as borders
A great way to further enhance a room is by selecting a different tile as a border. It can help catch the eye and direct it to other parts of your room. A small mosaic can be the perfect way to enhance larger tiles. Or a splash of color can add drama to a space. They also allow you to separate rooms when you're in a larger living space. It can help tie your entire look together.
Add in accents
Tile comes in almost any color, style, shape, or size you can imagine. While you might prefer a solid look running throughout a room, why not accent different aspects of your room? Make your tile stand out behind your cooking range. Add metal-look tiles for special effects.
Focus on natural light
Like many of your decor features, tiles change based on the light. Natural light can make your tiles look brighter, whereas spots can put focus on special accents. Take into account where your natural light is coming from and keep your most dramatic effects on the parts of the room you use most.
Select the right grout
It's not all about the tile; your grout plays a part in the overall design too. Grout serves as the glue that holds your tiles together. Although it's installed after your tiles are in place, it can leave a lasting impact on the overall look of the space. Should it stand out or blend in? One of our consultants can help you decide the perfect look for you.
Symmetry … or not
The position of your tile is equally as important as the shape and style. Not all layouts have to be perfectly symmetrical. Diamond shapes, geometric patterns, and more can be used to enhance your space. It can also help make your space larger or smaller than it seems.
Textures and finishes
Think all tiles are smooth to the touch? Think again. Tiles come in many materials and can provide a variety of textures and finishes to your space.
Add uniqueness to your space
Tile can be vibrant and colorful or natural and subdued. When it comes to your final design, you can play around with different combinations and add just the right amount of personality to your room.
From floors and walls to backsplashes and countertops, tile is the perfect material to use in many different rooms in your home.
Where can you add tile and make your room come to life?