Humans love their pets. In fact, 90 percent of us consider our pets to be a part of our family.
We bring pets into our lives for a variety of reasons. For companionship. For friendship. Approximately 66 percent of dog and cat owners buy holiday gifts for other people's pets.
Of course, there are health benefits associated with pet ownership too. Loneliness goes down. Stress can be reduced. Bringing a cat into your life has been shown to lower the chance of a stroke by 30 percent.
No matter what the reason is you've brought pets into your life, once they're in your home, things change. You'll have to clean your home more to remove dander and pet hair. You'll have more accidents, sometimes unnoticed for days.
And all of that can be tough on your floors. What's a homeowner to do?
What to consider before selecting new flooring when living with pets
You may love that cream colored carpet you've had your eye on for a long time. It would look great in the bedroom. But how will it look after your pets have played on it for even one day?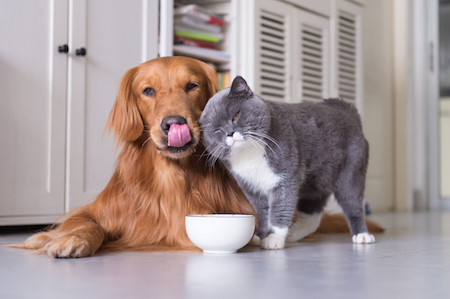 Every homeowner has a list of things they'd love to have in their homes, but in their gut, they know it can never be. It may be the ideal choice in your heart, but your brain knows it's a disaster waiting to happen.
First and foremost, go with your gut. Your gut usually holds strong and keeps your practical side in check. It warns you when you have a choice to make and one of them is all wrong.
Beyond your gut, there are a few other things to think about that can influence your new flooring choices.
Staining – Pets bring messes to life in your home. They may spill food and water while they eat. They drag in all kinds of things from the outside. Those muddy paw prints … And sometimes even house-trained pets have accidents. Select flooring material that is stain-resistant, whenever possible.
Durability – Dogs and cats – the two most popular pets in the country – have sharp nails that can do a lot of damage to a floor. Pets love to play and run, which can scratch hardwood and tear up carpet. Focus on flooring that has high resistance to wear damage from common pet activities.
Comfort and safety – Some floors are more slippery than others, that holds true for humans and their pets. Especially as pets age, hard floors can be hard on their joints, and not as comfortable when they lie down and sleep. Especially in areas where they love to run and play, be sure they have flooring that helps with traction, and is comfortable to their feet.
With all of that in mind, what are our top choices in new flooring for pet owners?
Vinyl flooring
If you haven't looked at vinyl flooring lately, we suggest you come in for a closer look. Vinyl flooring today is nothing like you remember from your childhood. In fact, luxury vinyl planks often look so real, you have to get down close to see they aren't the real thing.
Vinyl flooring is also one of our top recommendations for homeowners who want new flooring and have pets. That's because it's an economical flooring choice that is low maintenance as well. One of the most common problems when you own pets is scratching damage. Vinyl is resilient to scratching, even when nails are grown out, and pets are active.
There are other reasons to give vinyl flooring a second look. Vinyl flooring is resilient flooring. That means it can sustain the small problems your pet dishes out. If they are a sloppy drinker, water going everywhere, vinyl is your choice. And for the occasional accident, urine won't soak into the flooring if wiped away quickly. It is important to catch liquid spills quickly, as even with vinyl, standing liquid can present a problem if it soaks through the top layer. It can cause both mildew and mold over time.
Vinyl also brings a comfort factor to the room. It has a slight cushiony feel when standing or walking. That also makes it more comfortable for your pet to lie on.
Vinyl is a great choice for many rooms, including the kitchen and bathrooms.
Laminate
Here in Colorado, we love our hardwood floors. Yet they often don't make sense in busy households, especially if you have more than one pet.
Laminate flooring may be a better choice. It's one we frequently recommend to homeowners with pets.
While it might look like hardwood, it's stronger. That gives it the ability to resist nail scratches and hold up better under the occasional messes. Its protective layer is designed to be stronger than many flooring choices out there. Today's technology makes the pattern layer look so real, it can fool almost anyone who enters. And the core and bottom layers build up strength and durability, making it the perfect choice for just about any room in your home.
Laminate is easy to clean, and rarely stains. Just be aware of messes, and clean them up right away. Moisture can seep through into spaces between the planks if it sits too long. Once it gets into the core or subfloor, mildew and mold can form. You'll have to replace the plank and possibly the subfloor if that happens, so it's a good idea to keep messes in check.
A few other tips
We can't stress enough that when you have a pet in the home, clean-up is your best course of action. The longer any mess sits on your floor, the greater chance it has of doing permanent damage. That includes water from their bowls, urine from the occasional accident, and any other mess they track in from outdoors.
Keep your pets well groomed. That will eliminate loose hair, and prevent it from accumulating in the corners of your room. Short nails also tend to cause less damage.
If you have a flooring choice more susceptible to damage from pets, and you're considering new flooring, we suggest you move to a more pet-friendly choice. Carpet, bamboo, and other soft flooring choices will never hold up well to all your pets can dish out. You'll be glad you made the switch to a more durable flooring choice.
Thinking of installing new flooring? What are the top choices you're considering to keep your pets healthy and happy?