Bringing a gym into your home means you have an easier time sticking to your health plans. But converting a room in your home to a gym isn't as easy as bringing in a new piece of equipment.
There are a wide variety of floor covering options available to ensure both safety and functionality. The four most popular flooring options for use in a home gym are carpet, rubber, foam, and vinyl. Each has their own benefits and drawbacks; which is right for you?
Carpet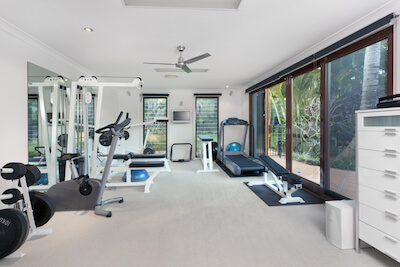 The perfect carpet for your gym isn't plush fibers. Instead, think carpet tile. It's all-purpose, relatively inexpensive, comfortable to the touch, and fairly easy to clean and maintain.
Select low pile. Berber style often makes a good choice. Commercial grade carpet also works well in home gyms. Carpet tiles make it easy to install with interlock install, and be laid into place even as a DIY project. The tiles also give you options and flexibility when you need to replace.
Rubber
Rubber flooring comes in both rolls and tiles with a wide range of thicknesses and color options. They are also one of the least expensive flooring options available.
Rubber can be easily installed, especially if you install with tiles; it makes a great DIY project for your weekend. It's easier to clean and care for than carpet, as you can clean just about anything with a damp cloth or a vacuum. It also has antimicrobial qualities, and won't harbor mold, fungi, or mildew growth. It also provides a quiet atmosphere to keep your home quiet during workouts.
Foam
Foam is often sold in tiles or mats. You'll often find them in puzzle lock tiles that can be installed in minutes by a DIY homeowner.
Like rubber, they are low in cost and easy to maintain. They provide cushion and comfort for every workout routine. Many homeowners choose them because of the color, style and pattern options. You can incorporate any look you desire into your home gym.
Vinyl
Vinyl also comes in sheets and in tiles, giving them flexibility for installation. If you select tile, they interlock together just like foam flooring, making them super easy to install. They also have cushion and flex, giving the final appearance of a rubber floor.
They are easy to clean; just use a damp mop or sweep. Vinyl is extremely resistant to mold and mildew growth, and fights away most chemicals. That makes them a perfect choice if oil or solvents may be present, such as in a garage or basement.