Are you a homeowner with gleaming hardwood floors that you want to protect from everyday wear and tear? Or perhaps you're looking to add a touch of warmth and style to your living spaces? It's time to shop for area rugs!
These versatile and stylish floor coverings not only enhance the aesthetics of your home but also serve as protectors for your precious hardwood floors and other types of flooring. But where do you begin?
Yes, you can find area rugs just about anywhere. Do a search online, and you'll find bargains galore. You'll find them at your local big box store … even the hardware stores are coming on board and offering you area rugs that are hard to ignore.
So where should you buy? What should you look for? Are you putting your flooring at risk if you choose the wrong area rug?
Let's dive in and discover more.
Why Hardwood Floors Need Area Rugs for Protection
Hardwood floors are an excellent investment, providing elegance and durability to any home. However, they are susceptible to scratches, dents, and discoloration over time due to foot traffic, furniture movement, and accidental spills.
This is where area rugs come to the rescue. Placing area rugs strategically in high-traffic areas, such as hallways, living rooms, and entryways, can shield your hardwood floors from direct impact and reduce the risk of damage.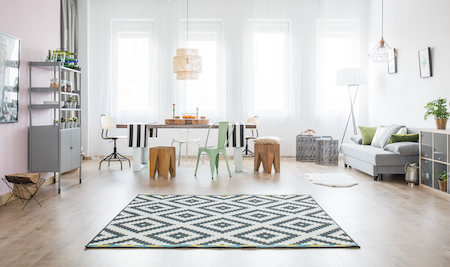 Living here in Colorado, you have an added problem – sunlight. You may love the view through your big picture window, but your hardwood floors aren't as happy. Those long hours of sunshine can cause the color to fade. Area rugs help prevent fading caused by exposure to sunlight.
What Rug Materials are Best for Hardwood?
Not all area rug materials are the same. Select poorly, and it may scratch or damage the finish, requiring you to replace your flooring prematurely.  What should area rugs be crafted from?
Wool – Wool rugs are a popular choice for hardwood floors due to their natural softness and durability. They are resistant to stains, easy to clean, and can withstand heavy foot traffic without causing scratches or dents on the hardwood surface.
Cotton – Cotton rugs are another safe option for hardwood floors. They are affordable, lightweight, and come in a variety of designs and patterns. However, keep in mind that they might not be as durable as wool rugs and might require a rug pad to prevent slipping.
Natural Fiber (Jute, Sisal, Seagrass) – Natural fiber rugs add an earthy and organic touch to your living spaces. These rugs are sustainable and eco-friendly, making them an excellent choice for environmentally conscious homeowners. However, be cautious when using them on hardwood floors, as some varieties may be rough and cause scratches. Always use a rug pad to prevent potential damage.
Silk – For a touch of luxury, silk rugs are a great option. They are soft and add a sense of sophistication to any room. However, due to their delicate nature, it's best to use silk rugs in low-traffic areas or as decorative accents on hardwood floors.
Why Some Area Rugs Damage Hardwood Floors
While area rugs can protect your hardwood floors, some rugs themselves may cause damage if not chosen and maintained carefully. Rugs with rough backings or poor-quality materials might trap debris and dirt, leading to abrasions on the floor's surface. Additionally, rugs without proper backing can allow dirt and grit to accumulate underneath, creating friction that can result in scratches.
It's essential to inspect the backing of area rugs before placing them on hardwood floors. Look for rugs with a non-abrasive and slip-resistant backing to ensure they won't cause any damage. Regular cleaning and vacuuming of both the rugs and the hardwood floors beneath will also prevent any debris buildup.
Using Area Rugs with Other Flooring Materials
Area rugs aren't just for hardwood floors; they can also enhance and protect other types of flooring. Whether you have tile, laminate, vinyl, or carpeted floors, area rugs can add beauty, comfort, and functionality to any space.
On tile or stone floors, area rugs can provide a soft and warm surface for your feet, especially in rooms like the kitchen or bathroom, where standing for long periods is common.
In areas with carpeted floors, a strategically placed area rug can protect the carpet from heavy foot traffic or spills, extending its lifespan and keeping it looking fresh. Keep in mind that area rugs can slip when placed on existing carpet. You can anchor it in place by placing furniture at the corners. Or use a non-slip pad built exclusively for carpet.
Why Rug Pads are Important
Rug pads are often an overlooked accessory, but they play a crucial role in maximizing the benefits of your area rugs and safeguarding your floors. Rug pads provide a variety of benefits, including:
Slip-Resistance – Rug pads provide traction, preventing area rugs from slipping and sliding, which could cause accidents and damage to both the rug and your floors.
Floor Protection – High-quality rug pads act as a barrier between the rug and the floor, preventing any potential damage caused by rough rug backings or debris accumulation.
Comfort – Rug pads add an extra layer of cushioning, making your area rugs feel softer and more comfortable underfoot.
Air Circulation – Rug pads promote air circulation, which helps prevent mold and mildew growth under the rug, particularly in humid environments.
Longevity – By reducing friction between the rug and the floor, rug pads help extend the life of your area rugs and floors.
Are you ready to find the perfect area rug for your home? 
Area rugs are more than just beautiful home decor; they are essential tools for enhancing the aesthetic appeal of your living spaces and protecting your precious floors, especially hardwood surfaces.
Don't make the mistake of buying one at discount at your local big box store. You may wind up with an area rug that doesn't protect and damages your flooring underneath. With the right selection and placement of area rugs, you can enjoy a cozy, stylish, and well-protected home for years.
We can help! Stop by today and see our entire selection of area rugs. We'll help you find the perfect one for your room, and create the home environment you've been dreaming about.