Do you cringe when you walk through your front door? Do you leave the laundry on the floor hoping it will hide your floors? Are your floors anything but exciting?
Maybe it's time to do something about it.
Luxury vinyl is taking home improvement by storm. It's the looks. It's the durability. It's the affordability.
It's time to give luxury vinyl a second look.
What makes luxury vinyl so special?
Luxury vinyl is truly a game-changer in the world of flooring. It brings together the best of both worlds, combining hardwood's timeless beauty with vinyl's convenience and affordability. Here's why homeowners are falling in love:
Looks like hardwood
One of the most remarkable features of luxury vinyl is its ability to mimic the appearance of natural hardwood. The high-quality printing technology used in its manufacturing captures every detail, from grain patterns to knots, making it almost indistinguishable from genuine wood. If you weren't impressed a few years ago, we invite you to look again. You'll truly be surprised at how good this new technology is.
Affordable
Unlike hardwood, luxury vinyl is a budget-friendly option. You can achieve the same elegant and luxurious look without breaking the bank. It's a win-win situation!
Durable
Luxury vinyl is built to last. It can handle heavy foot traffic, kids playing, and even the pitter-patter of your furry friends without showing significant signs of wear and tear. It's the perfect choice for busy households.
Comfortable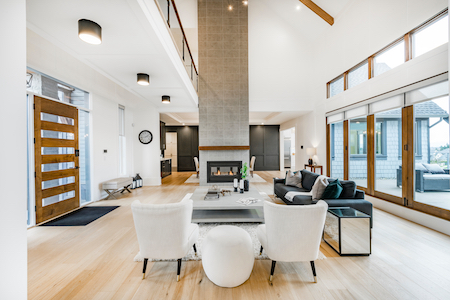 Say goodbye to chilly floors in the morning! Luxury vinyl has a bit of cushioning and warmth, making it more comfortable underfoot compared to traditional hardwood or tile flooring. If you spend a lot of time on your feet, or are tired of how tile feels underneath, you're going to love luxury vinyl.
Water-resistant or waterproof
Spills and accidents are a part of life, especially if you have little ones or pets. Luxury vinyl's water-resistant or waterproof properties ensure it can handle moisture without warping or swelling, making it ideal for kitchens, bathrooms, and basements.
Easy to install
You don't need to be a flooring expert to install luxury vinyl. With various installation methods like click-and-lock or peel-and-stick, you can even take it up as a DIY project!
Why are people falling in love with luxury vinyl?
Luxury vinyl has been gaining popularity at a rapid pace, and it's not hard to see why. Have you seen it for yourself? If you're even a little bit curious, you're not alone. It's a great way to combine durability with aesthetics all into one. Let's explore some of the reasons people are head over heels for this fabulous flooring option:
Aesthetically pleasing
The ability of luxury vinyl to replicate the look of hardwood, stone, or tile means you can find the perfect style to complement your home's interior design.
Low maintenance
Unlike hardwood that requires regular refinishing, luxury vinyl only needs a simple sweep and occasional mop to keep it looking pristine.
Allergy-friendly
Luxury vinyl does not trap dust, pet dander, or allergens like carpets, making it an excellent choice for allergy sufferers.
Versatility
From traditional to contemporary, luxury vinyl comes in a vast array of designs, colors, and textures, allowing you to customize your floors to match your personal taste.
Comfort and warmth
Luxury vinyl's cushioned surface provides a more comfortable feel underfoot, making it ideal for rooms where you spend a lot of time standing, like the kitchen.
What to look for when selecting luxury vinyl?
Are you convinced luxury vinyl is the way to go? Still need a few fresh ideas before saying "yes" to luxury vinyl? Consider these factors before finalizing your decision:
Don't go by looks alone
While appearance is essential, make sure you consider the performance and durability of the product. Ask your flooring dealer about the wear layer, thickness, and warranty to ensure it meets your needs.
Thickness matters
The thickness is one of the more important factors to consider. Luxury vinyl is crafted in layers. The thicker the design layer, the more durable it is to stand up to the daily wear and tear you dish out. Thickness increases durability, comfort, and performance. It insulates better against noise, and will provide a warmer environment. That's important during the snowiest months of the year.
Maintenance and care
The good news with luxury vinyl is it won't take much to maintain its good looks. Sweep it daily to keep it dirt-free. Mop to remove more stubborn dirt and stains. It's easy to keep your luxury vinyl flooring looking stunning for years to come.
Design options
This is what's attracting its biggest fans. Luxury vinyl mimics some of the most popular flooring choices on the market. But with a twist – it offers what many original flooring options can't. Plus, if you're looking for specific colors or patterns, luxury vinyl doesn't depend on nature. Many manufacturers have created colors and patterns you won't find anywhere else. Take your time exploring the variety of designs available. You may find a stunning pattern or a unique texture that perfectly complements your space.
Installation method
Want a DIY project? Luxury vinyl can be your solution. Want something that doesn't have to acclimate to your home before installation? Luxury vinyl is perfect for that too. You can make your mind up today and start installing it tomorrow. Plus you won't have to wait for glue to dry. It's one of the most flexible flooring choices you can choose.
Lifespan
This is where you'll need a friend you can trust in the flooring business. Ask your flooring dealer about the expected lifespan of the product you choose to ensure it aligns with your long-term plans for your home.
While it might not last decades like hardwood, high-quality luxury vinyl can bring you many years of enjoyment. Select manufacturers carefully for best results.
Find the right flooring dealer to stand behind their work
Choosing the right flooring dealer is as crucial as selecting the right luxury vinyl for your home. A reputable and reliable dealer will offer you a wide selection of top-quality luxury vinyl, expert advice, and professional installation services. Look for dealers with positive customer reviews, industry experience, and those willing to stand behind their work with warranties and guarantees.
So, are you ready to bid farewell to your boring floors and embrace the beauty of luxury vinyl? I assure you that with luxury vinyl flooring, you'll transform your home into a stylish and comfortable haven that will leave your guests in awe.
If you have any questions or need assistance choosing the perfect luxury vinyl flooring, don't hesitate to reach out. We're here to help you create the home of your dreams, one beautiful floor at a time!