Are you looking to replace existing flooring in your residential or commercial space? After extensive research, are you leaning towards luxury vinyl planks – LVP? Great choice. There are many reasons to consider this product for your next project.
1. What is LVP and why should I consider installing it?
Where did you start researching your new flooring? For most, it's a combination of:
Seeing what your neighbors are installing in their remodeling projects
Looking through websites and television shows to see what's popular
Discovering flooring options as you wind through the aisles of your favorite big box store
If you've done even just one of the three, chances are you've come across LVP. It's trending as a great alternative to traditional hardwood floors because it adds several characteristics not available with hardwood. It's easy to install, making it a great do-it-yourself project. It's waterproof – yes, waterproof. And it's hard to ignore the cost.
2. What should I pay attention to when making my final selection?
Let's talk about the LVP flooring wear layer.
When luxury vinyl planks are created, they are designed with several layers. There is the base, or core layer for strength and endurance. You'll have the print layer that gives LVP its classic good looks. You'll also have a wear layer, which gives added protection between the printed design of the vinyl plank and the finish that goes on the very top.  This is what protects your floors from things like scuffs, scratches, and dents. Choose wisely and you'll ensure longevity for your flooring choice.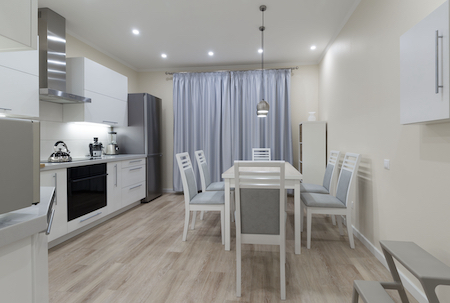 You'll find the planks will be listed and sold with a mil thickness level. Don't mistake this for millimeters. In general, the higher the mil level, the more durable the wear layer will be on your LVP.
With standard residential spaces, we recommend selecting 12-mil or thicker. High traffic spaces will do better with a 20-mil or thicker level plank. And if you're installing this in commercial spaces, move to the 28-mil or thicker level. Remember, these are guidelines. When we chat about your project, we're happy to make suggestions based on what we've seen in the past. We have experience with multiple manufacturers and varying product lines, and understand what products handle best in different situations.
3. What about longevity – how long will LVP last?
When you're installing a new flooring, looks may be what you focus on in the beginning. But very quickly, your thoughts will turn to longevity. Installing new flooring isn't something you want to do frequently. The longer the product can exist within your space and look good in the process, the better.
Luxury vinyl is a highly durable product. If you install it correctly and maintain it over time, you can easily expect to get ten to twenty years of life. Depending on the manufacturer you select, you may even find warranties up to 15 years, protecting you from problems that might come from the wear layer.
Of course, results may vary. That's why it's important to be honest with yourself about your expectations. LVP is a great resource for the high traffic areas you spend most of your time. LVP is growing in popularity in living rooms, dining rooms, and kitchens. Plus the waterproof feature means you can extend the look beyond and into your bathrooms, laundry rooms, and basements. That's one of its greatest benefits – you can keep the same product in every room in your home if you choose.
4. Let's talk about style – will LVP really give me the look of hardwood?
When you start looking at LVP, you'll discover there are three different categories of vinyl plank flooring.
The first is LVP. These vinyl planks are created with a rigid construction that is durable and higher quality than the typical vinyl flooring products you might be used to. The focus on this product line comes with its rigid construction. These planks can stand up to much of the abuse your family can dish out. Have pets, kids, and high traffic rooms? Not a problem. They are built with multiple layers that stand up over time.
The second is waterproof planks, sometimes listed as WPC vinyl flooring. This product is 100 percent waterproof and can be installed basically anywhere inside your home. Worried about your basement? Not a problem. Have an imperfect subfloor or one made of concrete that has caused problems in the past? Install it and love it. This product typically has four-layer construction that includes a waterproof core. When installed correctly, it can give you a base you'll spend less time worrying about and more time loving.
Third is rigid core vinyl planks, sometimes sold as SPC vinyl flooring. These can also be 100 percent waterproof. The difference is in composition. Rigid core vinyl flooring has a stone-plastic composite core that is practically indestructible. That elevates this product and makes it installable in high traffic areas, even commercial locations, and stands up well over time.
5. What other options are there? Does it just mimic hardwood?
Just by the description, you can see that LVP makes the perfect addition to your home because of how closely it resembles hardwood. If there's a color you've been dreaming of, you'll find it. If you want exotic wood without exotic prices, you'll find that too.
But LVP isn't just for hardwood. You'll find stone-look flooring products that resemble ceramic plank flooring too. Concrete, travertine, and slate are growing in popularity in the LVP product lines. It produces a unique look that may be the perfect choice for your home.
6. What about installation? Should I attempt this myself?
Does the thought of installing hardwood sound difficult and tedious? It can be. You want to ensure hardwood planks are installed correctly to avoid common problems such as warping and cupping. Install it incorrectly, and you may void the warranty too.
But with LVP, its interlocking installation uses a tongue and groove method of installation that makes it easy to install. Want a do-it-yourself project? Look no further than LVP. It's a great way to add high quality products to any remodeling project, no matter what budget you have in mind.
7. Why go with a flooring dealer instead of a big box store?
If you've looked at your local big box store, chances are you've seen a small selection of what's available on the market today. Why not just shop there – the price fits your needs?
Bog box stores buy on margin. They have specific price points they purchase at, and often the manufacturers design products exclusively for their needs. Are they the best products available? Well …
Flooring companies buy differently. If you've been afraid the prices will skyrocket because we specialize in flooring, stop. We have every end of the spectrum, and can often match or beat the prices you'll find at those stores.
Plus you'll get a fuller array of products, higher quality service, and better knowledge on what you're installing. Really, it's a win/win all the way around.
What are you waiting for? Stop by today.