Walking into a flooring showroom can leave you a bit overwhelmed. You know it's time for new flooring, but seeing an almost unlimited supply of choices … where do you begin?
A little research points you toward luxury vinyl. It's intriguing. It's stylish. And it's perfect for your home.
But how much do you know about luxury vinyl? A little sleuthing will confirm that it's a great product to lay down on your floors. You'll love its unique qualities and the way it compliments your surroundings.
Ready for more?
What is Luxury Vinyl?
Luxury Vinyl Flooring, commonly known as LVT or LVP, has become increasingly popular in recent years. But what exactly is luxury vinyl?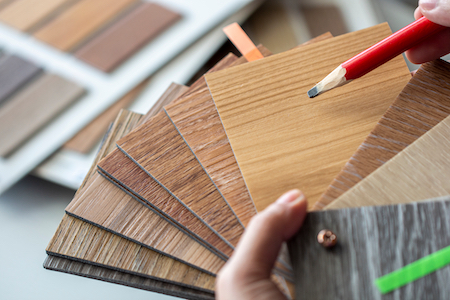 Luxury vinyl is a synthetic flooring material replicating the look and feel of natural materials such as hardwood, stone, or tile. It's thicker, water-resistant, and higher quality than traditional vinyl.
It is available in two main categories: Luxury Vinyl Plank (LVP) and Luxury Vinyl Tile (LVT). LVP mimics the appearance of hardwood planks, while LVT imitates various types of tiles, including ceramic and stone.
Advantages of Luxury Vinyl
If you're considering upgrading your flooring, luxury vinyl is an excellent choice. Homeowners all across Colorado are installing luxury vinyl and loving the results. It has many advantages that may make it the perfect choice for your home.
Looks and feels real
Thanks to today's advanced technologies, LVT and LVP have come a long way. Luxury vinyl flooring offers a unique and realistic feel and texture, making it almost impossible to differentiate from the real thing. In some cases, even experts have had to kneel to see the difference. That means you can enjoy the look of hardwood or tile, yet maintain the benefits of working with vinyl. It comes in different colors, patterns, and finishes, allowing you to express your personal style.
Water-resistant or waterproof
Unlike hardwood, luxury vinyl flooring is water-resistant or waterproof, depending on the product you select. If you want waterproof, seek out manufacturers that specifically create a waterproof vinyl plank – there is a difference. This makes it great for high-traffic areas or rooms with high humidity. It's easy to clean up any spills. With luxury vinyl, you don't have to worry about water damage and mold growth.
Easily installed
Luxury vinyl can be installed in several ways, including click-lock systems, peel-and-stick, and glue-down methods. These installation methods are generally straightforward and can be done as a DIY project, saving you money on professional installation. Of course, you can always have a professional do it; it assures you it's done correctly the first time.
Saves you money
Compared to traditional flooring options like hardwood or stone, luxury vinyl is more affordable. It offers a cost-effective solution for homeowners who desire the look and feel of natural materials without breaking the bank.
Provides insulation and sound-proofing
Luxury vinyl flooring provides excellent insulation, helping to maintain a comfortable indoor temperature. It also acts as a sound barrier, reducing noise transmission between floors.
Easier on your feet
Luxury vinyl has a softer and more forgiving surface compared to harder materials like tile or hardwood. This makes it more comfortable to stand or walk on, especially for long periods, making it a popular choice for kitchens and other high-traffic areas. Its softness makes LVT and LVP an excellent choice for homes with kids and pets.
Easy to repair
In the unfortunate event of damage, luxury vinyl is relatively easy to repair. Individual planks or tiles can be replaced without replacing the entire floor, saving you time and money.
Durable
When homeowners mention they're looking for durable flooring, luxury vinyl almost always moves to the top of the list. Luxury vinyl is built to withstand heavy foot traffic, making it a durable option for both residential and commercial spaces. (If you're installing it in commercial locations, be sure to select commercial-grade luxury vinyl.) It is resistant to scratches, stains, and dents, ensuring that your floors maintain their pristine appearance for years to come.
Easy to clean and maintain
Luxury vinyl requires minimal maintenance. Regular sweeping or vacuuming and occasional mopping are usually sufficient to keep your floors looking their best. Unlike natural materials, luxury vinyl does not require sealing or refinishing.
Aesthetically pleasing
As you walk down the aisles and take in the different options, you'll quickly be impressed by what luxury vinyl offers you. Luxury vinyl comes in a wide range of styles, colors, and patterns, allowing you to find the perfect flooring option to complement your interior decor. Whether you prefer the rustic charm of hardwood or the sleek elegance of marble, luxury vinyl offers endless design possibilities.
Downsides of Luxury Vinyl
There isn't "perfect" flooring. Every homeowner has different needs, wants, and desires. While luxury vinyl has a long list of advantages, we'd be remiss if we didn't mention the downsides too.
Scratches easier than laminate
While luxury vinyl is durable, it is not entirely scratch-resistant. Sharp objects or heavy furniture dragged across the floor can cause scratches. However, these scratches are often less noticeable due to luxury vinyl's visual patterns and textures. Just be aware it can happen.
Requires floor prep if it's uneven
Luxury vinyl needs a smooth surface for proper installation. If your existing floor is uneven or has imperfections, it may require floor preparation before installation. This step ensures a stable and flawless foundation for your new floors.
Does little for home value
While luxury vinyl offers numerous benefits, it may not significantly increase the resale value of your home. Some buyers still prefer traditional hardwood or natural stone flooring options, which are often considered more prestigious. However, if you plan to stay in your home for an extended period, luxury vinyl's practicality, durability, and aesthetic appeal can still make it a worthwhile investment.
Luxury Vinyl – Perfect for every room
Are you starting to see how well luxury vinyl could work inside your home? We hope so. It's becoming one of our favorite flooring choices because it works so well in Colorado homes.
It's stylish
Luxury vinyl flooring allows you to achieve your desired style and ambiance in any room. From classic and traditional to modern and contemporary, there are countless design options to suit your taste and complement your home's aesthetic. It can instantly change the look of your home.
Lots of colors and patterns
Luxury vinyl offers a vast array of colors, patterns, and textures. Whether you prefer the warm tones of hardwood, the cool hues of stone, or the bold designs of geometric tiles, there is a luxury vinyl option to enhance the visual appeal of any space.
Great for basements, bathrooms, and laundry rooms
The moisture-resistant properties of luxury vinyl make it an excellent choice for areas prone to humidity and water exposure. Basements, bathrooms, and laundry rooms are ideal spaces for luxury vinyl flooring, as they can withstand the challenges posed by these environments.
You'll love it in your living room and kitchen
The durability, ease of maintenance, and aesthetic versatility of luxury vinyl make it perfect for high-traffic areas like the living room and kitchen. With its ability to replicate the appearance of natural materials, luxury vinyl can create a warm and inviting atmosphere in these central spaces of your home.
Luxury vinyl flooring – are you ready to install it?
Luxury vinyl flooring is the perfect blend of style and durability for homeowners seeking a practical yet visually appealing option. With numerous styles, colors, patterns, and advantages, it's no wonder it has become increasingly popular in recent years.
Whether you're looking for water-resistant flooring or need something to withstand heavy traffic, luxury vinyl offers everything you need and more.
Ready to move to the next step? We can help. Stop by today, and see our entire collection. We'll help you choose the perfect flooring to suit your needs.