Looking for a flooring that's durable, easy to care for, and looks great too? 
Maybe it's time to give luxury vinyl another look. 
For many, the word "vinyl" instills memories from our parents' homes, where vinyl was anything but attractive. The hodgepodge of colors and patterns rose up from the floor, creating a vision we'll never forget.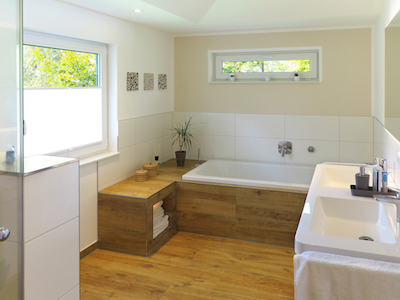 Luckily, "vinyl" has upgraded its look and feel, and we think you're going to be pleasantly surprised. 
What Is Luxury Vinyl?
Today's luxury vinyl is designed to mimic the look of some of today's hottest flooring products like wood, ceramic tile, or stone. Luxury vinyl tile, or LVT, is a high-end product that is possible through technology, and is so good people are using it in all kinds of places, including luxury homes, condos, and even businesses. 
LVT is designed in layers. The bottom layer is the foundation of the product. It's sometimes known as the backing, and is made of vinyl or sometimes a mixture of limestone and vinyl. The top layer is a heavy film made from aluminum oxide, which is a protective layer designed to help keep the look and feel of the vinyl intact. It's combined with a second layer of transparent film to prevent damage to the flooring. Together, they prevent things like UV rays from penetrating through, and helps keep scratches and other marks at bay. 
The middle layer is the actual vinyl layer that creates the look and feel. Designers and manufacturers create photographs and prints to mimic the real thing. Each manufacturer adds their own tweaks and nuances to give their product their own personalized touch before including in their LVT product line. 
Why Buy Vinyl?
People choose luxury vinyl for a variety of reasons. 
One of the top reasons is durability. You can't beat the performance of luxury vinyl tiles. Spills are easily wiped up. Moisture isn't an issue; luxury vinyl is waterproof and won't ruin the subfloors with consistent humidity or water. Of course, nothing can prevent damage with standing water or flooding, but luxury vinyl offers protection where you need it most. It also gives you protection from scuffs, scratches, and scrapes. It's one of the most versatile flooring choices on the market for high traffic, busy homes.
And if that isn't reason enough, you'll love luxury vinyl's softness and comfort factor. If you're on your feet all day, LVT helps make that a comfortable experience. That's especially helpful for small children learning to walk, or the elderly with mobility issues. With the insulation properties of luxury vinyl, you'll also find it helps create warmth in the winter and coolness in the summer. 
Want even more? Then consider the price. Luxury vinyl planks, tiles, or sheets give you a high-end look without the high-end price. You'll love the wide selection of hardwood and stone looks that make it a perfect choice for any room in your home. 
Installing Luxury Vinyl
One of the biggest advantages of using luxury vinyl in your home is how easy it is to install. Instead of days or weeks of preparation that's necessary with other types of flooring, you can install luxury vinyl in a matter of hours. It's one of the most forgiving flooring choices on the market. 
Depending on the manufacturer you choose and the product you select, there are several different ways of installation. Your flooring consultant can help you choose the right product for your unique situation. In general, there are two types of LVT on the market: glue-down and floating. Glue-down LVT products must use adhesive to stick to the subfloor. These adhesives generally require a day or two to cure before you can return to your usual living habits. Floating LVT tiles and planks do not require adhesive, and instead, lock together and float above the subfloor. They can be used as soon as the installation process is complete. Look for:
Self-adhesive LVT – these tiles come with adhesive backing in place. Simply remove the protective covering, lay in place, and press down to apply the adhesive to the subfloor. 
Glue-down LVT – these tiles require a special adhesive glue to be applied to the subfloor before the tiles are laid into place. 
Interlocking LVT – these floating tiles use a groove and tongue system along the edges to lock tiles into place. 
Loose LVT – these tiles are backed with a high friction bottom that grips to the floor once installed. 
Luxury Vinyl Tiles – Is It For You?
We've covered a lot of great reasons why luxury vinyl may be the perfect addition to your home. Its durability alone is worth a second look. If you need new flooring quickly, you can't compete with its easy installation. And its resiliency makes it the perfect choice for many rooms in your home. 
But we also like luxury vinyl becomes of its versatility. If you haven't looked at LVT before, you'll be pleasantly surprised at the options. Whether you want the look of hardwood, prefer the look of natural stone, or simply have a ceramic tile design in mind, you'll find it in today's luxury vinyl. Manufacturers understand that today's homeowners no longer will sacrifice good looks for ease of use, and with LVT, they didn't disappoint. 
What's more, luxury vinyl is one of the easiest flooring products to replace. Glue-down tiles will take a little more work, but with the other three LVT products – self-adhesive, interlocking, or loose LVT – you can remove the tiles quite easily. That means the renovation process will be a snap whenever you choose. 
Think luxury vinyl is for you?
Then the best place to start is by stopping by today. Not only can we show you our complete line of luxury vinyl products, but we can cover design ideas too. 
We realize you might not want LVT in every room in your home. We can help you create the perfect way to transition the resiliency of luxury vinyl with any other flooring product you may wish to install within your home. 
You're going to love what luxury vinyl does for your home.