You've probably experienced bad flooring.
You walk in and slip on the floor.
Or you trip over the curled edges of a rug that doesn't connect firmly to the ground.
Bad flooring can be dangerous at best. Not something you want in your office space.
But what are the alternatives?
Many property managers simply replace what's already in place. But is that the best choice for your office space?
Commercial-grade flooring solutions come in many shapes and sizes. Just because it's been there for years doesn't make it the best choice.
Here are some things to consider instead.
Start with a plan
When adding new flooring to your home environment, you use several different materials to ensure a safe, comfortable space.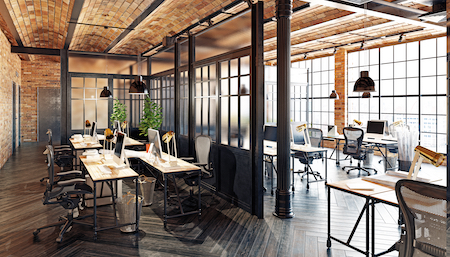 It's no different with office space. Consider functionality and design before you settle on a material:
Lobby or reception areas
First impressions matter. Be sure your entrance speaks to whoever walks in.
It's equally important to create a space that holds up in all kinds of situations. Will it withstand moisture as people track in ice, snow, dirt, and more? Will it look good in high-traffic situations?
Commercial-grade flooring solutions that continue to look good include:
Luxury vinyl planks and tiles
Wood finishes
Terrazzo
Office space
It's your office. Let your personality shine. Your office space should be all about making a connection with your clientele.
Take into account background noise and foot traffic. Consider how durable the flooring materials are and how easy they will be to maintain.
Good flooring choices for office space include:
Carpet
Wood finishes
Luxury vinyl planks and tiles
Conference rooms
When you meet clients in groups rather than individuals, your conference rooms should be there for multiple purposes. This is about overall aesthetics. It's about selecting flooring that's as functional as it is personable.
People often select:
Carpet and carpet tiles
Wood finishes
Porcelain tile
Luxury vinyl planks and tiles
Kitchen space and break rooms
Slip-resistant and water-resistant should be top-of-mind. Coffee spills, consistent moisture, and a whole host of things being dropped on the floor are just some of the reasons you should make your final selection based on hygiene and cleanliness.
People often choose commercial grade flooring solutions such as:
Porcelain tile
Luxury vinyl planks and tiles
Linoleum
Consider durability
It goes without saying that durability should be your top concern.
You want flooring to last for a long time. You want flooring that will look good as it ages.
And that isn't easy to find.
That's why it's important to stick with commercial grade flooring solutions. You might be tempted to stick with a residential option you've fallen in love with. But heavy-duty should win every time.
Commercial-grade flooring solutions are designed to withstand heavy foot traffic, frequent cleaning, and potential spills or accidents. By choosing durable flooring, you can ensure that your office space remains visually appealing and functional for years to come.
When evaluating the durability of different flooring options, consider factors such as the material's resistance to wear and tear, its ability to handle moisture and stains, and its overall lifespan. Additionally, think about the specific demands of your office environment, including the types of activities, the amount of foot traffic, and any potential risks or hazards.
Select the right flooring material for your needs
Once you start looking at your options, you'll be amazed at your many choices. Don't stick with what you've chosen before. Instead, select flooring that will offer functionality and personality, creating an environment you're excited to come to each day.
Porcelain tile
Porcelain tile is a highly durable and versatile flooring material suitable for various office settings. It is made from refined clay fired at high temperatures, resulting in a dense and hard surface. Porcelain tile offers exceptional resistance to scratches, stains, and moisture, making it an excellent choice for areas prone to spills or heavy traffic.
People love porcelain tile because of its wide range of design options. It can mimic the look of natural stone, wood, or even concrete, allowing you to achieve the desired aesthetic for your office space. Additionally, porcelain tile is easy to maintain and clean, requiring only regular sweeping and occasional mopping to keep it looking its best.
Linoleum
Linoleum is another popular choice for commercial office spaces due to its durability, versatility, and eco-friendly properties. Made from natural materials such as linseed oil, wood flour, and cork dust, linoleum is known for its resilience and longevity. It can withstand heavy foot traffic, resist stains, and handle spills with ease.
One of the significant advantages of linoleum is its wide range of colors and patterns, providing ample opportunities for creative and customizable flooring designs. Additionally, linoleum is a sustainable flooring option, as it is made from renewable resources and is biodegradable. It is also easy to maintain, requiring regular sweeping and occasional damp mopping.
Luxury vinyl planks and tiles
Luxury vinyl planks and tiles have gained popularity in commercial office spaces due to their durability, versatility, and realistic appearance. Made from multiple layers of PVC and a protective top layer, luxury vinyl is highly resistant to scratches, stains, and water damage. It can replicate the look of hardwood, stone, or ceramic tiles at a more affordable price point.
One of the significant advantages of luxury vinyl is its ease of installation. It often comes with a click-lock or adhesive backing system, allowing for straightforward and efficient installation. Additionally, luxury vinyl is relatively low maintenance, requiring regular sweeping and occasional damp mopping to keep it clean.
Carpet and carpet tiles
Carpet and carpet tiles are popular choices for creating a comfortable and cozy office environment. They offer excellent sound absorption, insulation, and a soft underfoot feel. Commercial-grade carpets are designed to withstand heavy foot traffic and are available in a wide range of colors, patterns, and textures to suit various design preferences.
Carpet tiles, in particular, are a versatile option as they can be easily replaced in case of stains or damage to specific areas. They also offer design flexibility, allowing you to create unique patterns and designs on your office floor. Regular vacuuming and periodic deep cleaning are necessary to maintain the cleanliness and longevity of carpeted floors.
Wood finishes
Wood finishes, such as hardwood flooring or engineered wood, can add an elegant and timeless appeal to your office space. Hardwood flooring is known for its durability and natural beauty, providing a warm and inviting atmosphere. Engineered wood offers greater stability and moisture resistance, making it suitable for environments where moisture is a concern.
Wood floors can be refinished to remove scratches or imperfections, extending their lifespan. It's important to note that wood floors require regular maintenance, including sweeping, vacuuming, and occasional refinishing, to preserve their appearance and durability.
Terrazzo
Terrazzo flooring is a unique and visually striking option that can elevate the aesthetics of your office space. It consists of a mixture of marble, granite, quartz, or glass chips embedded in a cement or epoxy resin binder. Terrazzo is highly durable, resistant to stains and scratches, and can be customized to create intricate designs and patterns.
While terrazzo requires professional installation, it is a long-lasting flooring solution that can withstand heavy foot traffic. Regular cleaning and occasional polishing are necessary to maintain its shine and appearance.
What's the right flooring solution for you? 
Enhancing your office space with commercial-grade flooring solutions is a wise investment for both aesthetics and functionality.
By carefully selecting the ideal flooring option, you can create a professional and inviting office space that meets your needs for years.
How can we help you?