You've loved your flooring choice. You've loved the aesthetics for years.
But lately, you've noticed your high-traffic areas are showing more wear and tear. The flooring is dingy. It's looking a little ragged. Unfortunately, it's in much worse shape than the flooring throughout the rest of your home.
What can you do?
You've looked at engineered hardwood and luxury vinyl. Is one a better choice for high-traffic areas than the other?
Characteristics to consider as you finalize your decision
Before you finalize your decision, spend some time digging deep into each material to discover how well it holds up under pressure. We strongly believe in reviews and are happy to share them with our customers. If you have a question, we're happy to give you advice on how other homeowners feel about each product.
A few things to consider include:
Durability
Let's start with the most valuable attribute. In high-traffic situations, durability is essential.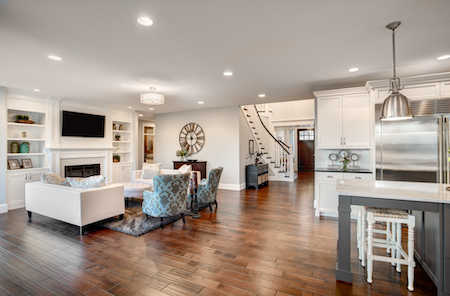 Engineered hardwood is known for its sturdiness. While it's crafted using natural hardwood veneer on top, it's counterbalanced with multiple layers underneath to increase strength and durability. This makes it ideal for resisting dents and scratches.
Luxury vinyl is exceptionally durable due to its synthetic composition. It can withstand the wear and tear of daily use without losing its beauty or integrity.
Maintenance
Maintaining flooring in high-traffic areas can be a challenge. Scrubbing and cleaning are often daily occurrences.
Engineered hardwood requires regular sweeping and occasional refinishing to keep its luster intact. It may be more susceptible to water damage, so spills should be promptly wiped up to prevent warping.
Luxury vinyl is relatively low-maintenance. It is resistant to stains and water, making it easy to clean with regular sweeping and occasional mopping. Its surface also repels dust and allergens, making it a great choice for those with respiratory sensitivities.
Comfort
Durable flooring is also relatively hard, which can cause discomfort if you spend a lot of time on your feet. It's a balancing act of selecting flooring that functions well and feels good underfoot too.
Engineered hardwood provides a solid and stable surface that feels natural underfoot. However, it lacks the cushioning properties of luxury vinyl.
Luxury vinyl's soft underlayer offers a more forgiving and comfortable surface, reducing strain on joints and muscles. Are you using your flooring choice through many rooms in your home? This may be a deciding factor as you finalize your choice.
Warmth
Hard flooring is worse at conducting heat than softer counterparts. That can be a big consideration, especially as we move into colder months.
Engineered hardwood can be chilly, especially in areas with poor insulation. However, it can be paired with underfloor heating systems to provide radiant warmth.
Luxury vinyl naturally retains heat and does not feel as cold as hardwood. Its inherent warmth adds to the comfort level, making it an inviting choice for high-traffic areas.
Water-resistance
High-traffic areas, such as kitchens and bathrooms, require flooring that can withstand moisture.
Though more water-resistant than traditional hardwood, engineered hardwood is still susceptible to water damage. Spills and leaks should be promptly cleaned to prevent long-term issues.
Luxury vinyl is highly water-resistant and can handle moisture without warping or staining. This feature makes it an excellent choice for areas prone to spills or humid conditions.
Aesthetics
The visual appeal of the flooring is an important aspect to consider in any space.
Engineered hardwood exudes timeless elegance and natural beauty. The rich textures and grains of real wood lend a sense of sophistication to any high-traffic area.
Luxury vinyl flooring has made significant strides in replicating the look of real wood or stone. With advanced printing technology, luxury vinyl can mimic the appearance of different materials, offering a wide range of design options to suit any aesthetic preference.
Longevity
Investing in flooring for high-traffic areas should be a long-term decision.
With proper care and maintenance, engineered hardwood can last for decades. It can be sanded and refinished multiple times to restore its original beauty.
Luxury vinyl is also known for its durability, with many manufacturers offering warranties that extend for several years. However, unlike engineered hardwood, luxury vinyl cannot be refinished, so it may need to be replaced entirely if damaged.
What makes engineered hardwood a great choice
Engineered hardwood is crafted in layers, with real hardwood veneer on top of core layers made of plywood or HDF. The layers are bonded together with adhesive and tightly pressed together. This creates a flooring product that combines the natural beauty of hardwood with improved stability and resistance to moisture and temperature changes.
Engineered hardwood offers the perfect balance between elegance and durability. Its construction creates a strong, stable surface that can withstand heavy foot traffic.
The natural beauty of the wood adds a touch of sophistication to any high-traffic area. With proper maintenance and refinishing, engineered hardwood can retain its appeal for many years, making it a worthwhile investment.
What makes luxury vinyl a great choice
Luxury vinyl combines PVC resin with fillers, stabilizers, and pigments. It's crafted in multiple layers, including a design layer, a wear layer, and a backing layer. The result is a durable, versatile, and visually appealing flooring option that replicates the look of natural materials while offering additional benefits such as water resistance and easy maintenance.
Luxury vinyl flooring has gained popularity due to its versatility and resilience. It can replicate the appearance of various materials, such as wood or stone, at a fraction of the cost.
Its synthetic composition makes it highly durable and resistant to scratches, stains, and water. Luxury vinyl's low-maintenance nature and ability to handle moisture make it a practical choice for high-traffic areas.
What's right for you? 
Engineered hardwood or luxury vinyl? Subtle differences, yet each comes with lasting beauty. Engineered hardwood offers timeless elegance and the durability of real wood, while luxury vinyl combines versatility, low maintenance, and water resistance.
We've fallen in love with them both, and know you will too. It's time to make a decision. Which is right for you?