You only have to look at your own neighborhood to realize how crazy the real estate market has been in the past several years. A global pandemic made everyone rethink where they live, with people moving all over the globe. Now that it's grinding to a halt, people are getting comfortable with their communities, taking a look at their homes, and settling in for the long hall.
That means the remodeling market is growing – 7 percent in 2022 over the year before, with just as much growth anticipated for 2023.
People want upgraded kitchens and bathrooms. And once they settle in on a room, they start with a base of new flooring.
Luxury vinyl planks sprang onto the market with immediate success. In 2020, the global luxury vinyl plank flooring market was $30.61 billion. It's expected to rise to $51.45 billion by 2028.
Why? There are many reasons. The pandemic may be just one reason for its growth. Of course, homeowners want beautiful flooring. But now more than ever, they are looking at health and environmental benefits too.
How does luxury vinyl flooring impact the environment?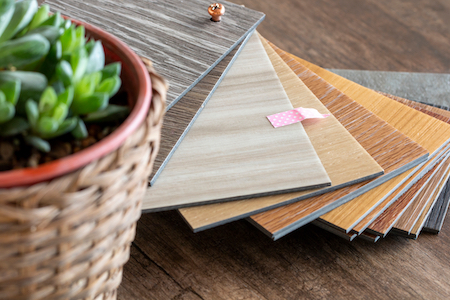 Luxury vinyl planks are synthetic flooring material often made from polyvinyl chloride (PVC) and other additives that mimic the look and texture of natural materials like hardwood, stone, or ceramic tiles. While luxury vinyl has gained popularity in recent years due to its durability, low cost, and ease of installation, there are concerns about how it impacts the environment.
Of course, manufacturers are aware of this, so they are meeting consumers halfway, creating a product that remains durable and affordable while consciously creating a more eco-friendly product too.
You can look at luxury vinyl flooring production in two ways.
Production of Luxury Vinyl Flooring
The production of luxury vinyl involves several stages, each requiring energy, resources, and chemicals that may harm the environment.
The first step is extracting raw materials used to make PVC, such as petroleum, limestone, and salt. PVC is a plastic material widely used in construction, packaging, and other industries because of its low cost and versatility.
The production of PVC involves a chemical process that releases toxic substances, such as dioxins, into the air and water. Dioxins are highly toxic and persistent organic pollutants known to cause cancer, birth defects, and other health problems.
PVC also contains phthalates, chemicals used to make the material more flexible and durable. Phthalates are known endocrine disruptors that can interfere with the hormonal systems of humans and wildlife.
After the production of PVC, the material is mixed with other additives, such as plasticizers, stabilizers, and pigments, to create the final product. These additives can also contain harmful chemicals, such as lead, cadmium, and mercury, which can be released into the environment during manufacturing or when the product is used.
Again, luxury vinyl flooring manufacturers realize this, and work hard on countermeasures to create flooring that gives people the aesthetics and durability they want, while creating healthier, more eco-friendly flooring in the process.
For example, Mannington luxury vinyl features environmental attributes that help make it a great choice for any room in your home. They've created products that are FloorScore certified, and comply with the strictest indoor air quality standards. It utilizes ultra low VOC water-based inks, and contributes to credits for green building systems, like LEED.
Disposal of Luxury Vinyl Flooring
Many homeowners are also concerned about what happens to luxury vinyl when replacing it with new flooring.
Luxury vinyl flooring is not biodegradable, meaning it cannot decompose naturally and will remain in landfills for hundreds of years. When luxury vinyl is disposed of in landfills, it can release harmful chemicals into the soil and water, polluting the environment and endangering wildlife.
Luxury vinyl flooring is also nearly impossible to recycle. Unlike glass, ceramic, or wood, luxury vinyl uses a variety of different chemical compositions during construction, which can make them incompatible with recycling. Add varying adhesives that are usually stuck to the vinyl after application, and you'll have a variety of compounds that simply can't be recycled.
However, there is more than one way to think about environmentally friendly flooring.
Shaw Flooring, for instance, puts out a sustainability report each year to track its approach to creating sustainable flooring. They commit to making products that offer a better future in everything they create. That includes a "Cradle to Cradle" design philosophy focusing on material health, clean air and climate protection, product circulation, water and soil stewardship, and social fairness.
Want luxury vinyl planks? They can be environmentally friendly. 
We get that you might have noticed luxury vinyl planks in all the design magazines, and have added them to your wishlist. Yet when you dig a little deeper, you're dismayed by the fact that they aren't a natural product, and may not be the most eco-friendly option available to you.
We're here to assure you that luxury vinyl planks can give you everything you want … and more.
At first glance, luxury vinyl might not seem to be a sustainable choice. It's created from such materials as petroleum, limestone, and salt. You want clean. You want healthy.
But don't let first appearances fool you. There is a way to have it all … and enjoy all the benefits luxury vinyl planks offer.
The benefits of environmentally friendly luxury vinyl planks
Suppose you are considering installing luxury vinyl planks in your home or business. In that case, it's good to remember that you should trust a manufacturer who can offer you the benefits of being environmentally friendly too. The benefits are hard to ignore. They can include:
Non-allergenic
VOC free
PVC free
Anti-fungal
Anti-bacterial
Constructed with recycled materials
FloorScore certified
And that's just a start.
Don't trust online resources where the flooring materials may be questionable. Don't trust "good deals" at your local big box store where you aren't quite sure where they are sourced.
You have choices if you want luxury vinyl planks and care about sustainability too.
Stop by today and see what's available for your next flooring remodel.