Tip a glass of red wine onto a white carpet, and you'll see just how fast homeowners can run. They know the clock is ticking for action. And if you don't treat the stain in the right manner within the first few minutes, you'll see that stain for life.
The same holds true with a variety of flooring products. Spill a pitcher of apple juice, for example, and you'll see a homeowner scramble just as fast, depending on what flooring is in place. Hardwood? Definitely. If it seeps into the wood, it can easily warp and crack. Tile? It depends on how porous the tile is, and what color grout is in place.
Flooring, no matter what you have installed, takes its fair share of abuse.
But what if there was a flooring choice that could withstand a higher level of abuse, and look good in the process? Such a flooring choice doesn't exist. Or does it?
Maybe it's time for another look at vinyl plank flooring.
What is vinyl plank flooring? 
Vinyl plank flooring is designed to resemble hardwood flooring, and it does so in a good way. It comes in strips – planks – and can be modified for different sizes. You can find this product in a number of styles, each mimicking different types of wood. If you like traditional oak, you can find it in vinyl plank. If you have your eye on something a little more exotic, you'll find that too in vinyl plank flooring.
Vinyl plank flooring is waterproof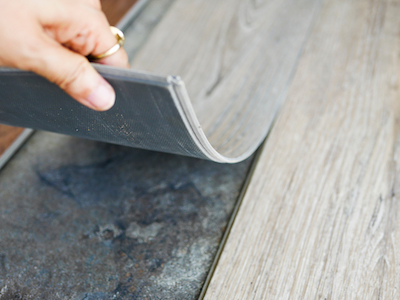 If you're looking for a resilient flooring choice, one that is waterproof in many different situations, look no further than vinyl plank flooring. They've grown in popularity in recent years because technology now makes it possible to find styles that mimic other popular flooring choices, including stone, tile, hardwood, marble, and even concrete flooring. It gives you the appearance you desire, being as trendy as you want, without sacrificing durability and ease of maintenance in the process.
When vinyl plank flooring is exposed to water, it will not lose any of its structural integrity. That makes them the perfect choice for any room in your home.
Are they great for the kitchen? Yes.
Will they work in bathrooms? They're the perfect choice for bathrooms.
How about laundry rooms? Yep, they'll work there too.
In fact, they are becoming so popular, you'll find vinyl plank flooring in every room in the home. They're the perfect solution for combining good looks with durability, especially when care and cleaning are at the top of everyone's mindset.
What makes it waterproof is it's four layers of construction.
The backing layer – what gives a flooring its waterproof qualities starts at the base. The backing layer is made from an underlayment of cork or foam. This serves two purposes. One, it means you won't have to purchase additional underlayment in order to install it over the subfloor. Two, it provides softness and noise reduction to your floor.
If you've ever walked on a floor without underlayment, you realize just how noisy engineered flooring can be. It has a hollow sound that echos throughout your room. With vinyl plank flooring, the base is already in place. You won't need to invest in additional backing before installation.
The waterproof layer – for a vinyl floor, this is the most important layer to give it a waterproof quality. The waterproof layer is high density and won't contract or swell no matter what is dropped on it. Most waterproof layers today are resilient, thick, and dense. The core may have been manufactured with a foaming agent that makes it equally as comfortable underfoot as it is durable.
The print layer – thanks to technology, the print layer is more realistic than ever. The manufacturer photographs each product with clarity and full-color to ensure you have a final look that's as gorgeous as the real thing. It looks so realistic, even discerning guests will swear it's the real thing.
The wear layer – the wear layer is one of the most important parts, ensuring durability and a long life. Think of it as protection from anything you can dish out. Dents, scratches, spills, scuffs, movement – it's designed to stand against possible problems, and continue looking good for years to come.
Why buy waterproof vinyl plank flooring
If you're already sold on why you should put waterproof vinyl plank flooring into your home, congratulations. We couldn't agree more! We think it's one of the best choices you can make for your home.
But if you're still debating on whether it's the right choice for you, here are a few additional reasons to fall in love with it.
It's 100 percent waterproof. In case we haven't mentioned it enough, we thought we'd add it in here one more time. Just be sure you talk to our flooring contractor to ensure you purchase vinyl planks made by the right manufacturer. Not all are resilient, so you'll have to do a little homework to find the product that suits your needs.
It's a perfect choice for subfloors that are anything but perfect. You might already be aware of a few problems that exist in your home. A flooring that's not level.
Technology is changing everything. That includes the realism of vinyl plank flooring too. No matter what styles or design you're thinking of for your flooring, you'll find it in the luxury vinyl market. The top-end flooring manufacturers are now able to create realistic prints that mimic real products better than ever before. It's so realistic, you'll have to get down on the floor to tell the difference.
Tile is one of the most durable flooring materials available for your home. It's also one of the hardest. While that might work in some places – it's great in the shower – it can grow wearisome in places where you spend a lot of time. The softness underfoot of vinyl plank flooring is greatly appreciated in places like the kitchen where you stand for hours on end.
You'll also be impressed with how little maintenance it takes to keep it looking its best. An occasional vacuum and damp cloth will let the quality shine through every time.
What are you waiting for? Vinyl plank flooring is an addition you're going to love, no matter what room you install it in.
Get started today.