When you walk through the doors of your commercial space each morning, what do you see? You might have a list of to-do's running through your mind, and you barely glance around the area.
But visitors see something entirely different.
Tenants and employees look at it as a sign of commitment. How committed are you to their safety and well-being? Shabby flooring sets the stage for low expectations.
Shoppers and customers see it as a first impression. What message are you conveying from the moment they walk through the door?
Maybe now is the time to upgrade your business space with new flooring. Luckily, we have a few ideas for you based on current commercial flooring trends sweeping the industry.
We understand that, as a property manager, you're always on the lookout for ways to enhance the appeal and functionality of your commercial spaces. Why not do it with new flooring?
Why it's time to upgrade your business space with new flooring
The flooring of your commercial space is more than just a surface to walk on – it sets the tone, defines the aesthetics, and contributes to the overall atmosphere of the area. As trends and technologies evolve, updating your flooring becomes essential to keeping your business space fresh and appealing to clients, customers, and employees alike.
A modern, well-maintained flooring adds visual appeal and reflects your commitment to excellence and professionalism.
What makes commercial flooring different from residential flooring?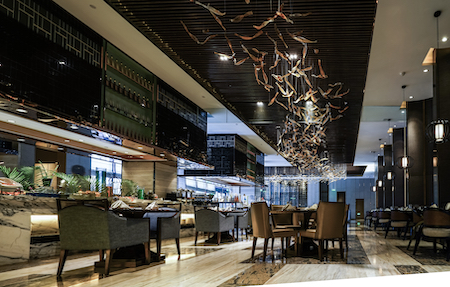 You want new flooring. You've found a great deal at your local big box store. Isn't that good enough?
There's a big difference between commercial flooring and residential options.
Commercial spaces experience higher foot traffic, greater wear and tear, and varied usage demands. This means that commercial flooring needs to be more durable, resistant to heavy loads, and easy to clean and maintain. It's a different ball game altogether, and choosing the right flooring type can significantly impact the longevity and functionality of your business space.
Commercial flooring trends that are improving the industry in 2023 and beyond
You don't have to look very far to find dynamic flooring that dramatically improves your space.
Design innovations
The world of commercial flooring is experiencing a surge in design innovations, offering you many options to express your brand's personality. From captivating patterns to realistic wood and stone replicas, you can now find commercial flooring that not only stands up to the demands of your space but also enhances its aesthetics.
Resilient flooring
Resilient flooring options like luxury vinyl tiles and planks (LVT and LVP) have been gaining popularity in the commercial sector. These floors offer a combination of durability, water resistance, and comfort underfoot. They're perfect for high-traffic areas and spaces that need to withstand spills and heavy use.
Printing technology
Printing technology has revolutionized the flooring industry. With advancements in digital printing, manufacturers can create intricate and realistic designs on a wide range of flooring materials. This means you can have the look of natural wood, stone, or even custom designs, while enjoying the durability and easy maintenance of commercial flooring.
Sustainability
Sustainability is no longer optional in today's world. Many commercial flooring manufacturers are focusing on eco-friendly materials and production processes. From recycled content to low-VOC (Volatile Organic Compounds) options, there's a growing array of sustainable flooring choices that align with your business's environmental values.
Top commercial flooring trends you're going to love
Are you ready for new flooring? Are you curious about which flooring choice will be the best for you? With so many great options, you'll be able to tick all the boxes on your checklist with any flooring you choose. What tops our list right now includes:
Commercial SPC vinyl flooring
Stone Polymer Composite (SPC) vinyl flooring is a game-changer in the commercial flooring arena. It's incredibly resilient, making it suitable for high-traffic areas. SPC flooring is also waterproof, which is a massive advantage for spaces prone to spills or moisture. With its impressive visual appeal and remarkable durability, SPC vinyl is a trend that's here to stay.
Commercial laminate flooring
Laminate flooring has come a long way, and it's making a splash in commercial spaces. With realistic wood and tile designs, commercial laminate offers the appearance of natural materials without the upkeep challenges. It's scratch-resistant and can handle heavy traffic, making it an excellent choice for various business environments.
Commercial vinyl sheet flooring
Vinyl sheet flooring offers seamless installation and moisture resistance. It's an excellent choice for areas where hygiene is prioritized, such as healthcare facilities or restaurants. Plus, vinyl sheet flooring comes in a wide range of styles, so you can find something that suits your aesthetic preferences.
Commercial floor tile
When it comes to durability and versatility, commercial floor tiles remain a staple. Available in various materials like ceramic, porcelain, and even natural stone, they can withstand heavy loads and constant foot traffic. With design options ranging from classic to contemporary, commercial floor tiles can fit seamlessly into any business space.
Commercial carpet
Carpeting isn't just for residential spaces – it also has its place in the commercial realm. Commercial carpets are designed to withstand heavy traffic, resist stains, and provide comfort underfoot. They come in a variety of patterns and colors, allowing you to create inviting and stylish spaces that exude warmth.
As you embark on your journey to revamp your business space with new flooring, remember that each trend has its unique advantages. To make the best choice for your commercial property, consider factors such as foot traffic, usage requirements, and the ambiance you want to create.
We're here to guide you through this exciting process. Our team of experts is dedicated to helping you find the perfect flooring solution that aligns with your vision and meets the demands of your space. From design advice to installation expertise, we're your partners in transforming your business space into a captivating and functional environment.
The world of commercial flooring is evolving, and with it comes a range of exciting trends that can breathe new life into your business space. No matter your goal, we'll help you find the perfect flooring that elevates aesthetics and enhances the overall functionality of your commercial property. Contact us today to explore the endless possibilities that await your commercial property!