What do you notice when you walk into a room?
You notice the color and vibrancy of every detail. You notice the breathtaking view from the large windows. You feel the personality of the home. You see how everything pulls together.
It's a package deal. It's the atmosphere. It's the aesthetics.
Interior design is a sum of all its parts, of which flooring plays a crucial role. If you've ever walked into a beautifully decorated space ruined by shabby floors, you know this to be true.
When someone walks into your home, it's the flooring that greets them. It leads them into expectations. It leads them into the rest of your home.
What does your flooring say about you?
Luckily, we have some options for you. Flooring you're going to love no matter where you place it inside your home.
Add Vibrancy with Bright Colored Tiles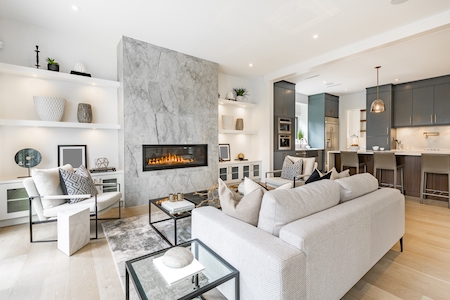 Want to infuse a burst of energy into your living room or kitchen? Look no further than bright colored tiles! These little gems are like a palette of joy, just waiting for you to unleash your creativity. Imagine a lively Mediterranean blue or a vibrant sunflower yellow dancing beneath your feet. Whether it's your backsplash, bathroom, or even an accent wall, these tiles can be your ticket to a cheerful and lively space.
Add Character with Exotic Hardwood
If you're someone who loves the warm embrace of nature, exotic hardwood is your best friend. With its intricate grains and unique patterns, each piece tells a story of its own. Picture a rich Brazilian cherry inviting you into a world of sophistication and allure. The depth and character of exotic hardwood can effortlessly elevate any room, adding a touch of luxury and elegance that's hard to beat.
Add Depth with Traditional Stone
You want artistry. You want gorgeous floors. You want the timeless beauty of traditional stone flooring! If you're aiming for a look that transcends trends and speaks to a sense of enduring charm, this is your go-to choice. The earthy tones and natural textures create an inviting atmosphere that beckons you to unwind. Whether it's a rustic farmhouse kitchen or an elegant entryway, traditional stone floors provide a solid foundation for a space that exudes comfort and coziness.
Add Whimsy with Carpet Tiles
Let your imagination run wild with carpet tiles – a playful twist on traditional carpeting. These modular wonders come in a variety of colors, patterns, and designs, giving you the creative freedom to design your own floor masterpiece. Mix and match, create a checkerboard effect, or even spell out your favorite quote – the possibilities are endless. Perfect for kids' playrooms, home offices, or any space that craves a dash of whimsy.
Add Beauty with Natural Stone
Looking to create a sanctuary that's as breathtaking as a spa retreat? Natural stone flooring is here to answer your call. The luxurious textures and soothing hues transform your space into a tranquil oasis. Think about a serene marble bathroom floor or a tranquil limestone patio that effortlessly blends the indoors with the outdoors. Natural stone flooring is more than just a design choice; it's a statement of peacefulness.
Add a Classic Feel with Hardwood
There's a reason hardwood flooring never goes out of style – it radiates timeless elegance. The warm and inviting ambiance of a classic oak or maple floor can anchor your room's design while allowing your furnishings and decor to shine. It's a canvas of sophistication, ready to complement any interior style, from traditional to modern and everything in between.
Add Durability with Porcelain Tile
Life is full of spills, drops, and everyday adventures. Enter porcelain tile – your durable and dependable flooring ally. These tiles are engineered to withstand the test of time while retaining their charm and beauty. Create a stunning mosaic in your kitchen, a sleek and stylish bathroom, or even a durable outdoor patio. With porcelain tile, you don't have to compromise on aesthetics for the sake of durability.
Add Excitement with Leading Lines and Parquet
Elevate your design game by playing with lines and patterns. Leading lines and parquet flooring offer a captivating visual journey for your eyes to follow. Whether it's a herringbone pattern in your living room or a mesmerizing chevron design in your bedroom, these flooring choices are a feast for the senses. They add a sense of movement and excitement, turning your floors into an artistic masterpiece.
Add Softness with Plush Carpet
Yearning for comfort that's as cozy as a warm hug? Plush carpeting is here to wrap you in its soft embrace. Sink your toes into the luxurious fibers and let your worries melt away. Ideal for bedrooms, family rooms, or any space where comfort takes center stage, plush carpet adds a touch of indulgence to your everyday life.
Add Functionality with Luxury Vinyl
Looking for a flooring solution that perfectly balances style and practicality? Luxury vinyl is your answer. Mimicking the look of hardwood, stone, or tile, this versatile option is water-resistant, durable, and easy to maintain. With luxury vinyl, you can enjoy the aesthetic appeal you crave without compromising functionality.
So, What's the Most Popular Flooring Today?
Now that we've taken you on a tour of some of our most popular flooring choices, you might be wondering, "What's the best flooring choice for me?" The answer is multifaceted.
Homeowners are increasingly leaning towards options that blend aesthetic beauty with practicality. Luxury vinyl, with its versatility and low-maintenance nature, has been gaining significant traction. The timeless appeal of classic hardwood and the durability of porcelain tiles continue to hold firm in the hearts of design enthusiasts.
Remember, the best flooring choice is the one that resonates with your unique taste, lifestyle, and needs. It's about creating a space that reflects your personality and enhances your daily life. Whether you're drawn to the vibrancy of colorful tiles or the understated elegance of natural stone, the world of flooring is waiting to be explored.
Incorporating flooring into your interior design is like adding the final brushstrokes to a masterpiece. It's the foundation upon which your entire design narrative unfolds. Are you ready?
Take the plunge, and let your floors set the stage for a home that's a true reflection of you. And let us know how we can help. We're here to help you with all of your flooring needs.