Here in Colorado, homeowners often have a one track mind: hardwood.
We love hardwood and we want it everywhere.
So we install it on the main floor, in every bedroom, even in the basement. It might take time to transition from using traditional hardwood to things like luxury vinyl planks that match and complement one another, but we get it done. And when you finally see the results, you're more than happy. You love the look you've created, and you're excited to start decorating.
Hardwood provides a wonderful base for any type of decor. Want light and breezy? Prefer country charm? Want minimalistic and modern? Hardwood can set the stage for each of these settings and look great in the process.
Yet once you get all of your hardwood floors installed and start to look around, you may discover you want a little softening in each room. That's where a new area rug can add functionality and charm.
Let's start by talking size and shape 
It won't take you very long to discover that area rugs come in a wide variety of shapes and sizes. Want something small for your kitchen or mudroom? Not a problem. Want something that fits your dining room, complete with a large table that seats sixteen? You can find an area rug to suit your needs there too.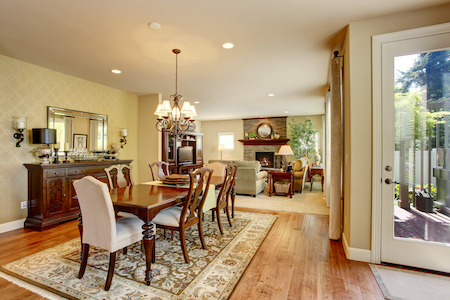 Before you start to shop, it's a good idea to measure your space and decide where you want your area rug to lie before you start settling in on ideas. You can measure and then do a quick search to find out what is available – will you have to order a custom rug, or will a standard size fit into place?
There isn't a standard guideline for how to fit a new area rug into your home, but there are some general rules you can follow.
Tend to move towards a larger rug than settling for a smaller one. A larger one will make your space look larger, and provide more comfort as you go about day to day living. Smaller ones can leave you feeling shorted, which can be a major issue if you move furniture regularly, such as in the dining room.
It is important to take the size and shape of the room into consideration before you finalize your decision. As much as you love a circular rug, if you're trying to fit it into a rectangular shaped kitchen space, it's going to throw your entire decor off. An area rug should mimic the shape of the space, and work to bring cohesiveness throughout the room.
The area rug should fit all of your furniture comfortably without leaving random pieces of furniture hanging off to the side. Leave at least eighteen inches from the baseboard of the room to the area rug. If you do choose a smaller rug than what your furniture demands, ensure cohesiveness by placing the front legs of the sofa on it, for example, to tie everything together.
Think big or small. Either select an area rug that allows all of your furniture to be placed on it, or go small and use it as placement pieces. Runners on the sides of the bed can add a pop of color to a bedroom without requiring you to invest in a large area rug that fits the dimensions of the room.
While there are many different ways to incorporate a new area rug into your home, the key is making it work with your belongings. We often encourage homeowners to visit their favorite decor sites, start a pinboard on Pinterest to save their favorites, and choose a look to mimic in their own homes. This gives you an ever-important starting point for looking for something for your own home.
Color and style are equally important
Have you ever visited your favorite store and found the perfect accent for your home? You love the color and can't wait to bring it home?
While you can easily change out a vase or even a comforter for your bed, it's more difficult with something as large as an area rug for your floors. That makes the task of choosing color and style that much more daunting – do you go with the bright patterns you love? Or stick with subdued so you know you won't grow tired of it in the long run?
Many homeowners stick with a neutral color palette, afraid to go "too wild". Yet bolder colors can make your room feel alive, motivating you, even giving you more energy each day as you step into the room.
Every year Pantone sets a color of the year to help designers set what is popular. This year the colors are Ultimate Gray and Illuminating. Pantone defines these colors as the union of an enduring gray with a vibrant yellow that sends the message of positivity. It's a color combination that gives resilience and hope.
Have more subdued furniture in a living room? A gray couch, neutral chairs, even earth tone window coverings? Maybe a pop of color in your living room area rug is just what you need.
If you're nervous about moving forward with color or a certain style that may seem a bit too "wild" for what you're used to, work with one of our consultants who can help put your mind at ease. Take the time necessary to ensure you're happy with your final selection.
The most important thing about area rugs that most people forget
It's easy to get caught up in the looks, color, and style. After all, that's what you'll be living with for the foreseeable future.
However, equally important is the backing material, and how you clean your new area rug.
If you select an inexpensive area rug made from natural fibers such as sisal or jute, there is little you can do with a spill. A dropped bottle of your favorite merlot may be a perfect recipe for requiring you to purchase a new rug.
Also pay attention to the backing. Is it anti-slip? Does it provide a cushion for support? There are many choices, not all of which are necessary in every room in your home. But it is important to understand the properties and what it will give you overall.
Are you ready to install a new area rug in your home? Whatever your desires, we can help you select the right one for your needs.