Want a new flooring material in your home? Want something that says "notice me" while at the same time offers durability?
Maybe it's time to give cork flooring a second look.
We love cork flooring for so many reasons. But one of the top is its eco-friendly qualities. If you have a goal of making your home greener this year, cork flooring is the perfect step to take.
Instead of using a product that takes decades to harvest like hardwood, cork is taken directly from the bark of the cork tree. It is sheared off in layers, allowing the tree to continue growing and producing over the years. Very little goes to waste.
And because it's a natural product, it also creates a healthier living environment. It resists mold and mildew, meaning it won't harbor allergies like other flooring materials may do.
While cork may not be on the same purchasing level as traditional hardwood, it is an excellent option for homeowners who are looking for something different.
Does this sound like you? Then let's dive deeper into the reasons why it may be perfect for you.
People love the way cork feels
You probably have a lot of experience with cork – it's been used in many ways throughout time. One of the most popular uses is with wine bottles – wiggle the cork out to gain access to what's inside.
A wine cork is soft and flexible. You might also notice it stains easily, taking on the red tones from your favorite merlot or syrah.
Or how about the bulletin board you used as a kid. Remember pushing pins in to hold up your favorite mementos? The cork didn't last long, did it?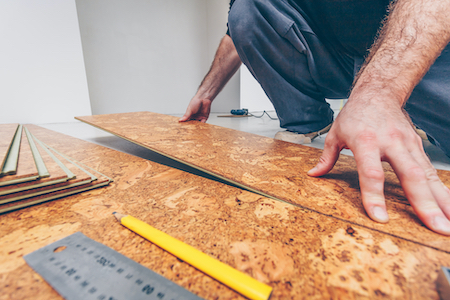 Don't worry; cork flooring is nothing like your memories of cork. It's manufactured to be a flooring that stands up well under pressure while maintaining its softness to your feet. Do you stand for lengthy periods? Are you tired of how tile or hardwood feels over time? Cork flooring may be your solution.
Homeowners also love it because the softness also creates an environment with noise reduction too. It's a quiet floor, one that won't sound hollow as someone walks on it. It won't creak over time. And that can be beneficial if you share home office space, or have babies or small children trying to nap.
People love cork flooring for its warmth
One of the reasons tile isn't as popular here in Colorado as it is in states with warmer temperatures is because of our cold winters. Stepping on a cold tile when it's zero outside can be a little intimidating.
You'll never find cork flooring to be anything but warm. That's because cork is a natural insulator, one that protects against both heat and cold. You'll find it comfortable in your living space no matter what the temperature is outside.
Cork is also a natural insulator against noise. Have a home office where you produce podcasts and videos? Cork floors may be a perfect addition to help create the perfect backdrop.
People love cork flooring because it's non-slip
The softness factor of cork flooring also gives in a natural grip. That makes it a safer flooring product than things like tile or even LVT.
While cork is water resistant, it still needs to have proper sealant installed if you're using it in places prone to moisture, such as the kitchen or bathroom. Be sure to speak with one of our consultants about what you can expect before you install it.
People love cork flooring because it's hypoallergenic
Do you or a family member struggle with allergies or asthma related symptoms? You might be remodeling your home to make it a healthier place to live. Cork flooring may be the perfect choice to suit your needs.
Cork contains microbial properties that make it resistant to mold and mildew. It also repels dirt, dust, dander, and other contaminants better than other flooring choices. Simply wipe them away.
If you are worried about volatile organic compounds – VOCs – in the products you choose for your home, cork is a great addition to help improve the air quality. Just be sure to pay attention to the manufacturer you select, and that they've received proper certification. Look for things like FloorScore or GreenGuard Gold certification to ensure the manufacturer created a product that is truly beneficial for the environment.
People love cork flooring because it's durable
It's worth stressing that cork flooring is a durable flooring product you'll love for virtually any room in your home.
Cork lies somewhere between carpet and hardwood. It's not as soft as carpet, but it's more comfortable underfoot than hardwood.
The biggest enemy of cork can be sand and rocks. If these tiny particles aren't swept away, they can dig in and grind cork away. But there's an easy solution; place mats at the door to remove most of the grit from outside off your feet before you come in. Better yet, make your home a shoe-free zone and add extra protection.
Heavy furniture can also create dents. Those tiny legs on chairs and sofas can sink deep into the cork and leave a mark. Use coasters to spread the weight out, and consider shifting your furniture slightly from time to time to avoid pockmarks.
People love cork flooring because it can be refinished
There are many flooring choices that are a one time use. That's why many turn to hardwood because you can refinish the surface multiple times.
If that has been one of your key reasons for looking at hardwood, give cork another look. Solid cork can also be sanded and restained. The trick is using a palm sander and a fine grit sandpaper. You don't want to take any more than just the surface of the flooring.
This doesn't apply to a cork veneer or composite – you can't sand it when it's built out of multiple layers. You'll damage the flooring and have to replace it.
If this is something that motivates you, be sure to speak with one of our representatives about finding the perfect cork floor for your needs.
Is cork flooring in your future?