Have you ever wondered where hardwood flooring trends come from? They ultimately come from you, the buyer.
As demand increases for a particular type of hardwood flooring material, manufacturers follow up by giving in to the demand. They create what you want. So the more you ask for it, the more they deliver.
Of course, manufacturers are also working hard to give you a better product as well. Hardwood has long since been a durable and aesthetically-pleasing option for your home … why not make it even better! And if you compare a lot of the products on the market today, you'll find they handle better than ever before.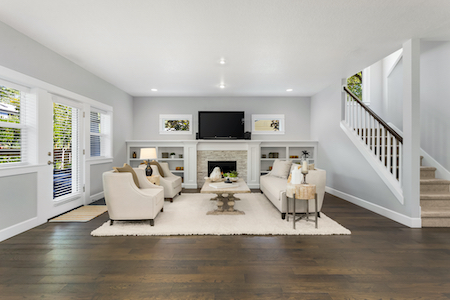 If 2021 is the year you upgrade your flooring, and you're trying to select the right options for you, we have some advice on what hardwood floor is trending right now. Stop by, and we're happy to show you lots of options that will fit in with any decor.
Here's what we're seeing our customers want right now.
Dark Hardwood Floors
Remember when a lighter, more golden color was the standard? No more. Today you'll find dark hardwood flooring has taken over the most popular hardwood homeowners want in their homes. For some, that means black. For others, it means a chocolate color. No matter how you define dark hardwood, there's an option for you.
One of the most frequent questions we get about dark hardwood is its durability and maintenance. Luckily manufacturers have created products that give you both in whatever color combinations you choose.
Dark hardwood can highlight dirt and stains more than lighter wood, and tends to scratch easier than other types of hardwood. But don't let that stop you from installing it. The darkness of the wood also tends to blend gaps and uneven surfaces better, making it well better over time. If you're going to have hardwood, you'll get used to the care and maintenance it requires; it'll be a part of your day.
Use a soft mop daily to keep dust, dirt, and crumbs off the floor
Plan on restaining your flooring every 10 to 15 years
It's a great way to make the rest of your decor pop – accent it with light walls, and any color will make your home shine
Grey Hardwood Floors
Are you the type of person that looks at dark hardwood and thinks: no way? For some, light furnishings will always top their list.
Then you might benefit from looking at another top trend, grey hardwood floors.
What we love most about grey hardwood floors is the fresh, clean look you'll get just by installing them. They look good everywhere: the kitchen, living room, dining space, or even the basement.
Be conscious of the color grey you select. A softer shade can keep your home fresh and minimalist, while a darker grey can have an aged effect. The good news is you can set the tone if you're willing to have them stained after installation. It's a simple process of adding white to ebony to come up with any shade of grey you desire.
The key with any hardwood flooring you choose is to opt for a higher grade water-based polyurethane finish to give you the protection you need. You can decide how glossy or matted it is based on your desires.
If you have a question about the best color for your home, ask one of our consultants for advice. They can provide you with several samples to take home so you can see how it looks in your room. Be sure to look at it in all lighting conditions, sunlight throughout the day, as well as artificial light at night. You'll want to be happy with your choice no matter what time of day you spend in your room.
Whitewashed Wood Floors
If you want a neutral palette to work from inside your home, consider whitewashed wood floors as your base. Whitewash wood has the advantage of brightening up any room, no matter how much natural light spreads through the windows.
Whitewash wood is also one of the best color choices if you have a busy household with kids and pets running in all directions. That foot traffic, including scratches and small dents, won't show as easily with a whitewash design.
While homeowners who choose whitewash tend to love color, you can always mix and match different shades of wood. We especially love mixing whitewash with varying shades of blue – from Mediterranean to a deep navy, whitewash accents the final color choice nicely.
Whitewash wood can start with many different hues. While they may not appear to be that different on the showroom floor, you'll be surprised at the differences when you bring them home. From greens to blues, browns to greens, and more, it's important to stick with hues that match your decor. That's where one of our consultants can help you choose. And if you have a specific color in mind, a contractor can always mix and match your ideas once the planks are laid into place.
Wide Planks
Wide plank wood flooring is also a growing trend in 2021. Gone are the days of standard sizing, you'll find planks getting wider in size because of the way they open a room up.
Before you lay a wider plank in place, be sure you know what's underneath the planks. A wider plank size should have a perfectly smooth subfloor to ensure a quality floor.
With a wider plank, be sure to purchase your product from a reputable dealer. We've heard many stories of people that found great "deals", but were greatly disappointed when cupping and curling occurred throughout the flooring shortly after the installation process.
Seasoning is important with all hardwood jobs, but especially when you'll be installing wide plank hardwood floors. That helps the wood acclimate to your surroundings before you lay it into place.
What questions do you have about installing new hardwood floors? If you want the latest trends, something you'll love for years to come, let us help you pick out the perfect hardwood floors for your home.