Hardwood is everywhere here across the Front Range. Colorado has a log cabin vibe mixed with a little western elegance. It's how we live. It's what we do.
But no matter how much you love hardwood flooring, sometimes it just isn't the right flooring choice for you. You know even before you install it that it would be more work than you're willing to put in. Why install something you know will be a problem in a very short time?
Luckily, you don't have to settle for hardwood if you want the hardwood look. With today's technology, there are choices that give you the look that Coloradoans want, with resilience you need for a busy home.
The best on the market are wood-look luxury vinyl planks and wood-look tile flooring. Which is right for you? How do they handle? Which should you choose?
Let's look at both to determine whether hardwood vinyl or tile is the right choice for your needs.
Durability
If you saw the word "vinyl" and instantly formed an opinion, it's time to give wood-look luxury vinyl planks another look. This product is growing in popularity because of its looks and durability. Technology has made it so that these planks closely resemble the real thing. Even experts have to get a closer look to separate it from real hardwood.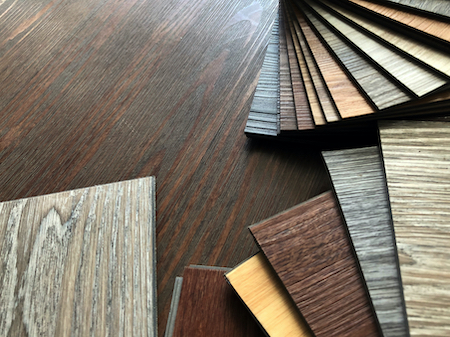 Because of the different layers, luxury vinyl planks have a rigidness that will hold up well no matter what your family dishes out. That can make it an even better choice than hardwood if you have a growing family that loves to play indoors. Have pets? Not a problem. This will handle well.
Wood-look tile is another option. Technology has made it that either ceramic or porcelain tile can now look like your favorite hardwood flooring. But it adds something hardwood can't give – durability.
Tile flooring is extremely durable, can last for decades with the right care. No more worrying about scratches, dents, fading or other types of damage coming from normal wear and tear. It's virtually indestructible, something that works well in certain rooms in your home. Just be aware that if you drop something heavy, it does have the potential for cracking. The only way to fix it is to replace the tile.
Water resistance
One of the biggest reasons homeowners are hesitant to install traditional hardwood is because of potential water damage. Hardwood just doesn't make sense in areas prone to water, such as the kitchen, bathroom, or basement.
That's why people turn to luxury vinyl planks or tile. Both offer you water-resistance as well as good looks.
Luxury vinyl planks are completely water-resistant when installed correctly. This means you'll never face a floor that is warping, cracking, or buckling from moisture issues. You can install it in every room in your house without fear of walking into a mess.
Likewise, wood-look tile is also completely water-resistant when properly installed. This means ensuring the tile is properly adhered to the subfloor, and grouting is installed and in place.
While both types of wood-look flooring offer durability in situations you may be hesitant to install hardwood, keep in mind that while both luxury vinyl planks and tile offer water-resistance, nothing is one-hundred-percent waterproof. When anything sits underwater for an extended period of time, it runs the risk of having potential problems. It's always advisable to clean up all spills as quickly as possible.
Styles, colors, patterns
If you've spent any time looking at hardwood, you know there are many different options to allow you to make your home uniquely your own. With either luxury vinyl planks or tiles, your options continue to grow.
Wood-look luxury vinyl planks come in a variety of colors designed to mimic the most popular hardwood on the market. Whether you want rustic country or sleek modern designs, you'll find what you're looking for.
Luxury vinyl planks also come in a variety of sizes and widths. Whether you want the standard four inches, or are looking for a more exotic wide plank width, you'll find it here.
Also, pay attention to the thickness of the plank. This will help you determine a higher quality product, one where the patterns run deeper and offer you a stronger, more durable product.
Wood-look tile is also available in a full array of colors and styles. Like vinyl, tile is produced with 3D printing to create a product that mimics real hardwood. Pay attention to depth and boldness to ensure the product lasts for years to come.
Care and Maintenance
If you've had hardwood before, you know it requires a lot of maintenance to ensure it continues to look good. You clean it with special products. You wax it to maintain its sheen. You refinish it every few years to ensure the wood underneath is protected.
If you have a busy household, all of that care might be a little daunting. That's why many homeowners are giving wood-look luxury vinyl planks or tiles a second look.
With wood-look luxury vinyl tiles, cleaning requires nothing more than regular sweeping with a dust mop to remove dust and debris. An occasional wet mop will pick up stains or other trace items stuck to the surface. You'll never have to wax or refinish it to retain its original look and shine.
Tile is quite easy to maintain. Regular removal of dust and debris with a dry mop, followed by occasional wet mopping is all you'll need. Watch tile grout for potential stains over time. You can clean this with a mild mixture of white vinegar and water to keep it looking its best. Beware of chemical cleaners that can stain and change the color of the grout over time. Check with the manufacturers' guidelines if you have any questions.
Cost
Installing traditional hardwood can be quite expensive. That's why both luxury vinyl planks or tiles are a viable option.
Both can be more budget-friendly depending on your needs.
When it comes to resale, homeowners love hardwood, and that will never change. However, home buyers also love style and cleanliness, and want to walk into a home that provides easy living.
If you plan to stay put for a while, choose what suits your family best.
And if you have any questions or need help in making a selection, we're here to help.