We've been through a lot in 2020. Are you starting to dream about 2021?
Is working from home your new norm?
Maybe it's time to create your dream home to suit your needs.
Whether you're upgrading your kitchen, adding a new wing to your existing home, or just changing things up a bit from you're flooring up, it can be difficult to settle in on what to install.
You want to select something fashionable, but that will stand the test of time. Something durable, yet beautiful.
What are the flooring trends for 2021? What should you choose to have a home you'll love, one you won't come to regret in a short period of time?
A word about durability
Like other industries, you'll find a wide variety of options when it comes to flooring. Head to your local big box store and you'll find many deals that seem to be "too good to be true." That's because they are.
These value-priced flooring options are often bulk created with quick sales in mind. They aren't created for longevity, rather, for quick turnaround at the store.
Spend time getting to know the product you'll ultimately install in your home. If you want it to last, pay attention to how well it will wear. A higher quality, more durable surface will provide you with long-lasting results you'll love for years to come.
Let's start with coziness factoring
In 2020, we learned what it means to spend more time at home. That's not going to end in 2021. And because of how much the world has changed, we're willing to bet this is setting a course for future trends as well.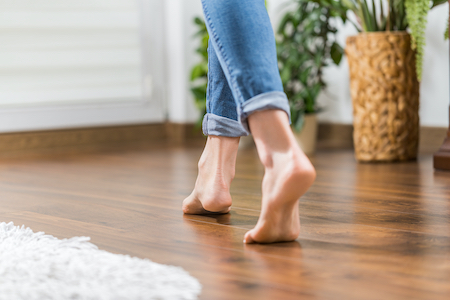 People will be spending more time at home. That means it's time to get comfortable with nesting and creating a home you love.
Focus on how you can create that look from the floors up. Think effortless maintenance. Think flooring that will withstand all the busyness your family goes through in a day. The last thing you want to do is to stop and clean up your flooring throughout your day.
That might mean you give durability a second thought. How about water-resistance or even waterproof flooring? They can be great options if you have kids diving into science projects in their homeschool environment. Or pets that love to play even more now that you're home.
Wood flooring … with a twist
As a homeowner, we know you're heart may be set on hardwood. And if that's the case, you'll find many different manufacturers ready to supply you with quality and good looks. Lighter colors are making a comeback because of their ability to open up a room, adding tranquility.
But don't think traditional hardwood is your only option. Flooring trends in 2021 are going to continue bringing other technology to the forefront.
Luxury vinyl planks are so realistic they can fool even people in the business. They offer beautify, ease of use, and options for busy families. They install in a similar manner to traditional hardwood. However, they don't require the same acclimation period before installation. Lay them together, click them in place, and start enjoying them immediately.
Laminate is another good choice to provide you with the look of hardwood with added strength and durability. Because they have a real wood layer, they look more like genuine hardwood (because they are!) If you're hesitant about installing laminate because of the noise factor from the past, take a second look at the choices available today.
Want something different? How about wood-look tile? Whether you select ceramic or porcelain, you'll love combining the hardwood look with the strength and durability of tile. A lot of homeowners are using this product to lay over radiant heating. It can be a great way to add warmth to your home, feeling great on your feet in the middle of winter.
Tile flooring still tops the list
We can't say enough about tile flooring. And it's still a popular choice.
If you can dream it, imagine it, you can find it and install it. From tiny mosaic to large sizes, there are unlimited options available.
If you want realistic stone, earth tones with a natural feel, go with limestone, granite, or even marble. Ceramic and porcelain tile gives you options to have any style or color you choose. We mentioned wood-look tile before, but it's worth talking about again.
Thanks to today's technology, tile can be styled in many different ways. Want hardwood with the durability of tile? Want a more budget-friendly stone? Want the sleekness of concrete? You'll find tile that mimics it all with more durability.
And while you might start with installing tile on the floor, you may quickly discover a lot more places it'll make your house stand out.
Want to upgrade your fireplace mantle?
How about using subway tiles as a backsplash?
Glass tiles to make your master shower stand out?
Continue the fresh look of your kitchen out to your outdoor living space?
There are so many things you can do with tile, we think you'll have fun dreaming.
If you haven't already started a pinboard over on Pinterest, we make that suggestion to all of our clients. Start pinning photos of rooms you love. They can help us point you in the right direction. You'll start to see patterns arise in the things that you pin. You'll find certain colors, textures, styles you like more than others.
Natural choices – the perfect trend in flooring for 2021
While we've spoken about a variety of different flooring options, we'd be amiss if we didn't highlight one other trend.
Because of our focus on health this year, one of the biggest trends for 2021 is paying attention to natural choices. Green is in.
That means paying attention to the manufacturing process. Paying attention to how things are installed. Look for eco-friendly products that add richness and quality to your home.
You'll find it in a variety of different flooring choices that come with natural options. If sustainability matters to you, stop by and let's have a conversation.
No matter what your remodeling plans include for 2021, we're here to help you make the right choice for your lifestyle.
New flooring may be the perfect way to ensure your 2021 goes a little smoother.