When you decide it's time to remodel your home, your first thought is function. How can you increase the functionality of your home, giving you more usable space?
But another part of you wants something more. You want elegance. You want beauty. You want the WOW factor when everyone walks through the door.
To get that wow factor, you can't shop your local big box store and make selections available to the masses. You have to stretch. You have to think bigger.
Exotic hardwood flooring may just be the wow factor you're looking for.
Why the best place to start a remodel is with your flooring
Depending on the room you're redoing, there are a lot of changes you can make that will impact the way it looks and feels. A fresh coat of paint can set the stage for bigger things. New furniture can upgrade your room and give you a modern feel.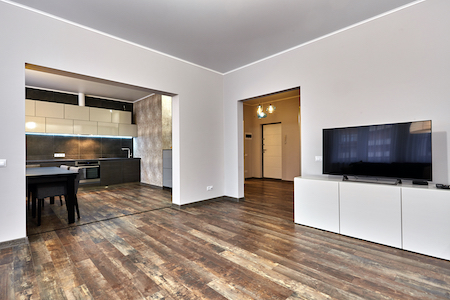 But paint and new furnishings are surface level. They are things that can be changed easily. With flooring, it's a little more difficult to change out.
That's why when you're selling your home, buyers know to look beyond surface level and focus on things that can be game-changers in the way they live. They can always grab a few gallons of paint, and for a hundred dollars or so, reset the room for their needs.
Flooring is different. It takes work. It takes time. And it takes money for big changes. And buyers know that adds up, especially if they are putting out a lot of their funding for purchasing the home. That's why buyers look at flooring as one of their "make or break" items when finalizing their decisions.
Hardwood stands out. It's what Coloradoans want. But increasingly, they are also looking for a step above the norm. And that's where exotic hardwood flooring comes into play.
What is exotic hardwood flooring?
In the world of flooring, hardwood falls into two categories: domestic and exotic.
Domestic hardwood refers to any species of wood that is found in North America. It includes Oak, Birch, Maple, and American Cherry. Because domestic hardwood is easier to harvest and install right here in the United States, it's considered to have a more traditional look.
Exotic hardwoods include species found around the world. It usually comes from tropical locations, where hardwood is more in abundance. Some of the species include Brazilian Cherry, Brazilian Walnut, and Australian Cypress, among others. They will have a more striking appearance because you won't see them in every home across your neighborhood.
That makes the biggest downfall of exotic hardwood the …
When homeowners come in and start comparing hardwood, they immediately notice the difference between domestic and exotic. Yes, you can find different colors, different hues. But one thing stands out above all: the price.
It takes more effort to source exotic hardwood in different parts of the world. There are manufacturing costs. There are shipping costs. And it takes more effort to get the product here, to you, in the states.
We're living in a globalized economy. That makes international trade more accessible than ever. The more we build relationships with other countries, the more we trade to get things we need and want in different locations of the world, the less expensive items will become.
But for now, exotic hardwood flooring is still considered a more expensive option. And that means you won't see the different colors, different hues, different grains, in the homes you visit in your local community.
Another problem with exotic hardwood flooring … sustainability 
Exotic hardwood can sometimes be considered a status symbol. If you're not conscious about where you harvest the hardwood from, it can be taken from sources that are overharvested, clear-cut, and at risk for extinction.
CITES – the Convention on International Trade in Endangered Species – works hard to control wild fauna and flora. This issue is becoming more widely known because of global climate change.
If you don't know where the wood is sourced from, there's a good chance it comes from a less-than-reputable resource. Always question where the product comes from, and ensure you select manufacturers who adhere to the strict guidelines imposed by these different rules and regulations. That's a big reason to visit a local flooring dealer as opposed to ordering flooring based on price from the internet.
Another thing to consider is carbon footprint. Is the wood sourced responsibly? What are the carbon offsets if you purchase the product and have it shipped in? A reputable manufacturer will be able to answer all of these questions and more.
Of course, there are a bunch of reasons why exotic hardwood flooring should be on your list
If you've read this far, chances are you're in the market for exotic hardwood flooring, and you're now on the search for the right product for your home. It's hard to beat its beauty. But there are other reasons it might be the right choice for you as well.
Exotic hardwood floors are durable. Some can last for years – decades – giving you a viable flooring option that can last a lifetime.
The grain of different species can add to the beauty of your home. Select finishes, stains, and patterns that are far beyond what you can expect from domestic.
Hardwood flooring is hypo-allergenic. If you're worried about how your floors impact your health, rest assured hardwood is one of the healthiest flooring choices you can make.
Don't forget the environmental friendliness of hardwood flooring. As long as it's harvested in a sustainable way, it can add to the beauty of your home without impacting the environment.
It adds value to your home. This can be especially important if you are considering selling your home in the near future.
Is exotic hardwood flooring for you? 
Whether you've made your decision or are in the beginning process of selecting the right species and materials, the best place to start is to stop by and see what's available.
We can help you narrow down your selections, and finalize your decision. Whatever questions you have, we can help you find the answers.
While it may take a little time to acclimate the product to your home, and have it installed the right way, once it's laid into place, you'll have a flooring you'll be proud of for years to come.
What questions can we answer for you about exotic hardwood flooring?