Energy efficiency – it's on the tip of every homeowner's tongue. And for good reason.
Energy efficiency makes it cost less to heat, cool, and operate a home. It creates an environment that's healthier. It provides materials that are durable.
What's not to love!
But when most people consider upgrading to energy-efficient materials, narrowing down your choices can be difficult.
Let's look at energy efficient flooring. What does it take to be considered energy efficient flooring? And more importantly, what materials will you fall in love with for your home?
What makes flooring energy efficient?
As homeowners, we all want to do our part in protecting the environment. We recycle, conserve water, and turn off lights when leaving a room. But did you know that choosing energy-efficient flooring for your home can also be a great way to help the environment while saving money on your energy bill?
How?
Instead of choosing flooring based on color or style, spend some extra time looking at the way flooring is crafted. Different materials have different properties that can help create a more energy efficient living space.
Create Comfortable Living
Energy-efficient flooring plays a vital role in creating a comfortable living environment. Some flooring materials, such as stone and tile, have natural thermal properties that help regulate indoor temperatures. These materials can absorb and store heat, keeping your home cooler in the summer and warmer in the winter. Maintaining a comfortable temperature can reduce your reliance on heating and cooling systems, thereby conserving energy and lowering utility bills.
Help Heating and Cooling Each Room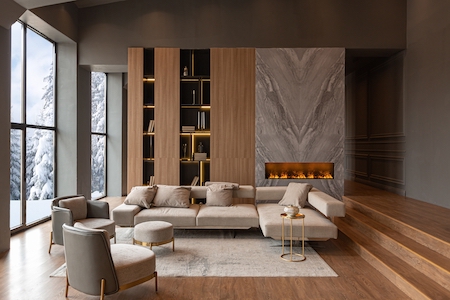 Apart from regulating indoor temperatures, energy-efficient flooring can also help with heating and cooling individual rooms. Underfloor heating systems can be installed beneath certain types of flooring, such as tile or laminate, to provide radiant heat. This heating method is more efficient than traditional heating systems, as it evenly distributes warmth from the floor upward, resulting in reduced energy consumption. Similarly, in hot climates, energy-efficient flooring can help keep rooms cooler, reducing the need for air conditioning.
Durable Enough to Last for Years
Energy efficiency isn't just about keeping your home comfortable. Consider what it takes to manufacture new flooring, install it in your home, and dispose at the end of its lifespan. It takes energy for each step of that process. Choosing a long-lasting flooring material that is resistant to wear and tear reduces the need for frequent replacements. Investing in durable flooring minimizes waste and the environmental impact associated with manufacturing and disposing of new flooring products. Additionally, avoiding frequent replacements saves money in the long run.
Insulation in Flooring and Subfloor
Insulation is a crucial component of energy-efficient flooring. Certain flooring materials, such as carpet and linoleum, have natural insulating properties that help retain heat and reduce energy loss. Additionally, insulating the subfloor beneath your flooring can prevent heat transfer between different levels of your home. Minimizing heat loss through the floor can reduce the energy required to heat your home during colder months.
Which flooring materials should you consider?
Are you one step closer to finalizing your flooring decision? Have you long since dreamed of a particular flooring material?
The good news is when you go with a reputable manufacturer, you'll install flooring crafted for optimal living. Reputable companies pay attention to creating the best products available. You'll know you're installing flooring meant to last.
That's also why selecting a reputable flooring dealer who pays attention to companies at the top of their game is important. We ensure every manufacturer we work with adheres to solid principles throughout manufacturing. It's our way of helping you select flooring materials you'll love for years to come.
What should you consider if you're looking for top energy-efficient flooring?
Stone and Tile
Natural stone and tile are among the top choices for homeowners seeking energy-efficient flooring materials. They have a high thermal mass, making them more resistant to temperature fluctuations and more energy-efficient. Additionally, stone and tile are highly durable, long-lasting, and require minimal maintenance, making them environmentally friendly options.
Hardwood
Hardwood flooring adds elegance to your home and offers energy efficiency benefits. Wood has natural insulating properties that help retain heat, making it a warmer option than other flooring materials. With proper maintenance, hardwood flooring is long-lasting and can be refinished, ensuring it can endure many years without needing replacement.
Laminate
Laminate flooring offers a modern, affordable, and sustainable option for homeowners. It's a cost-effective and energy-efficient alternative to hardwood flooring. Laminate flooring has multi-layered construction, which makes it durable, resistant to scratches and stains, and able to handle heavy traffic. It can also help regulate temperature, reducing the energy consumed to heat or cool your home.
Carpet
Carpet is a soft and cozy flooring option known for its insulation benefits and noise control. It traps heat inside, keeping your floors warm and reducing your heating needs. Also, with proper maintenance, carpet can be incredibly durable, making it an excellent long-term investment.
Luxury Vinyl
Luxury vinyl flooring has gained popularity in recent years due to its affordability, durability, and energy-efficient properties. It can help regulate temperature while being durable enough to last for years. It also boasts substantial acoustic insulation and can help reduce noise pollution in your home. Luxury vinyl flooring is also easy to install and maintain, making it a practical flooring option.
Other options
While this is a short list of some of the most popular flooring products on the market today, you can consider sustainability practices as you're performing your own search. Many manufacturers now offer flooring products made from recycled or renewable materials. For example, carpets are made from recycled plastic bottles and hardwood flooring made from reclaimed wood.
When selecting energy-efficient flooring, it's crucial to consider the manufacturing process and the environmental impact of the materials used. Look for flooring products that are certified as eco-friendly or have low VOC (volatile organic compound) emissions. VOCs can be harmful to indoor air quality and contribute to air pollution. You can ensure a healthier indoor environment for you and your family by choosing low VOC flooring options.
What energy efficient flooring suits your needs?
Choosing energy-efficient flooring is a smart investment for the environment and your wallet. It can help keep your home comfortable in every season while reducing your energy bills in the process.
With so many fantastic options available, now is the perfect time to switch to energy-efficient flooring and do your part in preserving the planet. By selecting one of these flooring materials, you will create an eco-friendly home that contributes to the goal of a more sustainable future.
How can we help you finalize your decision?