Want wood floors but know traditional hardwood won't work in your home? You're not alone. It's such a frequent concern that many other flooring products are designed to mimic hardwood – laminate, luxury vinyl, even tile.
Yet laminate often leads the pack because it's easy to install, low maintenance, and comes in many different styles and colors. Is laminate right for you?
Before you move forward, ask questions. It's great to know what to expect before you install laminate flooring in your home.
While you might find it easy to answer the easy questions, you don't know what you don't know. That's why, as flooring dealers, we've put together a list of questions you might not know to ask, yet are important to the overall structure and integrity of your laminate floors.
Why choose laminate over real hardwood?
If you've ever priced hardwood, you know it's expensive. If you've ever lived with hardwood, you know it's more challenging to maintain than other types of flooring.
Those two reasons are why laminate flooring was created. They are also what drives many homeowners to select laminate over hardwood. Laminate flooring offers the look of hardwood at a fraction of the cost. Laminate is also more durable and resistant to scratches, stains, and fading, and is easier to clean and maintain compared to hardwood. It's a practical choice for busy households.
What is laminate made of?
Laminate flooring is typically composed of four layers.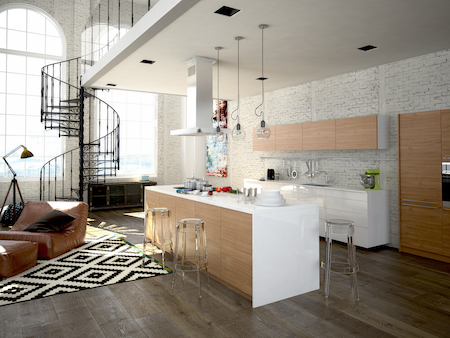 The top layer is a wear layer that protects against scratches and stains. Beneath that, a decorative layer gives the flooring its desired appearance, whether it's wood, stone, or tile. The third layer is a core layer made of high-density fiberboard (HDF) or medium-density fiberboard (MDF), which provides stability and strength. Lastly, there's a bottom layer that helps resist moisture and adds dimensional stability.
This is where it pays to look around. High-quality laminate can be water-resistant, even waterproof. If you want the look of hardwood with improved functionality, pay attention to what each layer is made of, as it will make a difference.
How long will laminate flooring last?
Lifespan can vary depending on the product's quality and the foot traffic it receives. On average, laminate flooring can last 15 to 25 years or more with proper care and maintenance.
Choosing a higher quality laminate and following manufacturer's guidelines for installation and upkeep will help maximize its longevity.
How is laminate flooring installed?
Laminate flooring is often referred to as a "floating floor," meaning it is not directly attached to the subfloor. The individual planks or tiles interlock with each other, forming a tight fit. Installation uses a click-and-lock system, where the planks snap together. Some installers prefer using adhesive on the edges of the planks.
Following the manufacturer's instructions carefully is essential to ensure a successful installation. This can also mean the difference between a valid and voided warranty.
Why is it important to have a gap between laminate planks and the wall?
The gap between the laminate planks and the walls is known as an expansion gap. It allows the flooring to expand and contract with changes in temperature and humidity.
Without this gap, the flooring could buckle or warp over time.
The recommended gap size is usually around 1/4 inch, but it's important to consult the manufacturer's guidelines for specific requirements.
What if the gap is too big or small?
Laminate is often a DIY choice. If you choose to do it yourself, it's crucial to install it, paying attention to the size of the expansion gap. If the expansion gap is too big, it increases the chances of moisture getting underneath the flooring. This increases the chances of buckling or having moisture damage the subfloor.
If the gap is too small, it may impede the flooring's ability to expand and contract properly, potentially leading to warping issues. As the floor expands it will have no place to go but up.
Will laminate warp?
Laminate flooring is designed to be highly resistant to warping. However, excessive exposure to moisture can cause it to warp or swell.
It's essential to promptly clean up any spills and avoid installing laminate in areas prone to high moisture, such as bathrooms or basements. Using moisture barrier underlayments can help prevent moisture-related issues.
Should the baseboards be removed before installation?
While it's not always necessary to remove baseboards before installing laminate flooring, it's often recommended. Removing baseboards allows for a cleaner and more professional-looking installation.
It also ensures that the flooring can expand and contract freely without being obstructed by the baseboards. If you decide not to remove the baseboards, you can use quarter-round molding to cover the expansion gap.
What is staggering, and why should laminate be installed this way?
Staggering refers to the installation pattern where the end joints of adjacent planks are not aligned. Instead, they are offset by a certain distance, creating a more stable and visually appealing floor.
Staggering helps distribute weight evenly across the flooring and reduces the risk of joints coming apart. It's a crucial step to ensure the integrity and longevity of your laminate flooring.
Can you walk on laminate immediately after installation?
Laminate flooring comes in boxes ready to install. As you click and lock them together, they are joined together and adjust to their new positioning.
In most cases, you can walk on laminate flooring immediately after installation. However, following the manufacturer's instructions is essential as different products may have varying recommendations. If you can stay off and allow them to cure for 24 hours, all the better.
Keep in mind that while walking on it might not be an issue, excessive pressure can do damage. Avoid dragging heavy furniture or applying extreme pressure until the flooring has fully settled and any adhesive has cured.
Will heavy furniture damage laminate?
There's a lot of debate around this topic. Laminate flooring is generally resistant to denting and scratching, but heavy furniture can still leave marks or cause damage over time if not properly protected.
To prevent this, use furniture pads or coasters under the legs or feet of your furniture to distribute the weight more evenly. Regularly moving heavy furniture and using area rugs or protective mats can also help prevent damage and wear.
What rooms can laminate be installed in?
Laminate flooring is suitable for a wide range of rooms, including living rooms, bedrooms, hallways, and even kitchens. However, it's important to note that many laminate products are not recommended for areas with high moisture levels, such as bathrooms or laundry rooms.
If you wish to place laminate in those areas, consider using waterproof flooring laminate options specifically designed for wet environments. Talk with one of our flooring experts to ensure you're getting a product that can handle moisture.
What questions can we answer for you about laminate flooring?