Home. What does that word mean to you?
Home means safety. Comfort. Joy. A place we work and play. A place we raise our family.
It's not a place we throw together haphazardly. We put thought and care into each item we select, from the flooring to the decor.
Yet you have a family to raise. And let's face it, gentle isn't in their vocabulary. The kids love tussling on the floor. The pets regularly use it as their personal workout space. Not to mention the aerobics classes you take from the comfort of a Zoom call.
That's why you've spent more time online researching laminate flooring. It seems like a great fit, but is it? Will you love it months after you install it?
Laminate flooring has come a long way in recent years. It's growing in popularity for a variety of reasons. Maybe you'll see yourself as you continue to read on.
What is laminate flooring?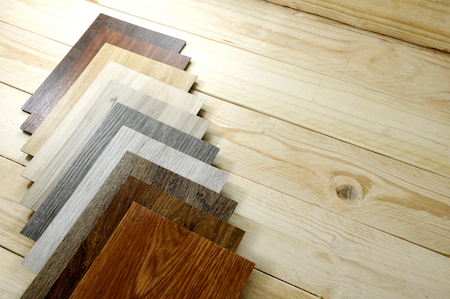 If you're here, you might have a general understanding of what laminate flooring is. But we believe it's best to understand how it's created if you're going to install it in your home.
Laminate flooring is a versatile and cost-effective option consisting of multiple layers fused together through a lamination process. The top layer, also known as the wear layer, is made of a clear melamine resin that protects against scratches, stains, and fading.
Beneath the wear layer is a printed design layer that can mimic the appearance of various natural materials, such as hardwood, stone, or tile.
The core layer is usually made of high-density fiberboard (HDF). It provides stability and strength to the laminate planks.
The bottom layer is sometimes referred to as the backing. It adds additional support and moisture resistance.
How is laminate different from luxury vinyl? 
We've heard and read comparisons of these two popular flooring choices. Let's clear up the fact that they aren't the same, and have some distinct differences.
Laminate flooring uses a photographic layer to replicate the appearance of natural materials. Luxury vinyl flooring uses technology to emboss textures and colors into a layer that closely imitates the look of hardwood, stone, or tile. If you're looking for accurate representation, many feel laminate is a superior choice for its sense of realism.
Laminate typically comes in plank or tile forms, whereas luxury vinyl is available in a variety of formats, including planks, tiles, or sheets. Additionally, laminate is typically installed using a floating floor method, while luxury vinyl can be installed as either a floating floor or glued down.
Do you need an underlayment for your new laminate floors? 
While not always necessary, using an underlayment with your laminate flooring can provide various benefits.
Underlayment can help reduce noise transmission, provide additional cushioning and insulation, and act as a moisture barrier. The need for underlayment depends on factors such as the type of subfloor, the specific laminate product, and personal preferences.
Consulting the manufacturer's recommendations and seeking professional advice can help determine whether an underlayment is necessary for your laminate flooring installation.
What makes laminate a great choice for any room in your home?
If you've ever had hardwood throughout your home, you might have distinct feelings about its durability. How well did it stand up in a kitchen environment? How well did it work in high traffic situations?
If you've doubted using hardwood, laminate flooring may be the perfect option for your latest remodel.
Increased durability
Laminate flooring is known for its exceptional durability, making it suitable for high-traffic areas in your home. The wear layer provides excellent resistance against scratches, dents, and stains, ensuring that your floors remain beautiful and intact for years to come. This durability makes laminate an ideal choice for households with children or pets.
Water resistance or waterproof
Laminate flooring offers varying degrees of water resistance, with some products being completely waterproof. This feature makes laminate a great choice for moisture-prone rooms, such as kitchens, bathrooms, and basements. Knowing that your floors can withstand spills, splashes, and even minor flooding without warping or damage, provides peace of mind.
Consistency throughout the planks
One of the advantages of laminate flooring is its consistency throughout the planks. Unlike natural materials like hardwood, where variations in color and grain are expected, laminate offers a uniform appearance. This consistency allows for easier installation and creates a seamless, cohesive look in any room.
Pairs well with radiant heating
If you're considering radiant heating for your home, laminate flooring is a compatible choice. Its composition allows for efficient heat transfer, making your floors warm and comfortable during the colder months. Ensure that the specific laminate product you choose is approved for use with radiant heating systems.
Can be a DIY project
Laminate flooring can be a great DIY option for those who enjoy tackling home improvement projects. With its simple click-and-lock installation system, many homeowners find laminate installation straightforward and rewarding. However, following the manufacturer's instructions and seeking professional help if you encounter any challenges is essential.
A great choice for healthier homes
Laminate flooring is a preferred choice for homeowners concerned about indoor air quality. Laminate doesn't harbor allergens such as dust mites, pet dander, or mold. Its smooth surface makes it easy to clean and maintain, reducing the potential for allergens to accumulate and impact air quality.
A wide range of styles
Laminate flooring offers a vast array of styles, designs, and finishes, allowing you to find the perfect flooring to suit your aesthetic preferences and complement your home's decor. Whether you desire the warm look of hardwood, the sleek appearance of stone, or the elegance of tile, there's a laminate option available to fulfill your vision.
Are you ready to install laminate flooring? 
So, are you ready to invest in laminate flooring? If you've made up your mind and are ready to go, you're going to love laminate flooring.
Laminate combines affordability, elegance, and practicality, making it an excellent choice for any space in your home. With its durability, water resistance, and contribution to healthier homes, it offers a compelling solution to enhance the beauty and functionality of your floors.
Have additional questions? Want additional guidance? Just stop by. We're ready to help.