One of the most popular flooring materials in the world is hardwood. Hardwood consistently tops the lists of what buyers want when they're shopping for a new home as well as what people want installed when designing their dream homes.
Yet hardwood doesn't always make sense for your lifestyle. Luckily, other choices offer you the classic good looks of hardwood, yet provide additional benefits that may be more conducive to your lifestyle.
Laminate and luxury vinyl are increasingly popular choices in home remodels. Which one is right for you?
Laminate and luxury vinyl – what are they?   
Depending on your age, when you think of laminate flooring, the concept of Pergo flooring may come to mind. Pergo was the entry into the laminate market, being introduced to the US in the 1990s. Today, many manufacturers sell laminate flooring, and it's vastly changed since the original days of Pergo flooring.
Laminate flooring features planks constructed from four layers:
A vinyl backing
A core made from medium density fiberboard (MDF) or high-density fiberboard (HDF)
A design layer created from a realistic photograph of hardwood
A durable, transparent top layer that acts as a protector
The core layer is created with a tongue and groove feature that allows installers to snap the boards into place during installation. This allows the planks to float on top of the existing subfloor or other flooring material.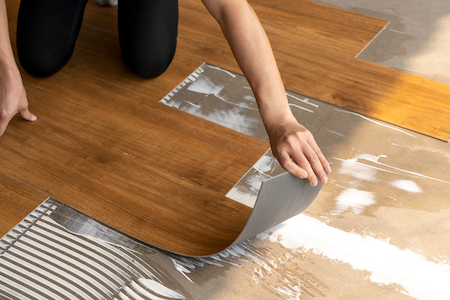 Vinyl flooring has changed vastly over the years. What once came only in sheet or tile format is now available as luxury vinyl planks (LVP.) Like laminate, LVP is constructed in layers:
A backing layer
A core center
A design layer
A protective coating
Early core layers were made exclusively from vinyl. More modern versions are created from several different materials, including a wood polymer composite (WPC) and stone polymer composite (SPC.) Both offer resilience, rigidity, and enhance moisture resistance.
Luxury vinyl planks can be glued in place to the subfloor. It also offers the popular tongue and groove system that allows the planks to click and lock together, floating into place above the subfloor.
Laminate or luxury vinyl – what's the difference?   
Reading through the descriptions of what laminate and luxury vinyl planks are can leave anyone a little confused. They seem to be more alike than they are different. That's true, but there are distinct differences that make them two very separate products.
They are made from different materials. At the core of laminate flooring is a layer made from either moderate or high density fiberboard that gives it its rigidity and strength. Luxury vinyl is also created in layers. At its core is a PVC vinyl layer that makes them even more rigid. This is why you'll find some LVP products on the market today stating they are waterproof.
They install differently. Laminate flooring only comes as a floating-floor product. You'll never nail or glue laminate into place. LVP products come in a variety of products that can be installed in different ways. Whether you prefer glue-down, peel and stick, or click and lock, there's a luxury vinyl product designed to suit your needs.
They feel different. If you want a product that closely resembles traditional hardwood, you'll lean towards installing laminate. With its wood core, it feels more like traditional hardwood planks. Because of how it's created, LVP has a smooth surface area which tends to make it look a bit more artificial.
Even though there are several differences you should weigh out before making your final selection, it is important to note that both are excellent choices when you want the look of hardwood, yet traditional hardwood won't stand up to what your family can dish out. Both laminate and luxury vinyl are:
Easy to install – whatever method you choose, you'll be happy with how soon it can be put into place. With a little experience behind you, you can easily turn a laminate or luxury vinyl into a do-it-yourself project.
Realistic looks – traditional hardwood doesn't work in all rooms. That's why both laminate and luxury vinyl planks were developed. And both provide a realistic interpretation of having a traditional hardwood floor installed.
Low cost – you can find a high quality laminate of luxury vinyl plank for a reasonable price. If you're sticking to a budget, either can be a welcome addition to your home.
Low maintenance – you'll only need occasional sweeping and vacuuming to keep both of these flooring choices looking their best.
Lifespans – with care and maintenance, you can easily have either laminate or luxury vinyl in your home for 10 to 20 years or longer.
When is laminate a better choice?
If you're looking for the look and feel of hardwood without investing in traditional hardwood, laminate is the best way to go. It's a great way of bringing the look of traditional hardwood into your home without breaking the bank.
Laminate works well in living rooms, family rooms, bedrooms, media rooms, and other parts of the home that stay relatively dry. It has a slight advantage over luxury vinyl if you are looking for a more eco-friendly flooring choice, as top brands work with recycled materials for the inner core.
If you're looking for a quieter product, today's laminate isn't Pergo. With the proper underlayment, you'll find laminate can be more comfortable and quieter than vinyl, making it an ideal choice for your living areas.
When is luxury vinyl a better choice?
Luxury vinyl is known for its durability. If you want the look of hardwood in places hardwood typically can't go, luxury vinyl planks are your choice. Install them in bathrooms, laundry rooms, and mudrooms – you'll love the results.
That also makes luxury vinyl the better choice in busy households. If you have kids, pets, or just love to get messy in the kitchen, luxury vinyl will stand up to all you can dish out.
While laminate and vinyl can both be installed by do-it-yourselfers, luxury vinyl can be easily cut with a knife, while laminate will need a saw for proper cutting. If you want to save even more money by laying your floor yourself, luxury vinyl might be the best way to go.
And if you're looking for a specific color or pattern, you may have an easier time finding it with luxury vinyl. Due to its popularity, manufacturers are releasing luxury vinyl planks in abundance. Bring in your design ideas, and you're sure to find the perfect color you're looking for.