Commercial carpet. Even saying it brings ideas to mind.
Commercial carpet can be durable. After all, it's placed in high-traffic situations, and has to stand up to a lot of wear and tear.
Commercial carpet is functional. It can be easy to change out small sections due to spills.
Commercial carpet can be economical. If it lasts in a commercial application for years, just imagine how long it will last in your home.
But is it right for you?
Should you consider commercial carpet for your home remodeling project? Is it something homeowners do?
Whatever preconceived ideas you have about commercial carpet, it may be worth a second look for certain rooms in your home.
The differences between commercial and residential carpet
In the flooring industry, carpet comes in two general grades: residential and commercial. The differences are many:
Color and texture – you'll find more color options in residential carpet because that's where homeowners let their personalities run wild. Commercial applications tend to be more subdued, able to blend in with a design palette any business owner will like. Office settings tend to have darker colors with more patterns to show less wear and tear, and to hide dirt from the surface.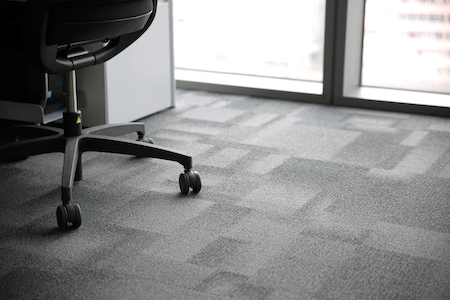 Durability – while residential carpet only has to stand up to what your family can dish out, commercial carpet may experience hundreds, even thousands of visitors daily. Typically, commercial carpet can last up to 15 years, depending on a few factors. Most often, commercial carpet uses nylon fibers which are easy to clean and long-lasting. Commercial carpet is also denser with a lower pile, which keeps it intact for more activity. Commercial carpet uses extra padding to ensure a long life.
Comfort – because commercial carpet is more durable, comfort isn't a top priority. You'll never find the thick, plush carpet you'll have with residential designs. Commercial carpet is built for walking on, not playing on. It focuses much more on sustainability rather than comfort. However, there are many commercial applications that are designed to create the illusion of intimate spaces. These can be great additions for certain rooms in your home.
Maintenance – residential carpet can be effectively cleaned with periodic vacuuming. Commercial carpet often undergoes professional cleaning regularly. It withstands more vacuuming (sometimes daily,) and is subjected to steaming and cleaning to maintain its looks. Commercial carpet is designed to mask dirt, which can make a great addition to certain rooms where spills might be a problem – media rooms.
Types of commercial carpet
With residential carpet, you may be used to installers bringing in a carpet roll and rolling it into place. While that's possible with commercial carpet, there are other choices.
Carpet tiles – commercial carpet tiles give people the flexibility of installing carpet in a quick and easy solution. It allows you to create intricate patterns with different colors and patterns. Stick with the same tile, turn it, and create varying textures. Select several different colors and create a checkerboard variation. People love carpet tiles because they allow you to peel up tiles whenever they are stained or damaged. Replace it with a new one, and you'll prolong the life of your flooring.
Carpet planks – square tile shaped isn't your only choice. You'll also find carpet in plank format, giving you a different shape to play with in your final design. It's a perfect way to create herringbone patterns, and allows you to play with both color and texture.
Carpet rolls – the most traditional carpet comes in roll format, where you roll it into place. It's less expensive than tiles and planks since it's easier to install. It's a great choice for someone who wants flooring installed quickly and economically.
Pros and cons of using commercial carpet in your home
If you've read this far and are still considering commercial carpet for one or more rooms in your home, here are a few pros and cons that can help you determine if it's the right choice for you.
Pros include:
Durability – it's the most popular reason homeowners move to commercial-grade carpet. They have a room in their homes where they want increased durability. Commercial carpet will ensure you have flooring that can handle heavy traffic, and will stand up to all your family can dish out.
Economical – commercial-grade carpet allows you to get more mileage from your flooring. Commercial carpet can last 10 to 15 years, even longer in home settings, and continue to give you classic good looks for the carpet's life.
Maintenance – because commercial carpet is low-pile, it continues to look new without the wear marks or crushed fibers wearing thin. They offer stain resistance to make clean-up an easy process.
Installation – while you may still opt for professional installation if you select large format carpet, tiles and planks are self-adhesive and easy to install. Do-it-yourself has never been so easy. And it makes repair work a snap – just peel up the old one and press the new into place.
Cons include:
Lower comfort – commercial carpet is designed for high traffic situations. It's constructed to focus on wearability, not comfort. Commercial carpet isn't for you if you frequently lay on the floor to play with the kids, or expect to run your toes through the fibers.
Style – if you have specific colors or patterns in mind, you might be held back by the lack of options. Commercial carpet is designed with businesses in mind, and doesn't have the flexibility in style like residential carpet offers.
Is commercial carpet in your home the right solution for you? 
With so many options available to you today, the toughest decision may come from having to make a choice.
Commercial carpet may be the perfect choice for high traffic areas where you want something softer than tile or hardwood. Media rooms, home theaters, wine cellars, or even a downstairs living space may be the perfect place for commercial carpet.
When you're ready to compare options and select the right carpet to suit your needs, stop by and see our entire selection.
We'll help you fall in love with the commercial carpet of your dreams.