I was sitting in a reception area the other day, waiting for my appointment, when I looked down and noticed how the hardwood was installed. From the entryway, the hardwood appeared to move vertically into the office space. Yet the hallway back to the individual meeting rooms sat at an angle. The pattern moved into a diagonal flow to keep the flow from the entryway.
I loved it!
But I started thinking about which direction was best when installing hardwood. Are there rules? Do flooring experts provide specific guidance to help homeowners and commercial property managers finalize their decisions before installing hardwood into their spaces?
Where to begin when installing hardwood 
Every space is unique. You can't start at the front and work to the back – that philosophy can get you into trouble in oddly-shaped rooms.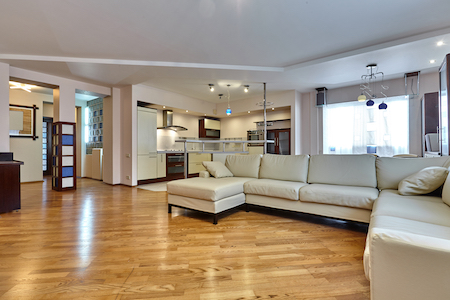 There are several factors to consider when deciding which way to install hardwood into any room.
Focal point – what's the first thing you see when you walk into the room? Where is the focal point of the room? If you lay the planks in that direction, it gives your eye a reason to flow towards that focal point. It might be a large fireplace. Or stunning architectural detail that makes the room. Your hardwood plank direction will lead every visitor to the most important aspect of the room.
Overall design – if you have one square space to add hardwood to, laying the planks into place is easy. Yet most people install hardwood into multiple rooms simultaneously, and rarely are they perfectly square. Instead, you'll have odd shapes and a layout that rarely makes sense when you start to lay the planks into place. To avoid sudden cutoffs and strange designs, it might be time to install them in a diagonal pattern. If you have multiple rooms with distinct cutoffs, you can install a thin wood strip at the threshold to make the transition.
Light source – here in Colorado, we get a lot of natural light flowing in. If you have large windows to take advantage of the view, how does light fall into your home throughout the day? Use that pattern to dictate the direction you install your hardwood planks.
Floor structure – the subfloor and floor joists are installed to add strength and durability to each room. If you lay hardwood planks in the same direction as the joists, you can weaken the overall structure of the flooring. Instead, install them perpendicular to add strength and prevent the planks from sagging or buckling.
Sightlines – in many cases, flooring direction jumps out at you from the moment you walk through the door. Sightlines guide you from the front to the back. It gives you a natural flow. Don't fight that flow. Work with it instead as you're looking for which direction to install your hardwood planks.
Directions to run your hardwood flooring planks
We these general installation rules in mind, there are several main design options when it's time to install your hardwood floors:
Vertical – the most common way to install hardwood is vertically from one end of the room to the other. It flows naturally as you enter the room, providing elegance and a contemporary feel as you move into a room. It's a go-to pattern because it's one of the easiest to install. It makes good use of the hardwood planks without having to trim boards to get them to fit.
Horizontal – another popular installation pattern is horizontal, where the boards flow freely from side to side. This is a good choice if your design space is narrow as you walk into the room. Short, vertical planks might make it feel choppy, more closed in. By running them horizontally, it draws the eye side to side, adding more openness to the space.
Diagonal – give any room a classy finish by installing the planks diagonally. Instead of vertical or horizontal placement, kick the planks to a 45-degree angle to the wall as they run across the floor. The look can be stunning and just different enough to add your own personality to your room.
Herringbone – this is another classic design that has been used for decades. It's a step up from diagonal, creating a zigzag pattern instead. Install each board in a different direction, giving any room a more modern feel.
Parquet – parquet hardwood has been used in homes for centuries. It involves laying planks in repeated geometrical patterns that give the floor visual appeal. Think of it as a checkerboard of intricate patterns, with wood squares dominating the design. They can be quite beautiful, adding richness to any room in your home.
Random – today's homeowners often look for something unique to bring into their homes. If you've had your eye on multiple sizes, colors, and patterns, why not incorporate them all into the final look? A random pattern mixes lengths, widths, and colors to create flooring as unique as you.
Which direction is right for you?
Want new hardwood floors? That's only the beginning of the choices you'll make.
Today's hardwood planks come in many different styles, colors, patterns, widths, and lengths. With so many choices, it's often difficult to know where to begin narrowing down to your final selection.
We often recommend people spend some time on design sites, or setting up a pinboard on Pinterest. Find different layouts you like, really focusing on why you like them. Do you like the color? The pattern? The flow?
As you find more examples of things you like, you'll start to see a pattern in your tastes and desires. This is when you know you've found a choice that's right for you.
Bring your ideas in and let's talk. We can show you a variety of flooring choices that meet your demands. We can help you narrow it down to a final selection, one you'll love for the life of your floor.
Installing hardwood in different directions can give you classic designs or a modern finish. There isn't a right or wrong way to lay it into place.
What you settle on will look great on your finished floors.
You'll love how it accents your home's decor.