Thinking of remodeling? Want new flooring?
Many homeowners instantly envision their newly redesigned rooms with hardwood flooring. But here's the thing: Hardwood flooring doesn't always make sense.
Sure, it looks great. Yes, it's one of the most popular flooring materials sold.
But hardwood flooring has its positives and negatives. Sometimes hardwood isn't suitable for your lifestyle. Maybe engineered hardwood or luxury vinyl planks would make a better choice.
What is engineered hardwood?
What makes engineered hardwood so appealing to some homeowners is that engineered hardwood is real wood. Instead of a solid plank of hardwood, engineered planks are constructed in layers.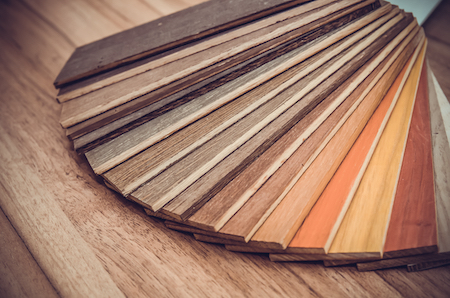 Engineered hardwood is slightly thinner than solid hardwood. The top and bottom layers are 100 percent natural wood. These layers can come from a variety of species and provide you with the look you're going for. (This is what makes it look just like traditional hardwood flooring.)
The inside layers are constructed from plywood. The thickness is based on the quality of construction and what the manufacturer chooses to include. Higher quality engineered wood planks will have a thicker top layer, meaning they'll last longer overall.
This layered construction also provides more stability against environmental changes. If you've ever brought traditional hardwood into your home, you know it needs time to acclimate to the surroundings before installation. Engineered hardwood construction eliminates some of the risks associated with expanding or contracting when exposed to humidity, moisture, or temperature variances. That makes it a better choice in rooms where this may be a problem.
One of the drawbacks to engineered hardwood is that it typically can't be sanded and refinished the way you can traditional hardwood planks. Because the top board is a thin piece of hardwood, smoothing it down may wear through this top board, leaving the plywood showing and vulnerable. Higher quality planks may be thicker and have the ability to refinish it once, but you do have to be careful as you sand the top coat away.
Engineered hardwood makes a good choice when you're looking to stick with a budget, and traditional hardwood is beyond your reach. Premium engineered hardwood planks can be as much as some traditional hardwood, but will offer better longevity and results.
What are luxury vinyl planks?
Luxury vinyl planks are also known as LVP. It's a flooring material designed and manufactured to provide hardwood's look and feel, but it offers characteristics traditional hardwood doesn't have.
Luxury vinyl planks are available in a wide variety of sizes, styles, patterns, and colors. You'll find LVP that closely resembles the traditional hardwood you've had your eye on, or step beyond the color and pattern you've been thinking about and try something a little bolder. LVP manufacturers mimic hardwood so well that you'll see grain and texture just like in natural wood planks. But you can get the exact color you're looking for.
Luxury vinyl planks are generally made of highly moisture-resistant PVC, which is what makes the planks so durable. Some are constructed so well they provide waterproof technology. That means you can put them into any room where humidity or moisture may be a problem. This may be the perfect product to include in your bathroom or basement remodel.
The surface is hard enough to be more durable than hardwood, making it better at resisting scratches or dents. Plus, the hard surface area makes cleaning a snap. Just an occasional sweep or vacuum to keep dirt away, and a damp mop to remove surface debris.
The one drawback to LVP is that it's a petroleum product, manufactured using PVC. Toxins can be off-gassed into the environment, which can be a problem for both humans and pets. This is where it's important to work with a dealer who understands the risks and can guide you to reputable companies who take every precaution to reduce the risks.
Engineered hardwood or luxury vinyl planks – which should you choose?
Both engineered hardwood and luxury vinyl planks have the look and feel of real hardwood flooring. However, only engineered hardwood is made from real natural wood. If this is important to you, engineered hardwood may be the way to go. Yet keep in mind that hardwood is softer and more susceptible to scratches and dents. If you have an active household, it's something to consider as you finalize your decision.
Engineered hardwood performs much better in situations where moisture might be a problem. If you want to extend hardwood into a downstairs bathroom and kitchen, engineered hardwood may be the perfect protection you need to ensure those occasional mishaps don't leave their mark. But keep in mind that water can and will impact engineered hardwood if it seeps between the planks. LVP performs far better in moist situations, even providing fully waterproof product lines that can withstand a lot of moisture. For basements that deal with moisture frequently, or bathrooms where splish-splashing occurs on a regular basis, luxury vinyl planks can offer the protection you desire.
If you're looking to stay within budget, luxury vinyl planks may be a perfect choice. It's typically less expensive than hardwood or engineered hardwood, which is why a lot of homeowners choose to install it inside their homes. The technology has increased enough to make even the most knowledgeable flooring experts have to take a second look to ensure it's not real hardwood.
The bottom line … both engineered hardwood and luxury vinyl planks are beautiful, and look authentic enough to pass for traditional hardwood when that doesn't meet your lifestyle. Hardwood is aesthetically pleasing, but not always functional to every homeowner. Engineered hardwood and luxury vinyl planks give you the same look and feel with characteristics more beneficial for some people.
Hopefully this article has shed some light between the differences of these two amazing flooring choices. If you want to see either in more detail, stop by today and see our entire selection. With a little bit of guidance, we'll help you make the perfect selection for your home remodeling project.