These days, if you decide you want to install wood flooring in your home, you have a lot of options. You'll find row after row of traditional hardwood in all sorts of sizes, colors, and styles.
You'll also find something more. Luxury vinyl tile now comes in planks you can drop into place, click together, and have a do it yourself floor in a matter of hours. Take a look at porcelain tile – yep, it's also mimicking hardwood flooring.
It's everywhere.
It can also leave you confused.
When you initially started shopping, you were sold on the benefits of laminate flooring. Is it still something to consider? Is laminate a good choice for today's home?
What is laminate flooring
What made laminate a popular flooring choice in the past still holds true today. Laminate flooring looks like hardwood, but offers you many other benefits, including easy maintenance and an affordable cost.
Laminate flooring looks like hardwood planks. But instead of being crafted from solid wood, laminate is created in several layers and fused together for durability.
Wear layer – this top layer provides strong protection against all your family can dish out including stains, scratches, and fading.
Design layer – this can either be a thin veneer or a high-resolution photograph that mimics the hardwood styles you love.
Inner core layer – this provides stability, durability, sound absorption, and moisture resistance. It's made from a high-density wood fiberboard.
Bottom layer – the backing layer, it offers protection against moisture, damage, and warping.
In general, you'll find laminate flooring comes in two separate types.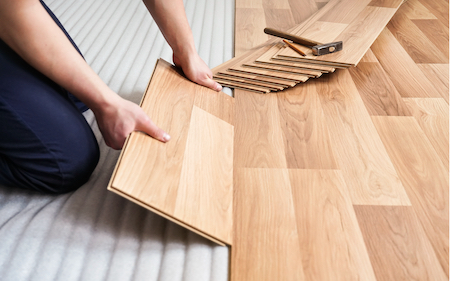 Engineered wood – laminate is often referred to as engineered wood because of the multiple layers pressed together to create one board. The core layers can be as many as twelve layers of fiberboard pressed together for strength. The veneer, or top layer, is a very thin piece of natural wood that gives it its classic good looks. The term engineered comes from creating a plank with the looks of traditional hardwood, yet pressed together with many other benefits that can give you durability and longevity without the high price. Depending on how thick the top layer determines how many times you can sand and refinish the floor.
Plastic laminate – unlike engineered wood, plastic laminate is completely created in the lab, with the design layer being a photograph to mimic the look of natural wood. The other layers closely resemble those used in creating engineered laminate.
Thanks to technology, laminate looks closer to the real thing than ever before. But it does so at a fraction of the price. It's tougher, easier to maintain, and resists things like scratches and dents. That makes it a good choice for busy families with pets and kids. Its lower cost also means you won't worry as much about the action that occurs throughout your home.
What to consider when choosing laminate 
When a lot of people think of laminate, they remember stories from years before when it had a hollow sound. Technological advances have made high-quality laminate even better than it was before. Of course, that means you'll have to wade through the products to find the best laminate your money can buy.
There are several things to consider when selecting high-quality laminate.
Purpose
Especially here in Colorado, hardwood tops the list of flooring choices for homeowners. But if you've owned hardwood before, or are leery because of what you've been reading about hardwood's upkeep, laminate might be a better choice for you. Because of its multi-layer design, it gives you the look of hardwood with better wear factors. That means it's a good choice for all the rooms in your home. If you haven't had good luck with hardwood in your basement, for example, (and hardwood is rarely recommended for basement settings), you're going to love the look of laminate flooring.
Location
What makes hardwood difficult to maintain in places like the kitchen or basement gives laminate a distinct advantage. When selecting laminate, be sure to read all manufacturer's guidelines based on the location you'll be installing it in. Often, it requires a certain underlayment to give it added durability and strength.
You can also look for laminate products exclusively made for high traffic areas. Look for the terms "high pressure" and "direct pressure" laminate. Direct pressure laminate is created from four layers used together with anywhere from 300 to 600 pounds of pressure. High pressure adds a fifth layer of craft  paper treated with a resin that increases the strength. This makes it even more durable in high traffic situations, and makes it suitable even for commercial applications.
Thickness
You'll find laminate comes in a variety of thicknesses, usually between 7mm and 12mm thick. If you select thicker laminate, it does a better job covering uneven areas in your floor, and creates a texture and feel of real hardwood. Thicker is also better for sound absorbing qualities. Word of caution: some manufacturers state the thickness of their flooring by including the underlayment, while others do not. Keep this in mind when comparing two floorings.
AC rating
Laminate flooring also comes with an AC rating (Abrasion Criteria) to help you determine the durability of the product. AC ratings are from 1 to 5, with 5 being the highest. You'll find most residential laminate applications come with an AC rating of 3 or 4. A 3 would make it suitable for busy areas of your home, including the kitchen, while a 4 rating will add extra stability, making it more sustainable for places like bathrooms and the basement. A rating of 1 or 2 should be used in light traffic areas such as bedrooms.
Installation
While hardwood can be fussier with the installation process, you'll find laminate is easier to install. Have a do it yourself attitude? You can easily install laminate, especially if you pick a floating floor with click-and-lock technology that makes snapping planks into place a breeze. Remember, laminate does need an underlayment unless the flooring comes preinstalled with an underlayment layer in place. You will need a saw for edgework and ensuring all planks fit comfortably into place.
Are you ready for laminate flooring installed in your home? Depending on your needs, it can still be the perfect choice for every room in your home.