Thinking of remodeling your bathroom? Want a guest bathroom that'll wow your visitors, a half bath that carries the flow from the rest of your home, or a master bath with ambiance and functionality?
Bathrooms are one of the trickiest rooms to redecorate. Part of you wants to use hardwood throughout your home. The other part knows that's a mistake.
Hardwood works great in the living room. But in the bath? Humidity, moisture, spills – a lot happens with the floors. Why live with regret almost from the moment it's installed?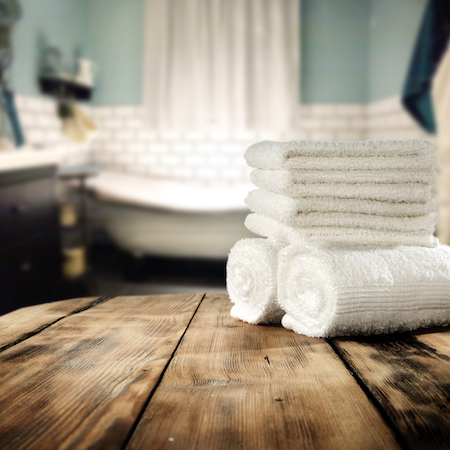 There is a better choice. Consider laminate flooring in the bathroom.
Why laminate flooring?
What makes laminate flooring a choice for any room in your home is especially true in the bathroom.
Laminate flooring is a resin-based paper that sits on top of a wood chip base. The surface is actually a high quality photograph of oak, cherry, mahogany, slate, stone, marble, or any other type of wood or stone. This print is attached to a durable wood chip plank, and sealed with a clear coat called the wear layer. This wear layer is what gives laminate its strength and durability, and makes it the perfect choice for bathroom use.
The pros and cons of laminate in the bathroom
Of course, like all flooring choices, laminate comes with its own pro and con list. What works well in one home might not be the perfect solution for yours.
In general, laminate makes a good addition to your home because:
Laminate flooring is very user friendly. Everything about laminate flooring makes it easy to install and easy to live with. Because laminate comes with a tongue and groove system, DIYers select laminate all the time for easy installation. You can have a small bathroom project done in a weekend by using laminate. And if you want a flooring choice you can install and ignore, laminate might be your choice. It's a lot easier to maintain than other choices, such as hardwood flooring.
Laminate flooring won't scratch and dent. Two of the biggest concerns of hardwood is its softness – it scratches and dents easily. Not so with laminate. Its hard surface area makes it a better flooring choice in an active home with kids or pets. A bathroom sees a lot of action – how many times have you dropped bottles, hair dryers, curling irons, or other items onto the floor? With laminate flooring, those drops and spills will go virtually unnoticed on your flooring.
Laminate flooring is easy to clean. Seep up the mess. Vacuum from time to time. Use a damp mop to keep it clean. Enjoy your flooring for years to come. Just remember, laminate can take damp conditions, but not puddles of water. The larger the mess, the quicker you should jump into action and clean it up. Especially with the tongue and groove system, standing water can slowly penetrate through the seams, causing problems underneath your floors.
Laminate looks great and comes in the most popular styles. Want tile or slate without the hardness factor? Want hardwood without the softness? Laminate is a perfect choice, right there in the middle. It gives you everything you love about the looks of the most popular products in the industry, with all the benefits of laminate flooring. It's easier to install, easier to maintain, looks great in the process, and is more economical too.
Of course, we wouldn't be doing our job if we didn't give you the cons to laminate flooring too.
Laminate flooring can be slippery when wet. To minimize the slip-factor, be sure to use rugs liberally throughout your bathroom.
Laminate can warp with too much moisture. Never let too much water puddle and stay on your floors. And during and after a shower or a bath, be sure to run the exhaust fan to clear out the humidity. Just a few simple precautionary steps will ensure your floors stay looking great for a long time to come.
Is there a proper way to install laminate in the bathroom?
You've decided to install laminate in your bathroom – congratulations! You're going to love your choice.
But what's the best way to install it? Is there a right direction? Is there a best way to match your decor? Whether you're making it a do-it-yourself project, or are hiring a pro to install it for you, we have a few tips for laying your floor. It depends on your taste and the size of your bathroom.
When installing laminate in large spaces – your main living space, or the basement entertainment area – the key is with continuity. You want your entire flooring to flow from one side of your home to the other. The goal is to create cohesiveness to carry on the open concept design.
Try identifying a light source – maybe a back wall of windows that lets in lots of natural light. Running the floor with the direction of the light is a great way to bring out its color and texture, and have it naturally low through your home. By running that into darker places in your home – a half bath tucked away in the middle of your living space – will add more dimension to your space, actually make the bathroom appear larger.
Also, be mindful of the wood grain, pattern, or design. If you use larger planks throughout your living space, you want to carry that look into your bathrooms.
The key is always continuity.
Be an educated consumer
No matter what type of flooring you choose, make it your business to understand the product you are selecting. Flooring is a personal choice, but one you'll likely keep for years – decades – to come.
There are many companies today with eco-friendly or sustainable product lines. Pay attention to the look and feel of the product, and also about the way it's made.
Rather than selecting a product just based on price, stop by and learn all you can about an entire line. You may select the right laminate for your bathroom based on something you've never considered before.
With so many choices available, we know we can help you make the right decision for your lifestyle.