Thinking of adding new flooring to your home? You'll love what today's luxury vinyl can do for any room in your house. This isn't your mom's vinyl flooring. Today's styles, colors, and patterns can transform any room into a beautiful space. Whether you choose sheet, tiles, or planks, this is a product you won't regret installing.
But before you make your final selection, there is something else to consider. It's not always as simple as ripping out the old and installing the new without thinking about the surface you'll be adhering to.
Vinyl is easy to install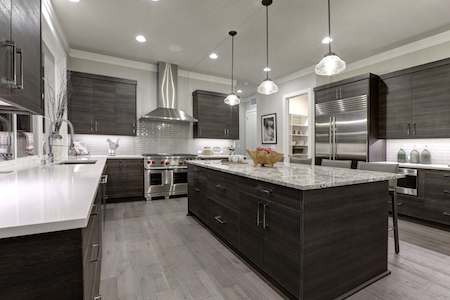 There are a lot of reasons people decide to install vinyl flooring into their homes. It's affordable. It's durable. It's easy to clean and easy to care for. It's also easy to install.
And that makes it perfect for the homeowner who wants to take on a do-it-yourself project and be proud of the results.
You can install vinyl on just about any type of subfloor. If it's flat, it makes the perfect base for whatever luxury vinyl you choose. You should also clean it up and make sure it's free of debris. Use a floor scraper to ensure there are no high spots in the floor, and that it flows freely from one corner of the room to another.
If you do have high spots, it might take a grinder to smooth it out. Again, be sure to thoroughly clean the subfloor after any work is done to ensure there isn't any dust or debris left in its path.
Does luxury vinyl plank need underlayment?
Once you have a smooth surface area to work with, you'll need to decide if you want to install an underlayment. It depends on the subfloor type. It depends on the product you'll be installing. It's best to talk with one of our flooring consultants, who can help you make a decision based on the manufacturer you select.
A luxury vinyl tile (LVT) underlayment is a specially formulated underlayment for installing underneath luxury tiles. Some products have it built into the product itself, so it's not necessary to lay it separately. Most of today's luxury vinyl tiles are fully waterproof, which means you won't have to put a damp screen to prevent moisture as a part of the underlay.
If you do lay a separate underlay, they are in general thinner than what you would install with laminate or carpet.
Why would you want to install an LVT underlayment too?
One of the biggest reasons is for noise reduction. Vinyl tiles cause more noise to vibrate through a room. If you have thin walls and floors, and live close to your neighbors, that can be a problem. Adding an additional LVT underlayment can have a beneficial effect.
Here in Colorado, you might also want to add underlayment to create a warmer effect. If you've ever walked into a room with tile in the middle of winter, you know it can have a chilling effect. Adding additional underlayment can make your floors feel a bit warmer, even on the coldest of days.
It also creates a softer flooring choice, which can be beneficial to homes with small children or the elderly. It'll feel softer when your kids are on the ground, learning to crawl, or playing with their toys. It will also be more forgiving if your elderly parent takes a fall.
When you're looking at underlayment, look at vinyl sound ratings. Many of today's top product lines will be rated for sound vibrations. This gives you a starting point for making the right choice in the quiet factor of the product you install.
What about for click and lock vinyl tiles? Do you need underlayment for those?
One of the most popular products on the market are easy-to-install click and lock vinyl plank tiles. They mimic hardwood yet offer the ease of maintenance of luxury vinyl.
Vinyl click tile is usually very thin. If you add an additional underlayment underneath, it can impact the way this product locks into place. If you're installing it over concrete and you have a question about moisture issues, consider adding a vapor barrier underlayment first that will product against water problems. Just ensure any underlayment you add is thin, so it doesn't impact the locking process of the vinyl planks.
And because luxury planks with click into place features don't require the use of adhesives, they are also the perfect choice for installing over radiant heating. If you are considering this type of installation, talk with your flooring consultant first.
What about concrete – should you use a special underlayment for laying vinyl on concrete?
The key to installing luxury vinyl over concrete is to ensure the floor is level and clean. Underlayment isn't a necessity, but you might consider it to add noise reducing qualities or additional softness to the product.
If the concrete is uneven, you will have to level it out. Without being level, your flooring won't have the right conditions to form to. And that can cause wear and tear on the product, making it fail before it reaches its full lifespan.
You should also be aware if moisture is an issue. If so, be sure to install a moisture barrier before you install your luxury vinyl tiles into place.
Are there other reasons to consider underlayment before installing luxury vinyl?
While most people consider the quality of the luxury vinyl they are purchasing to be the determining factor in lifespan, there is another factor you should consider too.
Underlayment can also help with compression resistance. Is your room high-traffic? Does it have pets running and playing? Or maybe you frequently drop things from several feet in the air? Consistent traffic can easily cause permanent dents in your flooring structure.
If you select a dense underlayment meant for high traffic areas, it can help uphold the configuration of your luxury vinyl, and give your flooring added strength.
Is luxury vinyl the right choice for you? 
Before you make your final choice, it's best to stop by and learn all the facts about each flooring choice you're considering. Different flooring manufacturers offer different benefits; we can help you determine what's best for you.
But if you're looking for an affordable, easy to care for, easy to install floor that looks beautiful too, keep luxury vinyl at the top of your list. We think you'll love the results.