When you picture your dream home, what does it look like? Can you see the colors you use in your decor? Do you feel the smoothness as you run your hand along the cabinets?
You may also notice your flooring choice. For many Colorado homeowners, hardwood is the only way to go. But if you've been holding back because you know solid hardwood is a mistake for your lifestyle, there's good news.
Laminate flooring might be the way to go.
Laminate flooring is a durable and affordable alternative to solid hardwood. More homeowners are turning to laminate because of the benefits it offers.
Let's take a second look at what makes laminate flooring so unique.
How is laminate flooring crafted?
Laminate flooring is created from multiple layers of materials that are fused together under high pressure and heat. The top layer is a clear, durable, and realistic-looking print film, which mimics the appearance of natural materials such as wood, stone, or tile.
The process of making laminate flooring begins with the creation of the core layer, which is made from high-density fiberboard (HDF) or medium-density fiberboard (MDF). These materials are made by breaking down wood fibers and bonding them with resin under heat and pressure. The resulting boards are strong, stable, and able to withstand the wear and tear of daily use.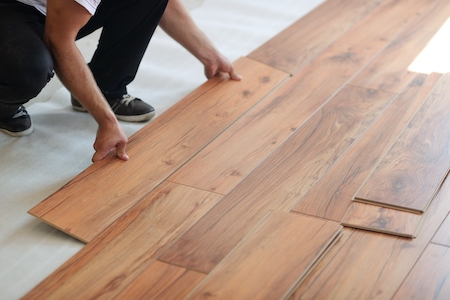 Next comes the decorative layer. This is typically a high-resolution photograph of natural materials such as wood, stone, or tile printed onto a transparent film. The film is fused to the core layer under high pressure and heat to create a seamless and realistic-looking surface.
After the decorative layer is added, a wear layer is applied on top. This  clear, durable overlay protects the decorative layer from scratches, stains, and other types of damage. The wear layer is made from a material called melamine-resin, which is a hard, scratch-resistant material.
The final step is to cut and shape the laminate flooring to the desired size and shape. This is typically done using a machine that cuts the flooring into planks or tiles of the desired size and shape. Once the flooring is cut, it is packaged and shipped to retailers, where it is sold to consumers for installation in their homes or businesses.
It is worth noting that the quality of laminate flooring can vary depending on the materials and process used by the manufacturer. Generally, laminate flooring made with high-density fiberboard, high-resolution images, and a durable wear layer will be more expensive but also more durable and realistic-looking. Unknown brands and internet "deals" can all lead to inferior products that don't provide you with durability and quality.
Why laminate flooring may be the perfect choice for your remodel
Laminate flooring is a popular choice for many homeowners due to its durability, affordability, and aesthetic appeal. Need even more reasons? We have several for you.
Durability: Laminate flooring is made up of multiple layers of high-density fiberboard that are fused together under high pressure, with a rigid top layer that protects the flooring from scratches, dents, and stains. This construction makes laminate flooring highly resistant to daily wear and tear, creating a great option for high-traffic areas of your home, such as hallways or living rooms.
Affordable: Laminate flooring is generally less expensive than hardwood or tile flooring. This makes it a great option for those on a budget who still want a high-quality floor. Additionally, the cost of laminate flooring is relatively stable, and won't be affected by the fluctuation of natural materials prices. This can be good news if you're redoing your flooring one room at a time.
Easy to install: Laminate flooring is created using a floating floor construction, meaning it is not attached to the subfloor. This makes installation relatively quick and easy, even for DIYers. Laminate flooring comes with a tongue-and-groove system that locks the planks together, which can be easily installed using a simple tapping block and hammer.
Low maintenance: Laminate flooring is easy to clean and maintain.  Regular sweeping and mopping are sufficient to keep the flooring looking like new. Unlike hardwood flooring, which requires regular sanding, staining, and polishing, laminate flooring isn't maintenance-intensive. Keeping it free of debris is your best course of action to protect the top layer from dents and scratches.
Variety of styles: Laminate flooring comes in a wide variety of styles, including realistic replicas of hardwood, stone, and tile. This allows homeowners to choose a flooring style that complements their home's decor. With the advancement of technology, the new laminate floorings look and feel almost like real hardwood or tile flooring.
Resistant to moisture: Laminate flooring is highly resistant to water, which makes it a great option for bathrooms and kitchens. Unlike hardwood flooring, which can be damaged by exposure to moisture, laminate flooring is manufactured to withstand spills and splashes, and can be easily wiped clean.
Long-lasting: With proper care and maintenance, laminate flooring can last up to 20 years. A laminate floor is a long-term investment, and it is a cost-effective option that can provide the aesthetic appeal and durability of more expensive flooring options.
Is laminate flooring the right choice for your home?
Homeowners love traditional solid hardwood. Yet hardwood isn't always the best choice for every homeowner.
Hardwood looks great and has a lot of appeal. Yet it's a finicky flooring choice with its share of problems in certain situations. It's susceptible to water damage, and has a soft surface area that can quickly be damaged in high-traffic situations. Have rambunctious kids and several pets that love to frolic and play? That can take its toll on solid hardwood.
That's where laminate shines. It gives you the classic good looks of hardwood, yet provides other benefits to ensure lasting quality in every room it's installed in. It stands up to the pressure an active household can throw at it.
Still have questions about laminate flooring? Wondering if it's the best choice for you?
Why not stop by and take a look. You can compare it to traditional hardwood, and learn the pros and cons of both. You'll quickly gain insights as to the best product to suit your needs.
How can we help you select the right flooring for your home?