Many homeowners hear the term "vinyl" and run the other way. They think of sheet vinyl from their youth. They have strong memories of wild colors and patterns and cheap flooring material that was always second-rate to other floor coverings.
Then they look at vinyl plank flooring and realize it's a game-changer.
Sheet vinyl was a mainstay in kitchens and bathrooms because of its versatility. It was water-resistant and made clean-ups easy.
Vinyl plank flooring takes what homeowners loved about sheet vinyl and upgraded it to a dynamic material that homeowners are obsessed about.
What is vinyl plank flooring
Vinyl plank flooring is designed to resemble hardwood flooring. It is made from a synthetic plastic polymer that is durable, water-resistant, and easy to maintain.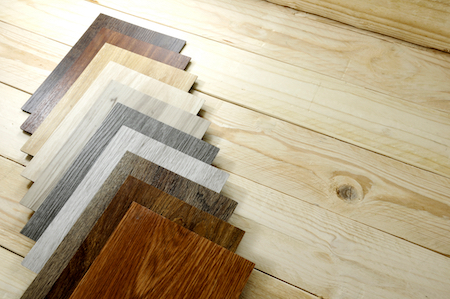 The manufacturing process for vinyl plank flooring begins with creating a wood grain photographic image, which is then printed onto the surface of the vinyl material. This printing process can be done using a variety of techniques, such as rotogravure printing, which uses engraved cylinders to apply the ink to the surface of the vinyl.
Once the image has been printed onto the vinyl, it is cut into planks of the desired length and width. The planks are coated with a transparent, protective layer to protect the image from fading or damaging. This layer also helps make the vinyl plank flooring surface more resistant to scratches and scuffs.
After the planks have been cut and coated, they are then sent through a process called embossing. This process creates a realistic texture on the vinyl's surface, miming the natural texture of the wood grain.
Finally, the planks are cut into the desired shape and size, and the edges of the planks are beveled to give them a more authentic wood-like appearance. Some manufacturers will have a specific process for color printing, UV curing and embossing to make the plank look more realistic.
Why are homeowners increasingly installing luxury vinyl planks?
Vinyl plank flooring is becoming increasingly popular due to its durability, water resistance, and ease of maintenance. It is also more affordable than traditional hardwood flooring, making it a great option for people on a budget. Additionally, newer versions of vinyl plank flooring feature improved wear resistance and often include a thicker wear layer on top of the printed design, resulting in an even more realistic wood look.
The Pros of vinyl plank flooring
Vinyl plank flooring is not just a practical choice for your home; it's a stylish one too! With its wide variety of colors and designs, you can create a unique and personalized look in your home that will make your friends and family envious.
Imagine having the warm and inviting look of hardwood floors in your living room, but with the added bonus of being able to spill that glass of red wine without having to stress about stains. Or, picture a sleek and modern kitchen with the beautiful look of a stone floor, without the high cost and maintenance that comes with natural stone. The possibilities are endless with vinyl plank flooring!
Another great thing about vinyl plank flooring is its versatility. You can install it almost anywhere, especially where more traditional solid hardwood can't. You can use it to create a beautiful and functional basement that will be perfect for entertaining or relaxing. Add it to the laundry room for a touch of sophistication. With its water-resistance and durability, it can withstand the elements and still look great year after year. Some manufacturers are even creating waterproof planks, which can withstand all your family can dish out. Whether you do a lot of entertaining, or simply have an active (and messy) family, you'll love the results.
And let's not forget about the ease of installation. Compared to other flooring options, vinyl plank flooring is a breeze to install, even for those who aren't necessarily handy. With its snap-together design and lightweight planks, it's an excellent option for a DIY project that will save you money on labor costs. And if you're not confident about tackling the project yourself, it's still relatively easy to find and hire someone to install it for you. They'll give you a perfect look every time.
Overall, vinyl plank flooring is a fantastic choice for any homeowner. It's durable, versatile, and cost-effective, making it a wise investment for your home. So whether you're looking to create a cozy living room, a modern kitchen, or a functional play space, vinyl plank flooring is a great option to give your home the personality and style it deserves.
The Cons of vinyl plank flooring 
Vinyl plank flooring is a popular option for many homeowners due to its durability, versatility, and cost-effectiveness. However, like any other flooring option, it also has its drawbacks.
One of the main cons of vinyl plank flooring is that it can't be refinished. Hardwood and other flooring materials can be sanded down and refinished multiple times, restoring their appearance and extending their lifespan. Vinyl plank flooring can't be refinished; once it is damaged or shows significant wear, it will have to be replaced.
Another potential drawback is the potential for lower quality. While many high-quality vinyl plank options are available, some low-end products may have a lower density and lower-quality construction which can lead to a cheaper feel. It can also be less resistant to scratches and dents than higher-quality options. You get what you pay for. This isn't a product you should order online, sight unseen. Reputable manufacturers will be your best bet to give you a quality product every time.
Vinyl plank flooring may also be less environmentally friendly than other flooring options. Many vinyl plank products are made from petroleum-based materials, which can impact the environment. Additionally, poorly made products can produce off-gassing, a process in which volatile organic compounds (VOCs) are released into the air, which can harm human health.
Vinyl plank flooring may also be less durable than other options, particularly in high-traffic areas. Over time, it may wear down, especially if it is exposed to heavy foot traffic or furniture. It may also be more prone to scratches, scuffs, and stains, especially if it's low quality. Long-term exposure to sunlight may also cause vinyl plank flooring to fade.
Is vinyl plank flooring right for you?
While vinyl plank flooring has many benefits, it also has its drawbacks. It's essential to weigh all the pros and cons before deciding if it's the right option for your home. It's always better to do thorough research and to speak with a professional to learn all you can before you install it inside your home.
What questions can we answer about vinyl plank flooring?