Are you thinking of changing the flooring inside your home? One step into a flooring center can leave you overwhelmed and confused.
Maybe you planned to replace what's currently installed. You have carpet, and want to stick with carpet.
Or maybe you've been uttering "hardwood is the only way to go" for years. Now is your time – you can't wait to install traditional hardwood.
But even that is turning into a massive headache. The more you learn about hardwood, the more you're wondering if it's the right choice for you. You have a busy household, after all. Dogs, kids, football parties on the weekends, potluck always seems to be at your house on Friday's. Is hardwood really the right choice?
Maybe it's time to consider laminate flooring instead.
We get it, laminate might cause your eyebrows to come together in puzzlement. You've heard a lot about laminate, and not a lot of it's good.
We're here to tell you that you shouldn't believe everything you read. With today's technology, laminate flooring has undergone massive change since its inception. And it really might be the right choice for your home.
What is laminate flooring?
People often stop by our retail center and say: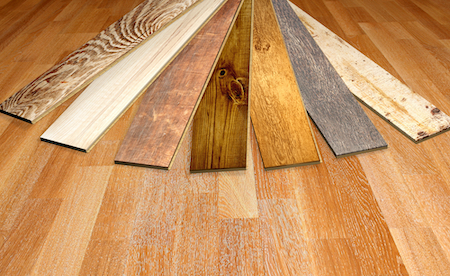 We love hardwood and really want to install them inside our home. But we'd like it to be a little more maintenance-free, easy to care for, and have resiliency against everyday mishaps like a spilled glass of water. What hardwood floor can do that?
They are surprised when the answer is: laminate flooring.
Laminate flooring is a multi-layer product designed to give you the good looks of hardwood, with the resiliency of other flooring choices like vinyl.
Laminate starts out with a backing layer designed to keep moisture out and prevent water from seeping in and ruining the floor. Think of this as the insulation that provides protection against everything your family can dish out.
Next, laminate floors have a fiberboard core that provides structure, stability, and impact resistance. This is what gives your flooring overall strength, and helps it hold up well throughout the years. The core layer is made from a high density fiberboard (HDF) or medium density fiberboard (MDF), which is created typically from recycled wood fibers.
The decorative layer sits on top of the core layer. This is what gives the laminate its good looks. Because technology has increased so much over the years, today's laminate flooring can take on just about any look, come in a plethora of color, grain, and texture options.
Finally, the top layer is smoothed over the decorative layer to add protection. It's a thin coating of aluminum oxide, which helps give it shine, protect it from scratching, and even provide UV protection from natural sunlight.
Why laminate is the right choice for today's homes
When most people think of laminate, they judge it off of what they learned in the 1970s, when laminate first hit the marketplace. The new product may have looked like hardwood, but it was a lower quality by far. This is what created the stereotypes that are still in existence today.
By the 1980s, the dominating company produced a product called Pergo, which took off quickly across Europe, and slowly penetrated the US market during the 1990s. It was an easy way for homeowners to enjoy the beauty of hardwood floors at a more affordable price. But they rarely passed for hardwood. There was no mistaking the look and feel.
Fast forward to today, and there are many more advancements in laminate flooring. Pay attention to manufacturers' quality; you won't be able to tell the difference between traditional hardwood and laminate.
Each layer has seen advancements to make stronger, better looking, and more resilient than ever before. One of the most recent developments is an increase in water-resistance. Where traditional hardwood often fails in places like kitchens and basements, you can now install laminate, knowing you'll love your choice for years to come.
Are you sold on the idea of laying laminate flooring throughout your home? You're going to love the results.
This is how you care for laminate flooring
To ensure you love your flooring for years to come, we've put together a few care tips to keep your laminate flooring in top shape and looking good throughout your busy days.
Dust can be the enemy – in a gas-forced heated home, which is prominent all over Colorado, dust is something you learn to live with. But dust and laminate flooring aren't a good combination. Invest in a vacuum that works well on hard surfaces; use it regularly. Consider investing in a Swiffer and pick up the dust each day. Dust has the ability to get between the spaces and deteriorate the laminate boards faster. Avoid using steam or water as that can also seep in and harm the base of the flooring.
Stop the dirt in its tracks – With any flooring, it will remain looking its best if you stop dirt at the front door. Invest in high quality mats to wipe your feet off before entering. Consider a "no shoe" rule and have each family member take off shoes before moving through the rest of the house. The cleaner you can keep your house, the less dirt will settle onto the flooring. That also means you can avoid using abrasive cleaners that can further harm your floors.
Protect with padding – your home is all about living comfortably. While laminate does have scratch-resistance built into the top layer, it's equally important to help withstand scratching from some of the most common items inside your home. The kitchen chair can be a lethal weapon to your flooring. Luckily, you can invest in padding and covers that will allow you to freely move your furniture around while adding a little more protection for your floors.
Say YES to laminate flooring
A lot of homeowners come in looking for the perfect flooring to suit their needs. And in the back of their minds, they also question resale value – will people be interested in buying their homes if laminate is installed?
Increasingly, the answer is yes.
Laminate flooring works well in places hardwood traditionally does not. And it carries the look to places where you might have installed something else.
Laminate flooring may be the right choice for your home. The best way to find out is to give us a call today.