The year 2020 will go down in history as the time when everything changed. Working remotely is becoming the new norm. Shopping moved almost completely online. And cleaning – we look at that in an entirely new way.
It's no longer acceptable to run a dust cloth over your personal items and call it a day. What else lurks in the corners of your room? We've taken cleaning to a whole new level.
It's one thing to wonder how to clean a shelf in your living room. But what about the floors? They have to be the dirtiest places in your home, right?
If you have laminate flooring, you might be wondering what to do. You installed laminate for all the right reasons. You wanted a flooring that looked as good as hardwood, but stands up better to everyday living. And the coronavirus has definitely challenged what "everyday living" means.
How do you clean it? Better yet, how do you disinfect laminate flooring to ensure it not only looks good, but is safe for your family to live with?
Taking precautions with your laminate flooring
When you install new floors, you do so mostly for the beauty of the floors. You have a certain style in mind. You are creating aesthetics that will blend with your personal decor.
You might even take a second look at how well your flooring choices will do under pressure. Are they easy to clean? Are they easy to maintain over the years?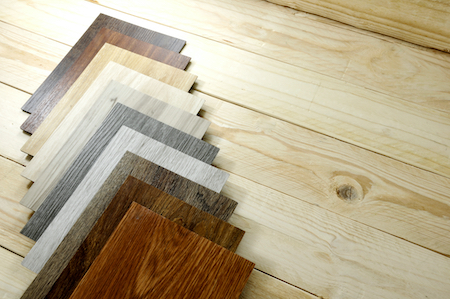 There's a difference between cleaning and disinfecting. We've also become manic about ensuring everything is safe, sanitized, and doesn't harbor germs that can make our families sick.
I was doing a few searches the other day in Google. Did you know people right now are searching things like:
How do you kill germs on laminate floors?
Can you use Lysol on laminate floors?
What cleaners are safe for laminate floors?
Yep, this is front and center of every homeowner's mind.
So what is the answer?
It starts with paying attention to what the manufacturer suggests.
When the manufacturer created the product currently residing in your home, they did so knowing it could sustain certain types of wear. It depends on what the laminate is made of, what topcoat is put into place, how it's installed in your home. If you do things according to guidelines, it'll wear well for the life of the product. If you follow the rules, whatever warranty is in place will ensure you are covered for the entire time frame.
The manufacturer knows best.
Some tips hold true no matter what product you choose:
Less water is better. Laminate might be better than hardwood when it comes to standing up against moisture, but it still isn't made to have standing water in place. Water can soak in and cause extensive damage. It can peel and separate the layers. And it takes surprisingly less than you would imagine.
Never use bleach. Bleach may be the king of getting rid of germs, but it's not a friend to laminate flooring. Laminate is porous. That means the bleach will soak in and cause a wide array of problems. It will often take the shiny finish off the floors first, before soaking into the color layer and dulling the look of your laminate. As it penetrates deeper, it can warp and curl your floors.
Avoid "promise" products. There are a lot of floor cleaners on the market today that make an array of promises. "Protected shine," for example, promises to keep your floors radiant no matter how much your family can dish out. But what it's really doing is filling in the tiny scratch and scuff markets with a filler product. Over time, this product can build, dull the finish, and create a filmy residue that's difficult to get clean. It may make your floors look good in the beginning, but it will quickly disappear.
Your first step: Keeping dirt at bay
The key to great looking laminate flooring is to keep it clean and dirt-free. Dirt builds over time. By removing the dirt quickly, it means your flooring will stay cleaner naturally.
That means quick clean up when things happen. That's why you should keep the proper tools right at hand, to be able to get rid of dirt quickly. Swiffer products make it easy to pick up messes fast. Invest in a small vacuum you can use whenever needed. Dust mops are good at picking up surface dirt and pulling them off of your floors. Use a dust mop daily at a minimum, more if your family is busy.
Always have a mop at hand
Sweeping and dusting are your first line of defense in keeping your flooring clean. But even if you dust daily, you aren't removing the hidden grime that settles into your floors. And that's where bacteria can live.
Dusting is your starting point. But from there, mopping provides you with a deeper clean.
Always use a soft mop so you won't hurt the finish on your laminate floors. Not all mops are the same, so it's wise to find one that works well with the product you have in place.
Keep a towel handy to dry any wet spots that remain after mopping. Excessive moisture – even small residue – can be enough to damage the finish. That means your floors may be impacted by things like swelling or warping.
And always pay attention to the chemicals in the floor cleaner you are selecting. Chemicals might promise to kill bacteria, but many do more harm than good. Avoid harsh chemicals, and refer to your warranty to ensure you're using products the manufacturer recommends.
You should never use detergent-based cleaning products, as they will leave behind a sticky residue. And never pour any type of cleaning product directly on your floors. Make sure the mop or rag you use is thoroughly rung out, so it's damp, and rub gently over the surface, ensuring no moisture is left behind.
Now it's time to disinfect
Cleaning your floors is half the battle. The key to ensuring your floors are disinfected is to use an EPA-approved cleaning agent.
The CDC has issued guidance on what to use on porous materials. Use these guidelines to find a product that works well for your needs.
As always, before trying anything new, use a small amount of product in an inconspicuous place, to ensure it doesn't leave a mark. If you're getting down on the floor, be sure to wear gloves to keep your hands safe from harm, and dispose of them after, or wash them and hang them to dry.
All disinfectants can be harmful or fatal to people and animals, so keep the products away from your kids and pets.
Clean floors can give you peace of mind during these trying times. How have you been disinfecting your laminate flooring?