When it's time to replace your flooring, you have many different options. You can simply replace your current flooring with something similar. Or you have the option to change it up and install something different.
If you have an older home filled with carpet, you might be eyeing hardwoods. After all, you can't pick up a home decorating magazine, or watch a home show without seeing hardwood flooring being installed. Yet you've looked at the price tag and considered your options. You're just not sure you're ready to make that kind of investment.
So you're back at square one. Should you replace your old carpet with new?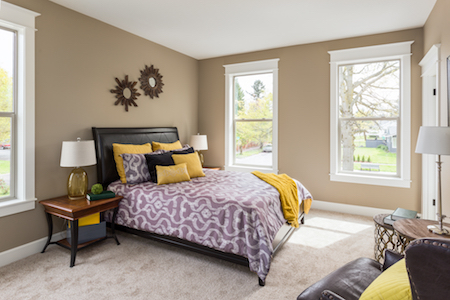 When looking at replacing your current floors, there's another choice you might consider. Carpet and laminate are both popular choices, and the cost is usually comparable.
With laminate flooring, most is sold with tongue-and-groove planks, making installation a snap. If you choose to do-it-yourself, this makes it an easy process. Installing your own carpet isn't as easy. If you're a weekend remodeler and want to tackle a new project, laminate might be the perfect choice for you.
Still not sure which is the right choice for you? Let's dive in deeper and look at how carpet and laminate compare.
Appearance
Let's start with how carpet and laminate look, and what materials are used to create each product.
Laminate flooring is a multi-layered product, typically four layers in a laminate plank. At the bottom is a stabilizing layer to give planks their strength. Next is a high-density fiberboard. You have the photographic layer that gives laminate its looks. And finally, a resin layer that gives it a protective wear. The clear coat layer is what gives it its durability.
https://pro-flooring.com/the-best-way-to-install-laminate-flooring-in-the-bathroom/
Carpets come in a variety of styles and materials. Some are created from natural fibers, such as wool, while others are made from synthetic materials like nylon. Carpet is created by attaching an upper layer of pile attached to a backing that gives carpet strength and durability. In most cases, you'll find carpet made from petroleum-based synthetic materials. If you want a greener, more eco-friendly option, be sure to seek out wool, the softest and most durable natural option.
https://pro-flooring.com/the-truth-about-carpeting/
Carpet or laminate flooring both offer a wide range of design options. If you have a color, pattern, texture, or final look you're hoping to achieve, either flooring choice can help you achieve your results.
Today's laminate doesn't have to stick with classic hardwood designs. You can turn to more exotic hardwood looks, such as hickory or even reclaimed wood. Or change it up and select laminate that looks like stone. Some of the patterns can be so realistic, you have to get down on the floor to see it's not real.
Durability
Carpet is more durable and stain-resistant than it was in the past. Still, it's generally accepted that you'll have to replace carpet every eight to ten years with a moderate level of traffic. You can add longevity by taking your shoes off at the front door. But in general, it can only be cleaned so many times before it starts to show its wear.
Laminate has a longer lifespan, lasting up to 30 years if you purchase a high-quality product. Laminate is scratch-resistant, water-resistant, and easy to clean. That's why it's often used in places where hardwood isn't a good choice, like basements, laundry rooms, or kitchens.
For some homeowners, they like the thought of upgrading and remodeling on a regular basis. They don't mind a shorter lifespan, knowing they will be replacing the flooring every few years. Think about your goals and needs before you make your final selection.
Resale Value
Will you be selling your home in the near future? Then you may wish to pay attention to what buyers want. Overwhelmingly, realtors report they want hardwood. And if it doesn't make sense to install the real thing, laminate gives the appearance and is a logical next choice.
According to a recent study, if you install hardwood floors, you can expect to recoup up to 80 percent of the costs. Carpet ROI dips down to only 25 to 40 percent. In the words of the realtor surveyed: carpet just doesn't cut it for many buyers. They want to see hardwood, at least in the main living areas.
https://www.realtor.com/advice/home-improvement/what-type-of-flooring-should-i-install-for-best-resale-value/
That makes laminate a great choice if you want to create a clean, fresh look.
Suitability
In most modern homes, you'll rarely find one type of flooring covering every inch of the home. What makes sense for one room might be inappropriate in another. Carpet is never a good choice in the kitchen or bathrooms. And laminate is often the best choice for landlords trying to make the most of every dollar they spend on upgrading rental property. It comes down to knowing what your goal is for every room in the house.
In common living spaces, such as living rooms and family rooms, it makes sense to use a flooring material that gives you flexibility. Laminate is the perfect choice because it's easier to clean, less susceptible to stains, and you can make changes easily by adding area rugs.
In bedrooms, you might prefer the warmth of carpet. Nothing feels better on the toes on a cold morning than plush carpeting. It insulates and helps the room feel warmer.
Using laminate on stairs can make your home beautiful, but it also can increase the risk of falling. Laminate can make the steps more slippery, which can increase problems for small children or elderly. That might make carpeting a better choice. Or consider a runner to give the benefits of both.
In basements and lower living areas, the floors are often at increased risk of moisture and water damage. For this reason, carpet doesn't make sense. Laminate is water-resistant, meaning cleanup will be easier. However, keep in mind that if you have trouble with flooding, laminate doesn't stand up well to excessive humidity and water. It can warp and damage the product over time. In this case, you might be better off looking at other flooring choices.
What's the right choice for you: carpet or laminate flooring? If you want to consider all your options, stop by today. We're happy to show you what's new in the world of carpeting and laminates, and help you find the right choice for your home.