You might have heard the statistics for the aging population in America. Right now, roughly 10,000 people turn 65 every day. By the end of the next decade, that number will have increased to 12,000.
As more people reach their retirement years, the number of people needing help for everyday functions will increase right along with it. That makes the concept of aging in place even more appealing.
If you have someone in your family who is older, aging, and not moving the way they once did, you might have started the conversation about having them move somewhere safer and more secure. You were probably met with one wish – "I want to stay in my own home!"
And that's the concept of aging in place. It means creating a home where aging isn't hindered by the home's surroundings. Everything is put into place with the idea of being functional as a person ages. It means consciously choosing everything from flooring to room layouts, to decor, with the thought of the needs of a person as they age.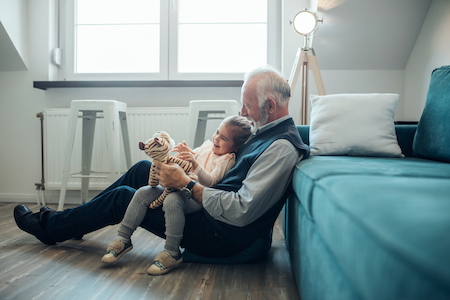 If you're in the market to create a home where you can age in place, start at the bottom. Choosing residential flooring for aging in place doesn't have to be complicated. The key is to shop with end results in mind, and be aware of these four things:
Slip-resistance – at the top of your shopping list should be to find a flooring that won't become slippery in different situations. If water spills onto the floor in the bathroom, it will still be slip-resistant. If food spills onto the floor in the kitchen, it will still be a safe place to walk.
Movement – over time, walking and movement can become more difficult. Be sure the flooring is easy to walk on with canes, walkers, and wheelchairs, without leaving marks.
Cleaning and maintenance – what good is a flooring if you always have to care for it? The best residential flooring for aging in place is always easy to care for and easy to maintain.
Comfort – pay attention to how the flooring feels underfoot. It should be soft to the touch and easy to walk on. It should provide support instead of becoming a tripping hazard. It should offer shock absorbance and cushion a fall, for the just in case.
Keep in mind that not every flooring choice is meant for every room. The best choice for the bathroom might include something that is moisture resistant and easy to clean, more emphasis might be on movement and comfort in shared living spaces.
With all of this in mind, what are the best choices for your home?
Carpet
It's difficult to ignore the benefits of carpet, especially for the living spaces within your home. Carpet offers cushion and is one of the softest materials you can install in a home. If a person falls, there's less risk of injury as it can provide some protection.
If you are investing in carpet, pay attention to the tightness of the weave and the pattern of the fiber. It should provide evenness and strength to endure all kinds of traffic, including with a walker or wheelchair. Pay attention to the padding underneath, too, as that can add stability to the flooring. Keep in mind that wheelchairs won't roll on thick, plush carpeting. Long pile can also pose a tripping hazard. A pile of no more than ½ inch thick should be installed if the room will be accessed regularly by a person in a wheelchair.
When it comes to warmth, you can't ignore carpet. It doesn't retain heat or cold like other flooring choices. Nothing feels better than stepping out of bed on a cold morning and touching warm fibers. Try doing that with ceramic tile.
Carpet is also the best at absorbing sound. If you want a quieter home, carpet is the best way to go.
Of course, one of the main drawbacks of carpet is the ability to keep it clean. It stains and shows wear more than many other flooring choices. It also doesn't do well in places that attract more dirt, such as the kitchen or bathroom. It will take work to keep it looking new.
Vinyl
Vinyl is growing in popularity as today's technology gives it just about any look you desire. Luxury vinyl tiles can now give you the appearance of hardwood or stone, with the benefits of a softer, more durable flooring choice.
The biggest benefit of vinyl is it's highly water-resistant. That makes it a perfect choice for places like bathrooms, kitchens, or entryways. Sheet vinyl may be a better choice if you have an area that will withstand a lot of moisture as there will be fewer seams. But overall, you can't go wrong by installing vinyl for a great look with high durability.
Homeowners also like the price. Vinyl offers some of the most affordable flooring choices on the market today. Plus, it's just as easy to install yourself as it is to hire someone to do it.
While the look is appealing when durability is also a factor, keep in mind that nothing will ever take the place of the real thing. If you love hardwood and stone, vinyl does a good job of emulating it. But it will never take the place of the real thing.
Cork
Cork is growing in popularity because of its good looks and functionality. If you want something that looks like hardwood while being softer to the touch, cork is a viable option.
Cork has a smooth surface that offers some cushion underfoot. Cork is hard enough to withstand a wheelchair rolling across, and it won't impede walking the way carpet does. It also offers some insulating qualities that make it warmer and more soundproof than hardwood.
As long as a cork floor is properly maintained, it can last indefinitely. Cork needs a sealant over it to protect the surface from stains. Be sure to follow manufacturers' guidelines to keep it looking its best.
And though cork looks and acts like hardwood in many cases, it is softer and thus will damage easier. If you walk across it with high heels, or set thin furniture legs on it, it will dent. It can be scraped by dragging things across it. And if you leave water unchecked, it can be damaged quickly.
What's the right choice for your needs? 
If you're remodeling your home and looking for the right residential flooring for aging in place, one of these three choices may be perfect for you.
You can't argue with the warmth and softness of carpet. Today's vinyl offers you more choices than ever before. And if you want something newer, something that will handle well now and into the future, give cork a second look.
We think you're going to love one of these choices for your home.