Owning a home often feels like a careful balance between enjoying your space and finding maintenance projects to keep it looking good.
Some projects are quick and easy – replacing the HVAC filter quarterly takes no time at all.
Then there are the bigger projects that take time, energy, and money. The renovation projects that change and upgrade your space. These include remodeling the kitchen and bathroom, and renovating the flooring.
On average, people move to a new home every 16 years. While many renovate the home as they move in to let their personality shine, many others tackle upgrades to get it ready for the sale.
The trouble is, where do you start? You want to make smart upgrades, renovations that will add to the home value without breaking the bank. You also want to ensure that the money you put into a project will add to the curb appeal, so buyers fall in love the moment they walk into your space.
Will new flooring add to your home value?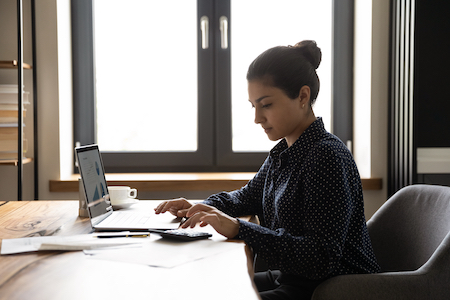 When homebuyers consider a home, they look at the obvious details they see as they walk through it. The front door. The floor plan. The view through the windows. The floors.
They start assessing what condition they're in. They want to know how much work will go into the house in order to make it their own. If they love it – it moves up their list.
That's where new flooring can help. Realtors consistently state that flooring matters when trying to sell a home. If you're looking to install new flooring to increase home value, choose materials most in demand by today's homebuyers.
Can hardwood flooring increase home value?
Hardwood flooring continues to dominate homes all across the Front Range. That's because they are one of the easiest to care for, and have one of the longest lifespans. If hardwood starts looking dull and worn, you can refinish it at a fraction of the replacement cost.
Hardwood floors are a popular and timeless flooring choice that can appeal to a wide range of potential buyers. They are durable and long-lasting, which can attract homeowners who want a flooring material that will stand the test of time.
Many also like that hardwood is a natural product. With research, you can find sustainable hardwood products that help clean up your indoor air quality. This can be a bonus for people with asthma or allergies.
Can luxury vinyl planks increase home value?
Luxury vinyl plank (LVP) flooring is made of PVC (polyvinyl chloride) and other synthetic materials. It is designed to mimic the appearance of natural wood or stone and is often used as an alternative to more expensive materials like hardwood or natural stone.
LVP flooring can be a good choice for homeowners looking to increase the home's value and are considering new flooring options. LVP is relatively affordable compared to other types of flooring, such as hardwood or natural stone.
Because it's water-resistant, you can install LVP in places other flooring materials can't go. Some manufacturers have created waterproof LVP, making it the perfect addition to bathrooms or basements, places where hardwood doesn't work.
Can tile flooring increase home value?
Tile flooring can increase the value of a home, especially if it is installed in a high-traffic area or in a room that is popular with home buyers, such as the kitchen or bathroom. Tile flooring is generally considered a durable and attractive option, and it can be a selling point for potential buyers.
In addition to its aesthetic appeal, tile flooring can also be practical for homeowners. It is easy to clean and maintain, and it can be resistant to stains and moisture. This can be especially appealing to potential buyers looking for a low-maintenance home.
Tile is often associated with warmer climates. But tile is also perfect when paired with radiant heating. It creates warmth at floor level, and can feel great on your toes when you walk across it on a cold winter morning.
Can carpet increase home value?
Carpet can increase a home's value by improving the living space's appearance and comfort. A well-chosen carpet can add warmth and cozy feelings to a room, making it more inviting and comfortable for potential buyers.
However, it's important to remember that not all carpet is created equal. High-quality, durable carpet that is properly maintained can add value to a home, while poorly made or heavily worn carpet can have the opposite effect.
It's also important to consider the style and color of the carpet when trying to increase the value of a home. Neutral colors such as beige, gray, or taupe tend to be the most popular and can appeal to a broader range of buyers. Bold patterns or bright colors may be more polarizing and may not appeal to all potential buyers.
How to increase home value with new flooring
If your floors are old and outdated, it might be one of the first items on your maintenance list if you're considering selling your house. Here are a few more tips to consider before you start shopping for new flooring.
Consistency – Buyers want a warm and comfortable home, something they can see themselves living in without having to make changes. They want flor-through and consistency from the moment they walk through the door. That means using three or fewer flooring choices as you move from room to room. Consider one for high traffic areas, one for your main living spaces, and one for the bedrooms. Colors and patterns should blend well for a cohesive look.
Location – You would never put carpet in a bathroom – it just doesn't work. Buyers want to see flooring that works for the room. That's why hardwood is popular in main living spaces. And tile is ever-present in bathrooms and laundry rooms.
Preferences – If you plan on living in your house for years, let your personality run wild and add new flooring that suits your style. But if you're renovating with a potential buyer in mind, stick with neutral, and go with flooring that makes everyone smile. Opt for hardwood in standard colors. Go for carpet in beige, gray, or brown. Install tiles in lighter colors … you'll never go wrong.
Are you installing new flooring?
Are you renovating your home? Are you upgrading your space? New flooring is the perfect choice if you want to increase home value.
No matter what you have in mind, you'll find it here. Stop by and see what we have on display. We'll help you find the perfect flooring to live with today, and increase your home value for tomorrow.