Thinking of remodeling your bathroom? It's fun looking at photographs of all the things you can do. What colors should you use? How about upgrading the tub? Or maybe adding a steam shower?
The possibilities are endless.
At some point, you'll head down to the bottom – the floor. What's the best flooring for a bathroom remodel? You'll quickly find you can't ignore tile. By far, tile is one of the most popular choices you can make. But even within the subcategory of tile, you'll have a lot of decisions to make.
Which is better for bathrooms, ceramic or porcelain tile?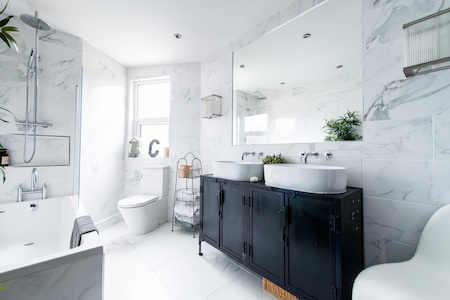 As you start looking at your options, you'll quickly discover that tile falls into two categories: ceramic and porcelain. Porcelain tile is the more popular choice for bathroom floors for a variety of reasons. It's made of a denser material, is harder, and a less porous option. That makes it more water resistant and stain resistant than ceramic tiles. And in a bathroom, those are both great things to have.
Porcelain tile is also the perfect choice for installing over radiant heating. And here in Colorado, tile and radiant heating naturally go together. Because tile can be on the cold side of things, that's the first hurdle many home remodelers have. Homeowners want a floor that won't be cold on their as they get out of bed on frosty winter mornings.
Even more, porcelain is unmatched in its beauty. It can mimic any design you desire. Do you want natural stone without the care involved in keeping natural stone looking good? Do you want the look of hardwood floors without the upkeep? Porcelain tile is the solution for you. Depending on your budget, you'll find it can take on just about any look you desire.
Porcelain tile typically comes in two basic types:
Through-bodied – where texture and color run all the way through the tile. This makes each tile strong and durable as it can hide scratches and chips better.
Glazed – where the entire tile is glazed with a wear layer that gives it a strong, dense surface. It also gives you the widest range of styles, colors, and patterns.
Do porcelain tiles chip easily?
Your bathroom floors take a lot of abuse. Think back what they've gone through just in the last few days.
Water spilling over from the tub
Moisture and humidity from that long shower you took on the coldest morning of the year
A dropped hair dryer
The mess when your makeup spilled
That's a lot of different potential problems your floors will face. And flooring can be quickly damaged if you don't select the right flooring for your room.
Porcelain is denser than ceramic, which means it has a lower absorption rate. This is what gives it water and moisture resistance, including the ability to withstand frost. That's why it's a great indoor/outdoor option.
That denseness also makes it less likely to chip. This is where you should also pay attention to something called a PEI rating. This will tell you just how resistant the surface of the tile is to scratching and chipping. A tile with a PEI rating will chip and scratch easier, meaning it's better for applications where it won't get much abuse, such as the walls. A PEI rating of 3 is good for all residential applications. Commercial or industrial often move to a PEI rating of 4 or 5.
Are porcelain tiles slippery?
When it comes to selecting a flooring product that has slip-resistant qualities, porcelain tile leads the pack. That's why you'll find porcelain tile in both residential and commercial, indoor and outdoor applications.
It is important to note that not every porcelain tile is perfect for wet spaces. It also depends on the surface structure and the glaze used in production. Porcelain tile does have slip-resistant qualities. But to ensure you make the right choice for your bathroom, ask which of your favorites would be best. We're happy to help you make the right decision for your home.
Are porcelain tiles healthier than other flooring choices?
Bathrooms need to be a hygienic place. From spills to accidents, odors, and the chance for biological growth, your bathroom sees it all throughout the day. Yet porcelain tiles stand up well to the pressure.
They are easy to clean. You'll be able to wipe off spills and accidents quickly.
They are hygienic, meaning the non-porous surface won't trap allergens.
They also won't allow mildew or mold and bacteria to grow.
If you want ease, porcelain tile is a great choice to make.
762
Porcelain tiles are highly versatile and will give you the look you want!
If you think all tiles are the same, you haven't looked at today's tile. Especially with porcelain tile, they are designed to mimic just about any look you desire.
You'll find them in every size, shape, and color. Want tiny tile to lay in mosaic format? Love the look of subway tile? Want a different shape – how about hexagon? Or maybe you want the look of exotic hardwood without the headache that comes along with installing exotic hardwood in the bathroom. Porcelain tile's got you covered there too.
Plus, it doesn't stop with selecting one look or feel. You can combine several different porcelain tiles to find a pattern that's uniquely your own.
To find your ideal look, we recommend going online and finding design sites to look at. Sign up for Pinterest and you can create a pinboard that highlights the look and feel you desire. Then bring it in and share. It'll give us a starting point to help point you in the right direction of the product lines that will be perfect to create the look you're going for.
Are you ready to install porcelain tile in your bathroom?
When you're ready to get started on your remodeling project, the best place to start is by stopping by and seeing our complete line. We can give you all the information you'll need to make a decision on the tiles best suited for your needs.
Choosing porcelain tiles for your bathroom is the best decision you can make in your remodel. You're going to love the look for years to come.