When you're ready to start a home remodel, most people start with the floors. Your flooring choice sets the stage for all of your home decorating ideas. Hardwood provides a different air than carpet, while tile takes it in an entirely different direction.
If you're looking for a flooring choice that's as durable as it is beautiful, you can't ignore porcelain tile. Though it's made from similar materials as ceramic tile, they are, in general, considered more durable and better made. Of course, like every flooring choice, porcelain tiles have their benefits and downsides; only you can decide if they are the right choice for your home improvement project.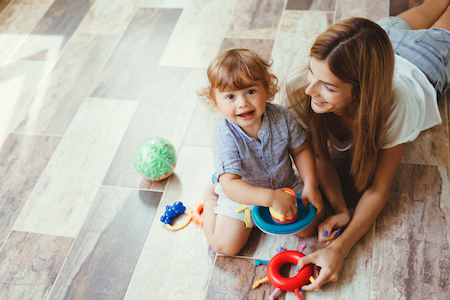 What is porcelain tile?
Before we get into the pros and cons of porcelain tile, it's important to understand what porcelain tile is. Porcelain tile is created from a very dense clay that is fired at higher temperatures than standard ceramic tiles (2000 degrees Fahrenheit and higher.)
This process removes nearly all of the water, creating a highly uniform in construction, non-porous product. This makes it a better flooring choice in rooms that can fluctuate greatly in temperature, or in areas where you choose to integrate radiant heating into your area.
Porcelain tile is denser and harder than many other building products, including ceramic tile. Many can withstand freezing temperatures, making it perfect for indoor/outdoor living. Unless they have a polished finish, they are also slip-resistant.
What are the benefits of porcelain tile?
We find a lot of people come in with a couple of predetermined beliefs about porcelain tile, and are leary of using them in their home.
They think they're cold
They think they're more expensive than other options
Both are relative. Porcelain tile can be cold to the touch. It's also one of the best choices for use with radiant heating. Porcelain tile is more expensive than other choices. But it's also a flooring product that can last for decades if well cared for. That can make the higher price tag worth it when you know your flooring will last for years. Of course, there are many other reasons you should take a look at porcelain tile.
Wearability
Some flooring choices can be accidents waiting to happen. The first glass of wine knocked onto a light colored carpet, for example, can quite literally take your breath away.
You won't have that if you install porcelain tile. It's highly resistant to wear, and tends to last longer than a standard ceramic tile does. That's because of the way porcelain tile is designed. It's denser, has fewer air pockets, and is more uniform in consistency. It's harder and thicker than other tile formats.
Because they do last for so long, they aren't just a great choice for homes, but also for busy commercial locations. If you have an office space where you meet clients regularly, porcelain tile may be the perfect choice for years of wearability. Of course, what makes it good for lots of foot traffic, also makes it great for wearing well with pets. They're less prone to breaking, scratching, and can't be dented.
Low maintenance
What good is a new floor if you can't sustain your normal lifestyle out of fear you'll spill and stain it? No worries with porcelain tile. Porcelain tile looks great, they're tough, and they're easy to maintain.
Because of their hard surface area, they don't need special sealants to keep out moisture like other tile choices do. They're easy to clean – just water and a mild detergent will keep them looking their best. That's why you'll see them being used in the most difficult rooms in a home – like your kitchen, bathroom, laundry room, entryways, or basement. Keep in mind they aren't completely waterproof, but resist water enough that if you clean up messes quickly, they won't be harmed.
Great in high traffic areas
After reading about the other benefits, you've probably determined porcelain tiles would be great in high traffic areas. You're correct. That's what also makes porcelain tile in-demand for business use.
No matter how much you dish out, they deliver. They don't scuff, break, or wear down easily. They repel moisture and are easy to clean. What else do you want in a floor?
Whether you have a family that is always coming and going, or like to throw dinner parties every weekend, you're going to love the look and durability of porcelain tile. It holds up to the use and abuse any family member can dish out.
Beautiful
One of the biggest reasons to consider porcelain tile is their looks. They come in a full spectrum of appearances, and add aesthetics to any room in your home. No matter what your taste or personality, there is a porcelain tile waiting for you.
Even better, porcelain tile can take on the look of many other products. Want to lay a flooring that gives the appearance of marble, granite, hardwood, or even limestone, but is more durable and easy to care for? Porcelain tile can create those looks. And in many cases, by comparison, using porcelain tile instead will give you a more cost effective way of installing new floors. If you haven't looked at porcelain tile lately, it's time you did.
Let's talk about the disadvantages
There are always two sides to every discussion. And while porcelain tile is the right choice for many, it does bring its own disadvantages to the table too.
They are difficult to install. This isn't a do-it-yourself project unless you have a lot of experience laying porcelain tile. It's more difficult to lay into place, hard to cut, and even harder to create the perfect layout that will wear well throughout your home.
It's heavier than other flooring choices. And while that's what makes them more durable, it can make it more problematic in certain homes. If you want to lay it in a second floor bathroom, for instance, you have to be sure your home can sustain the added weight.
It's more difficult to repair. Once a tile is broken, you'll have to replace it with a new tile. That means you'll have to order multiple extra tiles and keep them on hand. You'll also have to have a professional come in to replace it and ensure it looks good with the rest of your flooring.
And as we already mentioned, it's costlier than other flooring choices. If you're on a pretty tight budget, the price can be a sticker shock. Don't forget it's not just the material price; you also have to plan for installation, and possibly subfloor upgrades to ensure your porcelain tile is laid perfectly into place.
Is porcelain tile the right choice for your home?
We love porcelain tile. It can be a great choice, depending on your needs.
If you're attracted to porcelain tile and think it would be a great addition to your home, why not stop by and look at our full line and selection? We think you're going to fall in love with porcelain tile as much as we have. You'll love what it can do for your home.