When most homeowners start to dream about a remodel, their minds instantly go to the kitchen. It's the number one home renovation project these past few years, with the average remodel running about $40,000.
Yes, people want modern conveniences. They want high tech features, upgraded materials, and increased functionality. As you pick out your favorite features, you'll eventually turn your attention to the flooring.
Flooring sets the stage for your entire project. The right kitchen flooring will increase functionality and give you the room you've been dreaming of.
We know finalizing your kitchen flooring choices can be difficult at best. Your kitchen is the nucleus of your home; it deserves a floor that marries elegance with resilience.
What does that look like? Let's look at various kitchen styles and pair them with flooring options that seamlessly blend practicality with aesthetics. Which one are you?
Black and White Kitchen
The allure of a black and white kitchen lies in its timeless sophistication. Opt for black and white tiles or luxury vinyl flooring to complement this chic design. These options not only amplify the monochromatic ambiance but also provide easy maintenance and a stunning, uniform appearance. The tiles' cool, sleek surface enhances the modern feel, while luxury vinyl's flexibility allows for softer footsteps in a space where culinary creations take center stage.
Busy Family Kitchen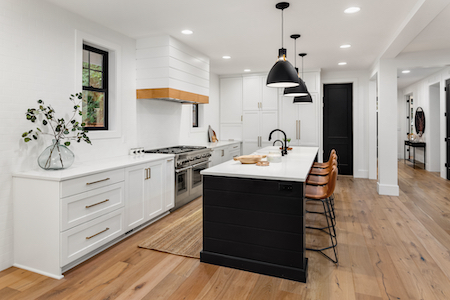 The heartbeat of a family home, a busy kitchen necessitates a floor that can endure the bustling activities of daily life. Laminate flooring is an impeccable choice. Its robust construction resists scratches, stains, and wear, making it an ally in the never-ending battle against spills and foot traffic. Furthermore, the variety of styles available ensures you can match your flooring to your family's unique personality while maintaining the look of real hardwood or stone.
Country Kitchen
Country kitchens radiate warmth and nostalgia, reminiscent of simpler times. To honor this sentiment, consider hardwood flooring. The natural grains and earthy tones of hardwood accentuate the rustic charm, creating an inviting atmosphere. For an option that blends tradition with modern innovation, explore engineered hardwood. It captures the authenticity of hardwood while combating moisture-related issues, thus accommodating the demands of a country-style kitchen.
Farmhouse Kitchen
Farmhouse kitchens encapsulate the cozy comfort of rural living. To mirror this atmosphere, turn to tile flooring. With its wide array of design possibilities, you can select subway tiles for a vintage touch or patterned tiles for a delightful twist. The beauty of tile lies in its ability to withstand both spills and heat, promising a resilient foundation for farmhouse feasts.
Functional Kitchen
In a kitchen where functionality reigns supreme, luxury vinyl is your steadfast companion. Available in an array of styles, from wood to stone replications, it brings both visual appeal and durability to your space. Its ability to resist moisture, scratches, and spills ensures that your kitchen remains practical while embracing the essence of modern design.
Historic Kitchen
Preserving the historical essence of a kitchen while embracing modernity is an art. Tile flooring is a canvas for this artistic endeavor. Mosaic patterns or classic ceramics can be selected to honor the past while providing an enduring, easy-to-maintain surface. Tiles, with their myriad patterns and colors, evoke a sense of nostalgia and timelessness, which blends seamlessly with the historic kitchen style.
Minimalist Kitchen
Minimalist kitchens thrive on clean lines and simplicity. To maintain this uncluttered aesthetic, laminate flooring is a natural choice. Its smooth surface creates a seamless appearance, allowing other design elements to take center stage. Additionally, laminate's low-maintenance qualities align perfectly with the minimalist lifestyle, ensuring that your kitchen's serene elegance remains effortlessly preserved.
Modern Kitchen
Modern kitchens radiate sleekness and innovation. Tile flooring harmonizes wonderfully with this style. Large-format tiles or polished porcelain enhance the contemporary ambiance and reflect light, creating an open, inviting space. The durability and variety of designs available make tile a versatile choice for kitchens where style meets functionality.
Rustic Kitchen
For the charm of a rustic kitchen, hardwood flooring is the embodiment of cozy elegance. The distressed textures and warm tones of hardwood align perfectly with the cozy, rugged ambiance of rustic design. Every creak underfoot carries the story of your kitchen's journey, making hardwood a flooring choice that evolves alongside your space.
Shabby Chic Kitchen
Shabby chic kitchens embrace a blend of vintage and casual elegance. Engineered hardwood captures this essence flawlessly. With its distressed and textured finishes, it adds a touch of history while ensuring durability. The fusion of classic design and contemporary innovation makes engineered hardwood a unique and fitting choice.
White Kitchen
A white kitchen is a canvas of cleanliness and sophistication. To harmonize with this ambiance, luxury vinyl provides a versatile solution. It mimics various textures and designs, allowing you to embrace the aesthetic benefits of different materials while maintaining an easy-to-clean and elegant floor. Luxury vinyl ensures that your kitchen's pristine appearance remains untarnished.
What is the best flooring for your kitchen?
Choosing the right flooring for your kitchen is an art that marries your personal taste with the demands of daily life. It depends on many things: the space, the location, your favorite design style, your budget, and your lifestyle.
For many of us, the kitchen is the heart of the home, the place we spend most of our time in. That gives you even more reason to make it the perfect place to call home.
Whether you know exactly what you want, or need a little help narrowing your choices, we're here to help. We can help you find the ideal flooring solution that resonates with your kitchen's character, combining practicality with style for years to come.
How can we help you find the kitchen flooring of your dreams?