Want to remodel your home? Want to improve the aesthetics? One of the best places to start is with your kitchen.
Kitchens are considered the hub of your home. It's where most families spend the majority of their time. You cook there. You gather there. The kids do their homework there. You might even relax there, reading the night way at the kitchen island, or sharing a glass of wine with your spouse or your neighbor.
Why not make it the best looking room in your home?
According to a 2018 remodeling cost vs value survey, a minor kitchen remodel will hold over 81 percent of its value over time. It doesn't take a major overhaul to make it look brand new. Instead, you can do little things to bring your kitchen back to life.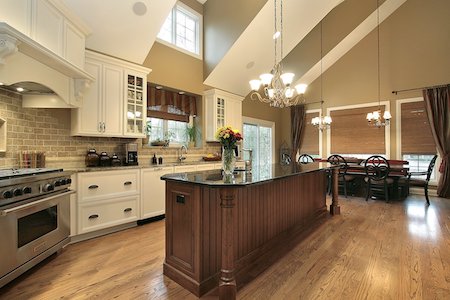 Like replacing your kitchen floors.
So much of your home's decor is built from the bottom up. If you have a great base, everything else flows. When you have great kitchen floors, it makes everything from your cabinets to your countertops look great in the process.
As you're on the hunt for new flooring, what are the current trends that will make your kitchen look great? Want some tips to help you elevate the look of your favorite room in your home? Some of today's top kitchen floor trends include sustainability, natural materials, and warm colors that will be a welcome addition to any home.
https://pro-flooring.com/trends-new-home-buyers-want-in-flooring/
Here's what to consider as you're making your final selection.
Bamboo
If you haven't looked at bamboo, you don't know what you're missing. Bamboo has so many great qualities, it's worth a second look.
If you're looking for an eco-friendly option, bamboo may be your perfect choice. It looks like hardwood, acts like hardwood. Yet it's more sustainable than hardwood because it's not actually hardwood.
Instead, bamboo is considered a grass, and is one of the fastest growing crops used for flooring production. It doesn't take decades to create a harvestable field. It takes only five to seven years.
What's more, it's a natural material that is warm underfoot, and has a striking color that is in demand in today's decor marketplace. You'll love the different colors and hues, and find the perfect grain for your taste.
Plus, bamboo is incredibly strong, making it a far better choice for the kitchen than its hardwood counterparts. It can withstand daily abuse that a kitchen often dishes out. Just be careful with water or spills, as bamboo tends to absorb water. Clean up spills quickly to avoid damage to your floors.
Cork
While we're talking sustainable, eco-friendly kitchen floor products, we have to mention cork flooring too. Cork makes a unique kitchen flooring option that's as soft and comfortable as it is durable. Cork flooring also makes a great insulator, meaning your kitchen floor will add more warmth. In the cold winter months, that can bring welcome relief.
Have family members who suffer from allergies? Then cork may just be your perfect kitchen floor choice. Cork is naturally antimicrobial, meaning it'll be easier on your health. Just be careful you go with a reputable company who harvest in a sustainable way, and an installer who uses all-natural adhesives and glues.
You can't make a wrong choice when it comes to looks. You'll find cork flooring in a variety of earthy color schemes that match any decor. Cork can be damaged over time because of its soft nature. And if you have a lot of streaming sunlight bouncing around your kitchen, be aware cork can fade over time.
Laminate
Laminate flooring has been around for years for a good reason. It gives you the appearance of hardwood flooring with more durability and a stronger base. It's perfect for the kitchen where you tend to drop things more, and spills are the norm more than the exception.
Now laminate isn't limited to traditional hardwood colors. Instead, you'll find laminate is trending in all kinds of colors for your kitchen floors.
Why not try white laminate? It's a great choice if you want to liven up your space. White makes any space feel larger. It brings more vibrancy into your space. Plus, white flooring gives you a clean, crisp look that can be paired with just about anything. Do you love the Scandinavian designs that are popular in design magazines? Those cool, earthy colors are perfect when paired with white laminate.
Not convinced white is the way to go? You don't have to head back to traditional colors to make a statement. Try gray laminate instead. While gray has fallen to the wayside in paint color and decor, a gray whitewash look in flooring is peeking in popularity. It's a very popular effect that allows you to pair it with different colored cabinetry for a fun, clean look and feel.
Natural Stone
There's never a bad time to install natural stone, and thanks to today's options, it's a great choice for your kitchen floor. Most Coloradoans don't think about adding natural stone to a kitchen because it can be cold underfoot. But natural stone can be a perfect choice when paired with radiant heating. Instead of backing out of the kitchen on winter mornings, you'll be rushing in to enjoy a little heat from the ground up.
What we love most about natural stone is you'll never get the same look twice no matter what color you select. That means whatever design you pick will be yours and yours alone. The warm colors and ribbons of varying shades and tones pack quite the punch in your decorating style. It's hard not to fall in love with this kitchen flooring product.
Dark Hardwood
For some homeowners, only hardwood will do. If this is your top choice, we know it'll be a good fit for you.
Dark hardwood is currently all the rage. You'll find it in all the decorating magazines. What makes dark hardwood special in the kitchen is it can be paired with anything. If you want to stick with dark cabinets and countertops, you'll create an elegant look. Or mix it up and go light; the look can be uniquely your own.
Hardwood can be expensive, especially if you get into more exotic woods. But if you've got a certain look in mind and nothing else will do, hardwood is one of the longest lasting kitchen floor choices you can make. It's a timeless look you'll love for many years.
So what's it going to be for your kitchen remodel? What kind of flooring choice is perfect for you?